Hiking has always been a part of my life. Living about a half hour from Devils Lake State Park and living in the middle of the woods made hiking convenient and a regular activity. In order to expand my knowledge of hiking and to share my experiences with it, I will be hiking through different Wisconsin State Parks and sharing my trials and tips through Hailey's Hikes.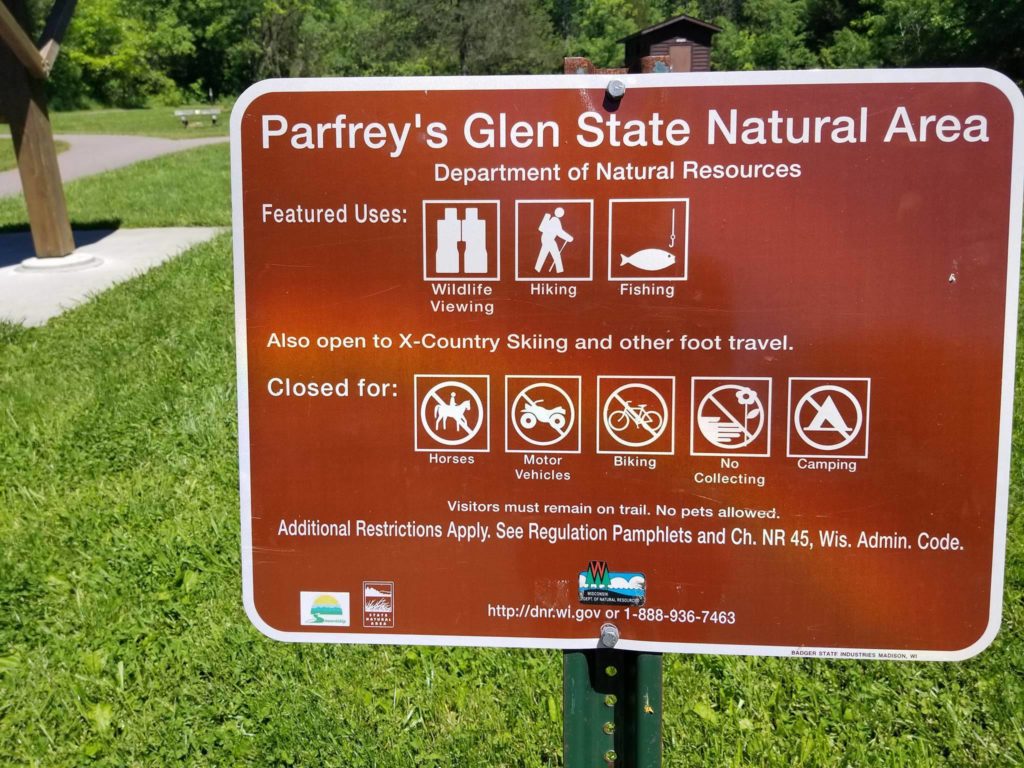 Tucked away behind the hustle and bustle of Devils Lake, is a small state park that is full of beauty that can't be found at Devils Lake. While only about two miles away from its more famous neighbor, Parfrey's Glen is a small, beautiful park with a history all its own.
I visited Parfrey's Glen for the first time with my brother, Alex, last week. We had no clue what to expect, but a friend of my brothers told him it was a great place to see running water (Fun fact: My brother and I are both drawn to water. Oceans and waterfalls are our favorites). So on a day we both had off, we jumped in my car and drove out past Baraboo for a day of hiking.
While we had no clue what to expect there, we were taken away by how beautiful the area was. While I normally hike Devils Lake and my brother Pewits Nest, we were excited to find another area that we both really enjoyed.
(A lot of the pictures have my brother in them. I couldn't help that he hikes a bit faster than me…)
It's Not Exactly in Devils Lake
Before we got to Parfrey's Glen, we thought we had a general idea of where it was. We heard rumors that it was in Devils Lake somewhere, but we had never seen it for ourselves.
The funny thing is, it's not actually in Devils Lake, but some people and maps will tell you it is. Even when you Google Parfrey's Glen, it says it's a part of Devils Lake. It's actually not in the state park itself, but about three miles from the park. It's situation in-between Devils Lake and Devils Head Resort on County Road DL in Baraboo/Merrimac.
Luckily, my brother and I know how to use our smartphones, and we found our way to the area via Google Maps. Otherwise, we would have ended up driving and hiking around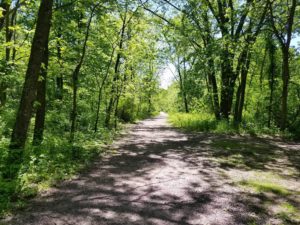 Devils Lake, looking for this mysterious part of the park that's not even in the park itself.
Once we found our way, we were surprised to see how small the parking area was. About 20 cars could fit into it total. There was just a bright, yellow box to put your money in if you didn't have a state park sticker, a board of maps and information and a few picnic tables in the grass.
It wasn't much, but we soon learned that it didn't matter. The best part of the park was once you set off onto the paved trail and began the easy hike that follows a beautiful stream.
I Hear Running Water
As my brother and I started our way on the trail, it was pretty silent. The family behind us was talking, but it wasn't distracting at all. We weren't sure what type of running water we would see when we were here, but we knew there had to be some water, somewhere.
About three minutes into our hike, we started to hear the sound of water. We both got excited and ran towards the sound like little kids (We're 20 and 18). We found Parfrey's Glen Creek and we ran down a small embankment to look at the water more closely. It was clear and cold as it moved downstream. We were so excited to see water! Little did we know, the whole park is created around water.
[slideshow_deploy id='20016′]
A quick history about Parfrey's Glen: It was the state's first natural area, welcoming guests since the late 1800's, according to a plaque located in the park. In 1952, the Glen was designated as Wisconsin's first natural area because of its unique rock formations and plants that grow there.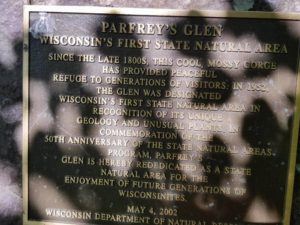 This park is truly unique. Small waterfalls and running water are the main features of the park. There is one main trail that leads you up to the very top of the area, where you can follow the water the whole way up.
Most of the trail is covered, making it a nice, cool hike. There are benches throughout to stop and relax for a few seconds as you hike. The trail is a flat, gravel path wit very few inclines, but it's not exactly the best trail if you're not okay with jumping and climbing over smaller rocks.
I tried my best to obey my cell phone rule throughout the hike, but I couldn't help but take photos of the water. I told myself I was doing it for the article, but I think I also wanted to see who could take a better photo: my brother or me.
The best part of the trail is when you have to cross over the river. Instead of building a bridge, you have to go from rock to rock in the water. It's not extremely difficult, but it's really fun and a chance to test your skills at picking the best rock. Because of this feature, I wouldn't recommend hiking this with your frail grandparents. The rocks are slippery, but the family with two little kids had no problems crossing it.
While the sign did say no dogs, I saw one man with his two dogs. The dogs were happy and muddy, and truly, the trail wouldn't be a danger to your pup. Just make sure your dog is on its best behavior if you do choose to bring it!
[slideshow_deploy id='20019′]
Adventure Time!
The thing about my brother and I, well especially my brother, is we don't back down from challenges. We also like to be adventurous and climb on things. So when we're at a park where there are rocks that can be easily climbed on, you knew where we were going.
Now, I don't recommend this. It could be really dangerous. My brother is not a professional rock climber by any means but he doesn't listen to "no" and has climbed a lot of similar rocks in his time. So of course, he jumped up on some rocks and went to town climbing up these smaller rocks.
It was cool to see how well he got up there, but I know my limits. I stayed on the lower rocks and took a picture to send to our mom (this was before we went to Devils Lake, and he ended up climbing on every single rock we saw, even on some very dangerous ones. Our mom was not too happy…).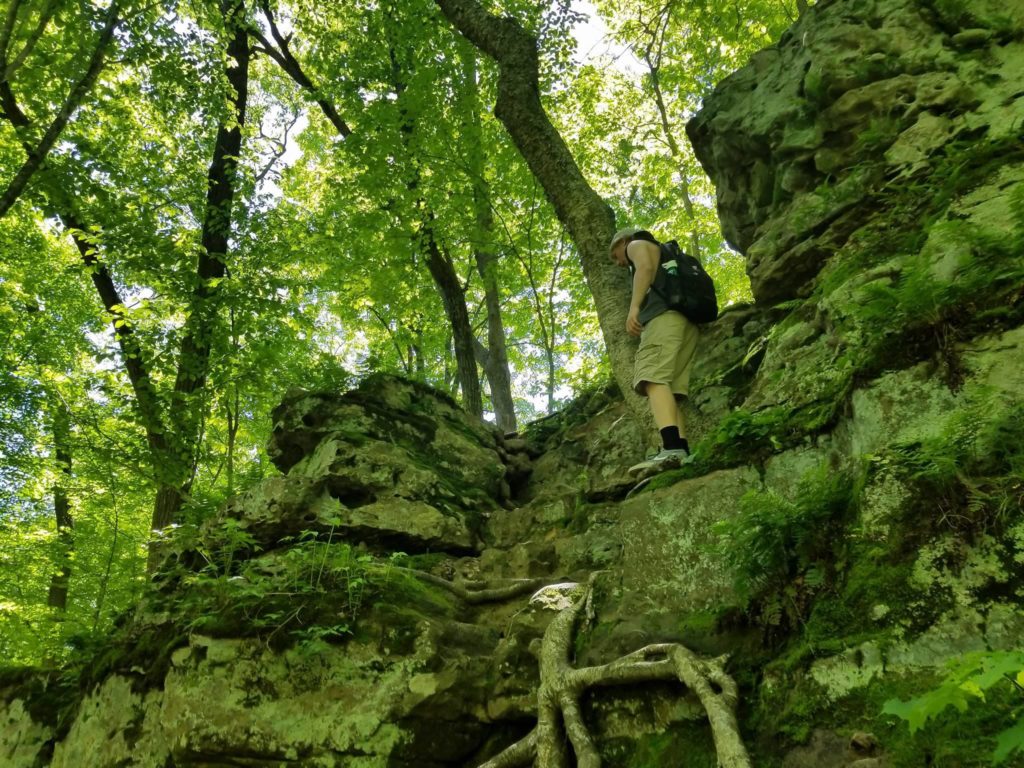 At the end of the trail at Parfrey's Glen is an area where hikers can keep going. It's all rocks in the water, so hikers can either jump from rock to rock or walk straight through the water. The sign said there was a waterfall at the end, but we didn't know how far it was, so we didn't venture too far out into the rocks. It was hard to find sturdy, dry rocks to jump to as we cross the area.
If you plan on going further, I'd recommend bringing some water shoes. It seemed a lot easier to just walk through the water than try to keep your shoes dry by jumping on rocks. The water wasn't deep, but to remain dry, we were staying on the rocks.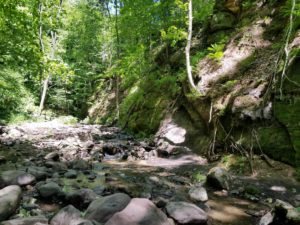 There's only one trail at Parfrey's Glen, so once you reach the top, you go back on the same trail you came up on. The nice thing about the day we went was that it was a beautiful day, but also it wasn't really packed. The people all hiking that day were really friendly.
Parfrey's Glen is part of what I call the three of Devils Lake. This includes Devils Lake, Parfrey's Glen and Pewits Nest. These state parks are all really close to each other and all worth visiting (or so I've heard about Pewits. I haven't been there yet…). You could hike all of Pewits and Parfrey's Glen and a select trail at Devils Lake in one day. If you're staying at Devils Lake, don't trap yourself in that one park. While it is beautiful and huge, there are other places to check out to nearby.
Conclusion
Just go there. Just go and get in your car and visit Parfrey's, Glen. It's beautiful and so historic. It's an easy hike except for a few times your have to jump over some rocks. Your soul will thank you if you make the trip out there, I promise you. I love this area and I believe I will go hike it time after time.
It's a great small, lunch-break hike. With all of our stops, it took my brother and me about an hour to finish it. If we would've hiked straight through, we would've been done with it in a half hour. Bring a camera and enjoy yourself!
Tips:
Take some breaks and enjoy your time there
Don't be afraid to get close to the water and see it's true beauty
Bring water shoes if you're thinking you want to go farther than the trail allows
If you bring your dog, make sure it's on its best behavior
Be respectful of the park
Know your limits if you plan to go farther