Hiking has always been a part of my life. Living about a half hour from Devils Lake State Park and living in the middle of the woods made hiking convenient and a regular activity. In order to expand my knowledge of hiking and to share my experiences with it, I will be hiking through different Wisconsin State Parks and sharing my trials and tips through Hailey's Hikes.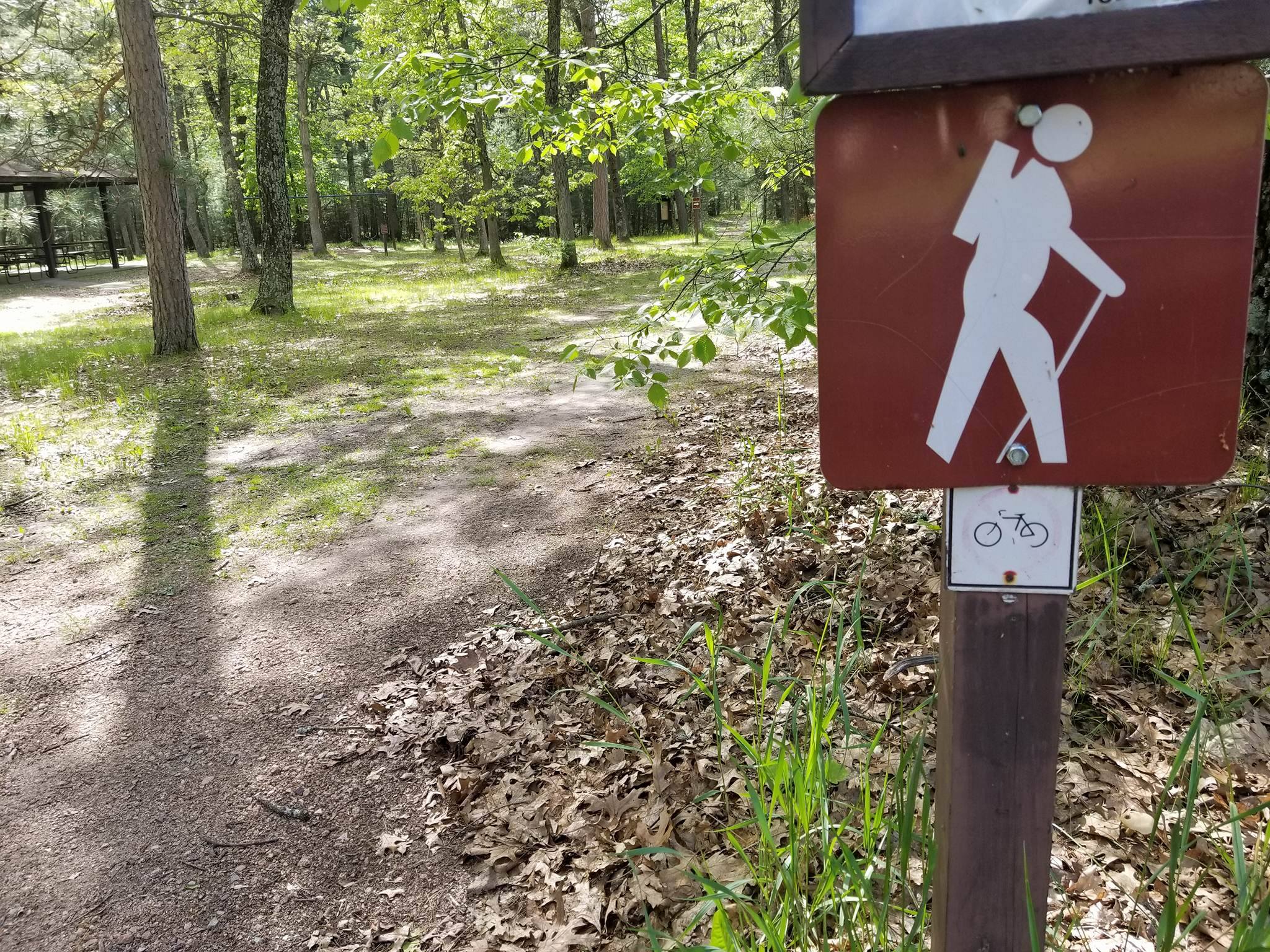 Hidden in the middle of central Wisconsin is a small state park with a beautiful statement of nature in the middle of it. Roche-A-Cri State Park, which is just outside of Adams-Friendship in Adams County, is home to beautiful rock formations and a great place to hike.
I never hiked Roche-A-Cri before, but I was told I needed to go there by my co-workers and the occasional friend who hiked it. I work right in town in Adams every day during the summer, but I never made it out to its crowning jewel.
That's the beauty of Adams-Friendship: high above the town are the towering bluffs that look over the town, standing there for centuries. That's why Roche-A-Cri is so cool, it holds more than just the beauty of nature, it also preserves Native American petroglyphs.
Finding Roche-A-Cri
Roche-A-Cri State Park is in the middle of Adams County Wisconsin, a large, rural area in central Wisconsin. About 20 minutes north of the Wisconsin Dells, Roche-A-Cri is a great day-hike park if the State Parks in the Dells area are too busy.
Located on Highway 13, big signs greet you as you pull into the park.
As someone who has hiked at many parks in Wisconsin, I was ready to be greeted by the typical check-in area at the front of the park. As I drove in, I realized that because I had a State Park Sticker, I was able to drive straight into the park and I didn't have to pull over to the side to pay.
This is really nice if you have a sticker. I never had to stop to prove I had it, and I was able to be on my way and just go straight into the park.
While most people would drive straight to the main attraction of the park, which is the huge Roche-A-Cri bluff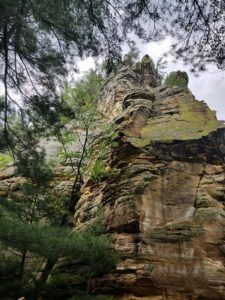 , I pulled over at the first large rock formation.
Once you pull into the park, stop at the first small parking lot on the side. This is a part of the park that I feel people would miss a lot, but it's actually one of the best parts of the park. Here is where you'll find the Native American petroglyphs, along with some graffiti from visitors passed.
The rock which the petroglyphs are carved into is a beautiful sandstone rock, looming over you. The feeling you automatically get is very humbling. Here you are, standing on this site that holds records of an ancient past, with this beautiful rock making you feel so small.
One thing that's difficult about the site is the graffiti. A lot of it is covering the petroglyphs, which is sad to see. People wanted their own names carved into the rock too, but it takes away from the beauty and history of the petroglyphs.
Stairway to Heaven
As you continue to go deeper into the park, you'll reach the Top of the Rock Trail. If you've ever heard anything about Roche-A-Cri, it's probably the staircase that takes you to the top of the mound.
Going to the park, my main goal was to climb up the stairs and see the top. I was told that the view was just amazing at the top and it was worth the climb.
I figure, "What are a few stairs?" as I began my climb.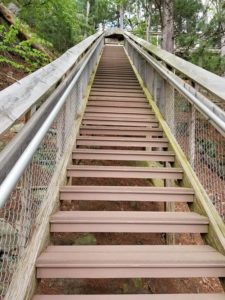 Well, let me tell you, there were more stairs than I ever expected.
The climb went well at first. I'm sort of in shape and began running up the stairs. I don't think I realized how far I had to climb to get to the top. By the time the first landing came, I was totally out of breath.
I learned just walk the stairs. Enjoy the beauty around you and take in the climb. While it may be challenging, try not to think about how difficult it is to climb. Think about how you're lucky to be in such a beautiful place.
While I do normally hike with my phone for safety reasons, I never go on it if I can help it. When hiking, I think it's important to get away from your technology and social media and just go back to your roots. While I did use my phone to take photos for this article, I would highly recommend bringing your phone to get a few good pictures once you reach the top.
After you finally climb all of the stairs, you're rewarded with the most spectacular views. High above the trees, you can see for miles and miles on end. The best way to look is West and North West. In this direction, you can see other huge mounds that dot the rural skyline.
[slideshow_deploy id='19936′]
My recommendation is to take a few photos if you want and put your phone away. It doesn't matter how good your camera is, the real view will not be captured on your phone. The best way to truly enjoy it is to take it in. Sit on one of the benches up there and look out at the world around you.
For the best view, go on a clear day. You'll be able to see so far out into the distance. There are some trees that can block the view, but there are spots where it's open enough to see.
I stayed up at the top of the bluff for a while, looking out over the area. It's really inspiring to be up so high and be able to see farther than you ever expected.
When climbing Roche-A-Cri, don't be in a rush. Take your time up the stairs (which are in great condition, too) and spend some time at the top. You didn't climb all that way for nothing.
I Got Lost
As I said before, I had never hiked Roche-A-Cri. Since I carved out about an hour of time to hike there, I decided that I would try to hike a few of the trails.
Now, here's a tip for hiking at any park: get a map. I have the perfect sense of direction and I usually have a great sense of where things are, but that doesn't mean I know where things are on a trail or how long it is.
This is how I ended up getting lost at Roche-A-Cri. Coming off of the Mound, I decided to go on Acorn Trail. I could see the start and end, and figured it would just be a short little hike.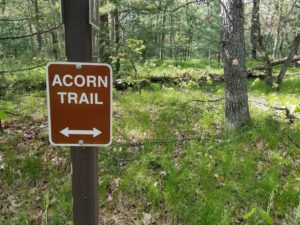 There are six trails at Roche-A-Cri, and the Acorn Trail is the longest at 3.55 miles.
What I thought would be an easy hike turned into me wondering where I was and when the trail would end. It felt like a maze I couldn't escape. I hoped for the best and kept to the trail.
At one time, I thought I should just make a break for it and run through the trees until I got back to my car. I luckily didn't do that and kept to the trail. A lot of the park is forests, and I wouldn't have reached my car easily if I did this.
I was actually rewarded for staying on the trail. I was able to see Chick-A-Dee Mound. While it's much smaller than Roche-A-Cri Mound, it's worth visiting. It's easy to climb on and to see up close!
While I normally hike alone or with my dog, I would recommend going to Roche-A-Cri with a hiking partner. While Adams County is much safer than it used to be, it's good to be vigilant when hiking alone in the middle of nowhere, especially when the park is nearly empty.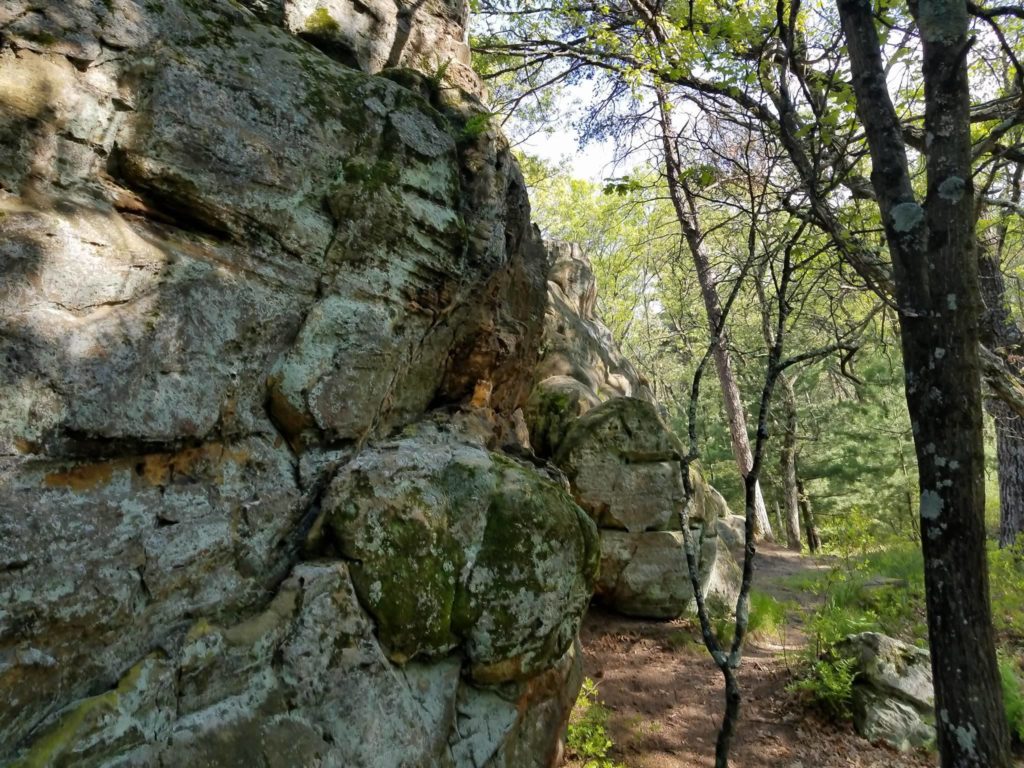 If you do plan to hike with a dog, don't bring them on the stairs. Stick to the trails!
Conclusion
Roche-A-Cri is a cute park with some awesome features. There is a campground on premises and has multiple trails. Unlike bigger parks, Roche-A-Cri is a great day park to explore. It's really close to other great mounds in the area and waterways including the Wisconsin River and Castle Rock Lake.
Tips for Roche-A-Cri
 Bring your phone, but don't use it. Make sure you get a picture or two and put it away
Don't bring your dog on the steps to Roche-A-Cri Mound. Not only does it say "No Dogs," the steps can be a little steep and not good for your pup.
Don't bypass the petroglyphs
GET A MAP!
Take your time. The park is really beautiful so enjoy it.
Bring bug spray
Don't hike here alone
The trails are flat, so no spikes needed
Stick to the trails