In an ever-growing world of fast fashion and world-wide trends, it's easy to fall into the traps of monopolistic clothing brands that contribute to sweat shops
, global warming, and not to mention the fear of wearing something that thousands of other people own. Even if you're not on a budget, thrifting can lead to a wardrobe that is completely unique to you. The world of second-hand shopping can be intimidating, so here's some tips to help you get started.
When in doubt, size up!
Most vintage styles, particularly from the 50's and 60's run about 4-5 sizes smaller than modern sizing. So if you're a size six, it may fit like a four.
Don't be afraid of damaged pieces.
Chances are, cleaning up a vintage piece is easy and worth it. Don't be turned away from a small stain or tear. Often times defected pieces can be easily fixed with some stain remover or a simple sew job.
Visit often.
Though thrifting can be exhausting, it is important to check out your favorite shop frequently. The more you go, the more chances you have to find the perfect piece. Items in thrift stores move fast, whether it is b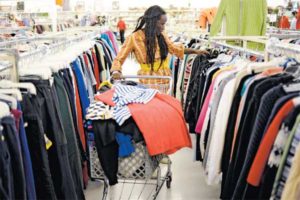 ought or moved to make room for newer items. Often times, second-hand shops will have a specific day of the week that they rotate their inventory.
Shop on the off-season.
Often times, households will get rid of old winter clothes when summer hits, and vice-versa. It's not unusual to find a perfect faux-fur coat in the dead of summer.
Don't rule out 'ugly' pieces!
Whether it be an old beat up dresser, or a pair of yellow pants, don't skip over stuff out of your comfort zone. Half the fun of thrifting is imagining the potential for seemingly-crazy items. Revamping unusual items allows for creativity and super unique pieces.
No dressing room? No problem!
An unknown, but extremely useful hack for purchasing pants with the perfect fit is the Neck Trick. Take a pair of pants and wrap the waistband around your neck. If the two ends meet, chances are it will fit around your waist. There are of course exceptions to this rule, but usually it holds to be true.
Don't just stick to clothes.
Though thrift shops can be a treasure-trove for colorful trousers and vintage band-tees, make sure to check out the other areas. Second-hand shops are full of inexpensive furniture, unique vinyl records, and like-new books.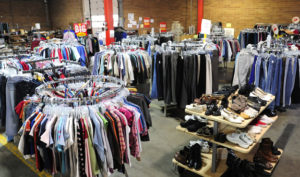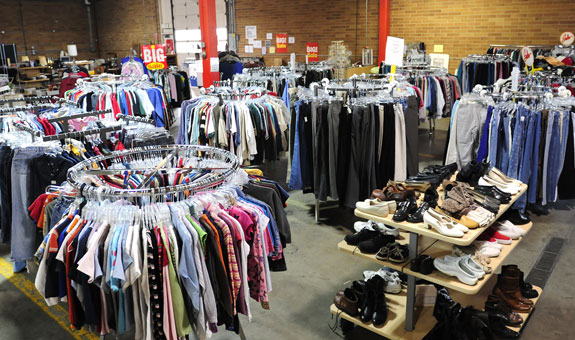 If your goal is name-brands, location is key.
Often times, thrift stores such as Goodwill and Salvation Army are hidden gems for finding name brands in higher-end neighborhoods. There are of course exceptions to this rule, but usually thrift stores in the nicer parts of town will be less picked over, with expensive pieces for cheap.
Donate before you buy.
With items being so inexpensive, it's easy for thrifting to lead to an exploding wardrobe. A good rule of thumb is to donate every time you head out to your local Goodwill. This way, your closet will be ever-changing, all while helping those in need.
Thrifting is definitely not like browsing through a normal clothing store; it can be tiring and sometimes disappointing. Make sure you set aside a good part of your day for an effective trip. Often times, it may take a while to locate some good finds.