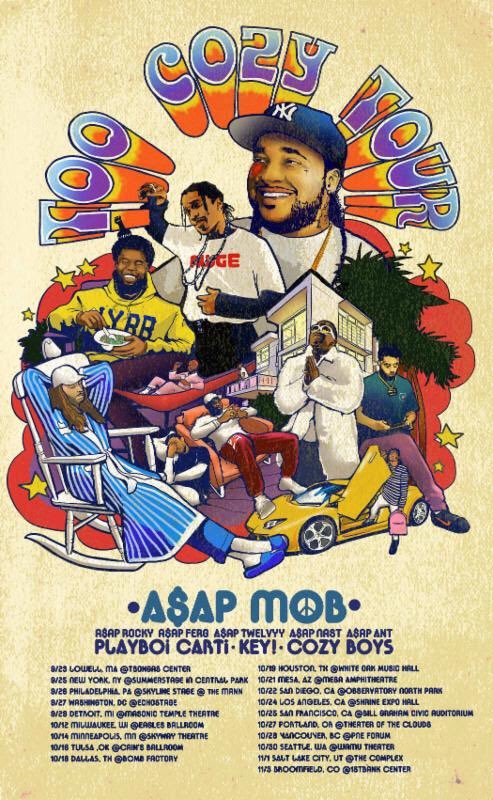 In the midst of their 20-city tour, the A$AP MOB, led by members A$AP Rocky and A$AP Ferg, will be coming to Milwaukee's Eagle Ballroom on Thursday, Oct. 12, with opening acts Key!, and Cozy Boys.
We are one year removed from Cozy Tapes Vol. 1, which had been floated ever since the passing of Mob co-founder A$AP Yams, whose name has become a staple in hip-hop circles. The record spawned banger singles like "Yamborghini High," and "Telephone Calls," and featured the likes of Juicy J, Tyler, The Creator, Lil Uzi Vert, Playboi Carti and Onyx.
On Aug. 25 of this year, the collective, based out of Harlem, dropped their second installment in the Cozy Tapes series. Vol. 2 featured singles like "RAF" and "Feels So Good," and included a renowned guest list, consisting of ScHoolboy Q, Frank Ocean, Big Sean, Pro Era, Flatbush Zombies and Chief Keef, among others.
The Milwaukee appearance also comes on the heels of two high-profile releases by members A$AP Twelvyy and A$AP Ferg, both of whom released new projects in August. Twelvyy is known for his ability to tap into a golden hip-hop age aesthetic, while Ferg is known for his equally serious and playful rap tone, over dark melodic piano tones and thundering bass.
Meanwhile, fans are anticipating a follow-up to Rocky's 2015 critically acclaimed album, At. Long. Last. A$AP, as Rocky has been featured on 2017 hits like Tyler, The Creator's "Who Dat Boy." Rocky has been a lasting imprint in hip-hop, known for his versatility, his machine-gun and syrupy flows, and his heavenly atmospheric guise. The group was founded in 2006. The show is scheduled for 8 P.M. Tickets can be purchased here.