Erik Ljung has been making films since his college days at San Diego State. Since graduating college, the 34 year old Director and Producer has moved to Milwaukee and has a new film, The Blood is at the Doorstep, which looks at one of the most pressing cases of police shootings here in Milwaukee. The documentary film takes on the shooting death of Milwaukee man, Dontre Hamilton, in 2014 and the aftermath of the Hamilton's family fight for justice. Ahead of a screening for the film at the Milwaukee Film Festival tonight, Ljung sat down for an interview to tell me more about the new film.
What can you tell me about The Blood is at the Doorstep?
The Blood is at the Doorstep chronicles the shooting death of Dontre Hamilton and the aftermath. It really looks at what it's like from the perspective of the family in the aftermath and you get a really unique perspective of the grassroots of an activist movement. You get to see a group and a movement forming. It's a concept which you really don't get to see that often. People hear about Black Lives Matter or this group, but you really get to see the formation and the reasoning behind the ideology. It's a really unique perspective that people don't get to see, but most importantly, often times in the media, in a situation like this, a police department is an official source of information, and it becomes a problem when the police department is involved in an incident like this. Often times, the family's voice gets drowned out. So, when you're watching the nightly news, we want to provide a more nuanced, long-term view of what happens to a family in a situation and not just show them as a victim, but as nuanced human beings and how they deal with it and how they move on and show the healing process as well.
You have done many films. What makes The Blood is at the Doorstep different from your others?
Well, when I first started this project, fresh in my mind was the death of Corey Stingley. I'd just finished up a 25-minute piece for VICE News about the Corey Stingley case here in Milwaukee, or I shouldn't say case because it never went to trial. Another UWM alum Spencer Chumbley produced that piece for VICE News and I shot it. Corey Stingley was killed in 2012. He was a young, black male, 16 years old, accused of stealing a bottle of booze from a corner store. He was paying for the items that he could purchase and being that he was 16, he tried to steal a bottle of booze and he got caught. He returned the bottle and tried to run out of the store. 4 white guys grabbed him, choked him out, killed him. No charges were ever brought. It's on camera. So Corey's death was fresh in my mind when this happened. When Dontre Hamilton was killed, I was thinking a lot about Corey and what his family went through. I don't think people really understand what it's like for a family to get thrown into a situation like this. Nobody wants to see them behind the scenes, but I think it's important for them because I read a lot of nasty comments that people have said about the Hamilton family and about the Stingley family online. But they have no idea who these kids were and they have no idea what these families are like. We should learn about these families. I didn't know what the Hamilton family is like and I didn't know what I was going to get when I filmed with them, but I think anybody that gets to spend time with the family and gets to know these families more closely, they'll know that they are an all-american family. I think anybody can relate to them and anybody would enjoy being around them. They were very gracious to me and I think in the film people will get a better understanding of who they were. I will say that this is my first feature length film. I've done a lot of shorter pieces, and a lot of news centric pieces. The storytelling is a little different when you're making a film. This is my first feature length, which is different from shorter pieces. This is the hardest thing I've ever done in my life physically, mentally, and emotionally. I've never had children, but this has got to be up there.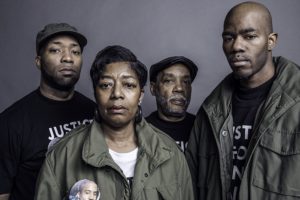 How did you connect with the Hamilton family?
In a situation like this and doing a documentary of this nature, it obviously starts with a tragedy. I didn't know the Hamilton family, and it feels really inappropriate approaching a family that just went through the worst tragedy of their life, and you're asking to stick a camera in their face, asking them a bunch of personal questions. It's intimidating and you really gotta question why, and question your intentions in doing that. For me, this was an important story that I felt wasn't getting national attention and it was kinda a litmus test for a lot of things. It was the first case in the country to be tried under mandatory outside investigation law, the Michael Bell Law. It was passed seven days before Dontre was killed. It's a state law here in Wisconsin, the first law of its kind. That was very unique and just the number of shots of someone not suspected of a crime. This was somebody just resting in a park. It was a wellness check. I had a lot of questions about the case and like I said, it didn't get a lot of national attention. When you see on the nightly news, they're only doing a minute and a half segment, it's really hard to get a nuanced and bigger picture. So I was really interested in learning more and I didn't really approach the family until they put themselves out in public more. It was a couple months after the shooting that they started getting frustrated with the process and started holding rallies. So I met them at one of their first major public rallies that they did at Red Arrow Park in late Summer 2014. At that point, I approached them, introduced myself, and asked if I could film with them, but I think I didn't really know what I was getting myself into or what I wanted to do at that point. I just know that someone should be covering this, and the Hamilton family didn't really understand what I was doing. They thought that I was just another news crew out there, so they were like, "Yeah, go ahead and film, that's why we're holding a rally." But overtime, they realized I'm an independent person. I'm out there everyday. I'm choosing to be out there, I'm not working. And then I started doing sit-down interviews with them at their home, and pretty soon I was following Nate to work and Maria back to Gary, Indiana for her high school reunion. It was just following them in their personal day to day lives.
Over the course of the three year shoot, how much did you follow them?
There were weeks when I shot with them every single day, and then there were times when I didn't shoot with them for two weeks, or three weeks. But it was pretty consistent over the years. At least every other week or something like that. I think in all, we ended up with 500 hours of footage, and boiling that down to 90 minutes was difficult.
What was your initial reaction to the shooting of Dontre Hamilton?
Like a lot of other Milwaukeeans, I was shocked by the number of shots and the location. I mean, that's a downtown central park of Milwaukee. I spent a lot of Winter nights skating on that ice and playing pond hockey and I used to work right across the street at the Pabst Theatre. So in the heart of the city, in the middle of the day, 14 shots? I think it was shocking to a lot of people, and to me, something just didn't add up. I was interested in learning more about what happened and how something could have gone so wrong because the police responded twice before this officer approached Dontre Hamilton and both times, they determined that Dontre was doing nothing wrong and they let him stay in the park. So what happened with this third officer? Why were things differently? And why did people keep calling the police? So those were some of the questions that I had.
There have been a host of police killings around the United States recently, and I think Milwaukee kickstarted that with Dontre Hamilton. The killing of Trayvon Martin happened before Dontre, and Michael Brown in Ferguson happened after Dontre. What are your thoughts on the killings worldwide?
I don't think this is a new phenomenon by any means. I think there's been more National focus on it. There's more cellphones now. People can document it, and this has been going on for a long time. I think it's harder for maybe white people to deny that it's happening now because it's caught on camera. I think people are seeing sometimes these killings are not justified. There's issues and serious questions. With the Walter Scott shooting caught on camera in South Carolina where he's running away from an officer and shot in the back eight times, then he throws a taser next to him to make it look like he saw a taser – when a video like that comes out, it's shocking, and seeing Eric Gardner killed on camera, it's very upsetting. There's a lot of implications like, "Do we really want to see a black man being killed on the internet on my news feed?" It's hard to watch, but it's waking people up a little bit too. This is not a new film, but I think all the difference now is it's being caught on camera now. It's hard because news stories are like a passing trend, so if things don't change while it's in the news cycle, they move onto the next story. You miss an opportunity to make some substantial and positive progress. Dontre Hamilton happened before Michael Brown and we started this project before Ferguson, so early on, we were really looking at the Michael Bell Law and mental health issues related to policing. Then, with the intense focus on police killings all over the United States, I think that really changed how things happened here in Milwaukee. I think more people here in Milwaukee wanted to be supportive of what was happening Nationally, and you had the Dontre Hamilton killing right in your backyard, so that was a cause that people could really get behind to show support and demand some kind of reform. This is not something that is new and not something that is going away anytime soon either, but I think amongst civilians and police, there's an issue with people being killed by gun violence and we're looking at ways to address this.
What did you do to prepare to shoot this film? You hooked up with the family, but how did you personally prepare to shoot the film?
Well, preparing to shoot a film like this took a little bit of blind ambition, I guess. I didn't know what I was getting myself into and I wasn't setting out trying to make a feature length film. I had a camera and I had myself, and that's about it. Most of the shoots, especially early on, was just me with a camera and putting a microphone on them. It was a one-man band type of thing out in the field. Honestly, it was like a breaking news story. I didn't have a whole lot of time to try to plan and figure out what I was trying to do. I just had to jump when someone said jump. I was out there all the time. I felt like I was always playing catch up for three years. I was trying to keep up with the Hamilton family. They're very active. Nate's always doing stuff, Maria's always doing stuff. I always felt like I was reacting. I never felt like I was in control of the situation at all. I was following a very active family and a breaking news story. Preparation was difficult. Even now, I'm submitting a film three days before it's supposed to screen, so even now, I'm playing a little bit of catch up. So really it helped being a one-man band. At times, it was difficult, but really it helped because I didn't have to rely on other people because I didn't really know what their strategy was and calling people at the last minute was difficult. But having said that, there were people who were willing to jump into the fire with me at the last minute. Dan Peters, who went to UWM. He was a Journalism major. Joel Van Haren, he was a Journalism major who helped out at all of our shoots. Michael T. Vollmann, he's our editor. He was the one who took 500 hours of footage and boiled it down to 90 minutes. A lot of UWM alumni pitched in to help and make this happen.
Why make a film? The killing was so shocking that maybe you could have gone out and done activism.
I don't consider myself an activist. I work in journalism and I work in film. That's an interesting question. A question that I ask myself a lot. What right do I have to tell this story? Am I even equipped to tell this story? This is a very serious issue not just for the Hamilton family, but for the city of Milwaukee. It needs to be told fairly and it needs to be told correctly. And that's a huge responsibility to get the story right, and you know, depict everyone's opinion on the matter accurately. We talked to the police department. We talked to the police union. We talked to the District Attorney. We filmed police training and obviously we spent a lot of time with the family and activists. So, it's a huge weight and why does this story need to be told? I think in Milwaukee a lot of people have an intimate knowledge of what happened or think they have an intimate knowledge of what happened. On a national scale, not a lot of people know about this case. It's a case that people need to know more about because a quarter of the people that are killed by police each year have been diagnosed with mental illness. The number of people killed by police each year is shocking, and the percentage of people diagnosed with mental illness is a problem. So, what are we doing to address that? Some of that responsibility falls on the police department and some of that falls on mental health professionals. So, what do we do moving forward and how do we address this situation if it happens again? And it is going to happen again. It's not a problem that's going away. We talked to people who have all sorts of opinions on police shootings, and I think the more attention you can shine on it, the more understanding you can give people, and I think if people got to know the families involved, they'd come away with a different perspective. I think people make assumptions about a black family having their son killed by police, and then there's this narrative always set in the media like, "Oh well, he's a criminal" so they see a black family and they just assume that this is fact, but they don't get to learn about this family in an in-depth way. You just see a blip of them on the news, and we wanted to show them as the full human beings that they are, and the struggles that they face.
Do you feel there is a responsibility for artists to tell these type of stories?
I think your only responsibility to tell the story is if it's important to you. You shouldn't feel an obligation. But with a story like this, it's difficult and it's going to require a lot of different peoples focus on it. I think there are all sorts of different people that are involved in the telling of a story. There's news journalists, there's activists in the middle. There's a role for everybody. I think being involved is important and having a more active role. My skill set is making films and storytelling, and this is an issue that I was interested in learning more about, and was passionate about and getting to the bottom of what happened and just learning more from the Hamilton family about their experience. If there is something you feel personal about, or that you're passionate about, take a more active role. Don't be passive. Find a way that you can make a difference within your skillset.
Do you think that film is good with social justice?
The problem with making a social justice documentary is that a lot of times when you make a film like this, you're preaching to the choir, which is good for certain things. But we don't want to make a comfortable film for anybody. We hope this film raises a lot of questions and challenges a lot of people and we provided a lot of space for everybody involved in the case to have their say and tell their side of the story. We really hope this film can spark some conversation and take a closer at what happened here in Milwaukee, and what some of the issues might be. Not necessarily providing any answers, but hopefully taking a closer look at what happened.
Is The Blood is at the Doorstep trying to make a statement about social justice?
We hope that the film inspires people to take a more active role in their communities in whatever that is. This is a family that was very apolitical, had no interest or involvement in activism, but through tragedy, they were kind of forced into this fight. I think there's a lot of people, especially now with such divisive politics, people feel passionate about a lot of different things. I think it's going to take a little bit more than expressing yourself on social media. That's good to share thoughts and ideas on social media, but it's going to really take people to be physically active in things that they want to see changed and we hope that this film inspires people to take a more physical active role.
How do you think Milwaukee will receive the film?
It's going to be interesting because when we showed this film around the country, people didn't know a lot about the Dontre Hamilton and people here in Milwaukee probably think they know a lot about the film. So there's going to be things in the film like, 'why did they show this and why didn't they show that?' I'm sure that this case is a bit more controversial here in Milwaukee, and we're expecting this not just to be people who aren't necessarily that sympathetic to the Hamilton family. It might be a little bit more divisive, but we hope that all sorts of people come out and people can learn on all sides, and hopefully spark a conversation. I don't expect it to be an easy screening for anybody. It's going to be painful to look at this city like this. But I think you can't ignore these things and you can't just pay attention when something like Sherman Park happens.
Are you inviting the Hamilton family to the screening?
Absolutely, they're a huge part of telling this story. This is their story. They're going to be there. We invited the police chief. We invited the union president. They both declined unfortunately. There are some police officers who will be there. Hopefully the district attorney and the mayor are able to make it. Michael Bell will be there. He's the one whose son was killed in 2004 and he was able to pass the Michael Bell Law, which required outside investigations. His son was a blond hair, blue-eyed white kid who was killed by police. He was an Air Force vet of 20 years and his son was killed by a Kenosha police officer. The Kenosha Police Department investigated it themselves and determined three days later that "Oh, nothing to see here," and no charges would be filed. Michael Bell is still fighting to get that case working today. It's coming up on 13 years later. And he's still fighting. There's going to be a lot of people there. A lot of families involved. We're expecting the families of a lot of others who have lost sons in Milwaukee to police shootings. It's going to be an emotional night for sure.
On a scale of 1-10, how excited are you for the screening?
I'm really looking forward to it, especially a screening like this where it holds a whole a different significance than just a film playing in Milwaukee, which in itself would be amazing to play at the Oriental, but with this film, this theatre, and this city, it's going to be difficult, especially the emotions for everybody. SXSW was an incredible platform to get the film out there. It's a huge National film festival and everyone in the industry is there. You get a lot of press coming out of there, so you learn more about the Dontre Hamilton case. I think a lot of Milwaukee filmmakers have goals to get there films outside of Milwaukee, which I think absolutely everyone should, but I think a lot of Milwaukee filmmakers take for granted the majestic nature of screening your film at the Oriental Theatre in front of a packed house of 1100 people. It really is, after taking your film around the Country, there really is no better place to screen your film than in Milwaukee at the Oriental Theatre. Particularly for a film like this, it holds a whole different significance than just a film or a narrative film. This is a vital story in Milwaukee over the last couple years, and it's a hard, painful look at the events that day and it's going to be an emotional screening. I would say I'm a 10 or 11 as far as all of the emotions combined – with the anxiety, terror, excitement, nervousness, all those things.
The Blood is at the Doorstep will screen tonight at 7 p.m. at the Oriental Theatre. There will be two more screenings on Sat., Oct. 7 at 11 a.m. and Tues., Oct. 10 at 8:45 p.m. Tickets can be purchased on the Milwaukee Film Festival's website, mkefilm.org.