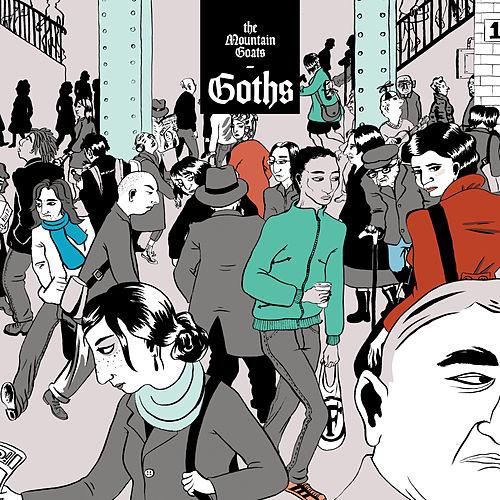 One might ask: What more do the Mountain Goats have to accomplish? John Darnielle's nasally voice and his penchant for penning novelistic concept albums have become staples for not only the Durham-based band, but for indie folk proper. The answer: continue to pen songs about the underappreciated.
Near the last quarter of the Academy Award-winning movie Midnight Cowboy, Dustin Hoffman and Jon Voigt's hustling characters are seated at a dive diner when they are invited to a Warholian party (think the Factory) by two people, each wearing black-enthused trench coats, named Hansel and Gretel. Before offering the party flyer, Hansel snaps a photograph of Voight's character.
Though the movie and its era, along with cultural centerpieces like Warhol and the Velvet Underground, preceded the Gothic subculture that would go on to become a societal mainstay after musical outfits like Joy Division and Siouxsie and the Banshees nearly a decade later, there is little doubt that the quirks of 60's New York and the alternative club scene set the precedent.
Sure, among other influences, 19th century macabre and existential philosophy inked a wide baseline for the subculture, too. There was a feeling of alienation at the core of Gothic ethos, as it tried its hardest to remain exclusive, yet open.
However, instead of a perceived Goth taking a picture of a perceived normie, as in Midnight Cowboy, pop culture became infatuated with tainting the images of Gothic culture, as in the initial coverage of Columbine's shooters (though media eventually had little to no evidence that either shooter was a part of the culture) and the ubiquitous presence of Marilyn Manson.
With my running analogy about photography and the popular misunderstanding of Goths in mind, enter John Darnielle, a prolific writer and lead singer of the indie-folk outfit the Mountain Goats, to elucidate and reconcile, through novelistic means, this misunderstanding.
He has waxed poetic about everything from professional wrestling and anxious youth finding their way in the upper northwest to verses from the Christian bible and adventures through locational Texan pillars. On Goths, Darnielle unpacks packed club scenes, with it an unrelenting nostalgia in clubgoers and musicians' minds, and, though there's not an identifiable protagonist, spells, out of a cloudy pacifism, deep conviction.
The album begins with "Rain In Soho," in which Jon Wurster supplies a driving drum beat over a ghoulish chorus that can't help but fashion your spine to a gust of wind on a blackened night (in Whitby, perhaps). From there, Darnielle capitalizes on his willingness to put the listener into the story.
Though any given fan under the age of 35 may not have experienced the 80's climax of Gothic culture, on tracks like "Andrew Eldritch is Moving Back To Leeds," one can fish through images of a rusted fog machine and a horse and carriage that "no one will steal" and not feel guilty about wearing the brittle frames one views halcyon days from. Of course, the song title refers the lead singer of the seminal band The Sisters of Mercy, who formed the group in the English city of Leeds. Eldritch isn't the only person to get shouted out on the record.
On "We Do It Different On The West Coast," Darnielle alludes to the U.S. as a possible forbearer of the culture over a traipsing piano and anxious hi hat hits. "Unicorn Tolerance" outlines the aporia that arises when one contemplates leaving their youth (Unicorns) for a more solemn setting (Goth scene).
Because there isn't a guitar on the album, the bass of long-tenured bandmember Peter Hughes is highlighted just as much as Wurster's drums; meanwhile, Darnielle's lyrical prowess, whether manifested in the form of whispering confessionals or convicted gaiety, remains outstanding.
"Stench of the Unburied" includes a joyrider "flecked with Maalox and dried vomit" who just wants to hear KROQ (an alternative station based in Pasadena) play Siouxie and the Banshees, try to rekindle the flame of freedom, the flame of Goth culture.
On "Wear Black," Darnielle has one of his central characters blur the lines of art and life by keeping the Gothic tradition of wearing black alive. In "Rage of Travers," the chorus warns people about the shading of cultural visibility and how one can be one-offed if someone in "platform shoes" sings "the twelve-bar blues."
If this album's leitmotif does anything, it tries to sneak out of its casket, which is in the graveyard of culture, and attempts to solidify itself and promote itself on behalf of the "separate but equal" subscription.
Unknown bands trick themselves into seeing relevancy by headlining "really big festivals in Brazil," over the tribal drum rhythm and lush piano keys on "For the Portuguese Goth Metal Band". The album's closing track, "Abandoned Flesh," serves as Darnielle's tongue-in-cheek declaration as to why Gene Loves Jezebel, an 80's Goth rock band based in the U.K., should've been bigger, and not overlooked because of how futuristic the band's music was.
No matter how many monoliths have tried to uproot and bastardize the Gothic subculture, thankfully, no songwriter in the copycat world of indie rock has siphoned originality off Darnielle's pen, allowing him to broadcast tales of dysphoria, and take lyrical screenshots of groups that may forever be misunderstood.