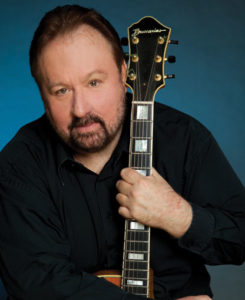 Renowned jazz guitarist Doug Macdonald, a Philadelphia native, is set to play the Jazz Estate, Tuesday, June 13 at 9:00 PM.
With the roots of his impressive jazz career based in Hawaii where he played along the likes of  Trummy Young and Gabe Balthazar at the Royal Hawaiian Hotel, Macdonald has taken his talents across the world.
After relocating to Las Vegas, Macdonald thrived in its booming music scene; playing in various venues alongside of other jazz veterans, including Joe Williams, Carl Fontana, Jack Montrose, and Carson Smith.
Coinciding with Macdonald's nomadic jazz career, he then transitioned into the Los Angeles jazz scene, playing among the bands of Bill Holman, Ray Anthony, John Clayton, and many more. After years of both performing soloist and accompanist work, Macdonald also began his own trio and quartet, as well as a 13 piece ensemble, titled The Jazz Coalition.
Fast forward to today, and Macdonald has toured throughout Spain, and performed at the Cezanne in Houston, The Jazz Showcase in Chicago, and Mezzrow in NYC. Macdonald has also released 12 recordings, with two upcoming releases in the coming months.
Experience Doug Macdonald's impressive experience and talents at his show at the recently reopened and revamped Jazz Estate, located on Milwaukee's vibrant Eastside. The show is set to begin at 9pm, with a Door Charge of $5.
For more information about Doug Macdonald or the Jazz Estate:
http://www.dougmacdonald.net