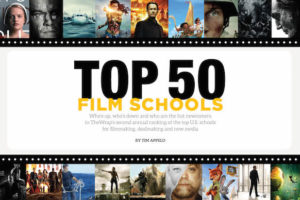 UW-Milwaukee's film school, the Peck School of the Arts, was named in Thewrap.com's top 50 film schools of 2017. It's the entertainment news publication's second annual ranking of film schools across the nation, with its goal of rating "the institutions that will help launch the entertainment industry's future.  
Peck School of the Arts, which ranked 47 on the list, got its spot through its notable alumni and innovative professors, describing that, "Willem Dafoe and "Lord of the Rings" Oscar-winning VFX man Jim Rygiel went to UWM's Peck School of the Arts. In the film/new genres program, prof Tim Decker ("The Simpsons") assigns animation students music videos to ensure they're immersing themselves in all the arts, not just film." 
Sophomore Connor Erickson, a PSOA Film, Video, Animation, and New Genres major commented on the school's success, "I think what makes being a part of this program such an amazing experience and privilege is the care and passion that the instructors put into it. They truly care about cultivating raw creativity from each student and care just as much about our success as we do. Being a film major here is about creating your best work while taking risks and gaining knowledge from a group of amazing people who only want to see you grow which I feel is so unique to this school."
It's not the first time the Peck School of the Arts has been praised for its success in film and other artistic areas. The school's film program was named in the Hollywood Reporter's top 20 film programs in the world, Variety's "Best Entertainment Education Programs," and ranked 62nd nationally by the U.S News and World Report.  
The Peck School of the Arts' film program integrates its world-renowned education program with its ability to collaborate among its web of connections throughout Milwaukee. Past partnerships include the Milwaukee Film Festival, the Milwaukee Art Museum, the Wisconsin Film Festival, and more.
For Thewrap.com's full ranking, click here.