The Milwaukee Pridefest took place June 9- 11, and broke it's attendance record with more than 37,000 attendees. Much of this record breaking attendance has a lot to do with word of mouth. For many it was their first time; and for many of them, they were encouraged to go by friends who have already been to Pridefest in years past.
Brendan Avery, 18, from West Allis, has attended Pridefest for the last two years. Avery says, "Everyone here feels accepted and comfortable; people give you compliments and there's no drama."
This year Avery brought his friend Cassandra Coffee, 18, from West Allis. Coffee says, "I love it here. I want to stay all day. And I definitely want to come back next year." The attendance will keep going up as long as people who have gone to Pridefest in the past keep expressing the good experiences they have at the festival.
There was a wide variety of activities that anyone could participate in. For instance, on June 10, one area got people moving in many different ways. There was Fun Flow Yoga with Kate Dean from Milwaukee Power Yoga, Sensual and Sexy Dance Instruction with Aphrodisiac, as well as Body Combat and Kick Boxing with Sarah Emerson – just to name a few.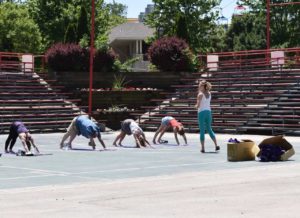 Avery especially liked the type of music that's traditionally played at Pridefest: Dance Hall, Electronic Dance Music (EDM), and DJ Pop. Some of the musical artists included: Rio Turbo, a party-pop group; Close Up DJ's, a DJ group; Young Zucchini, a solo DJ artist; and AUTOMatic, a hip-hop duo.
Andrew Richter, 26, from Milwaukee, says he represents "a smaller sect of the [LGBT] community who like the rock n roll type of music." This is Richter's 7th time going to Pridefest. He says he likes the wide variety of people that he meets every year, "not to mention the good hook-ups."
Shortly after high school Richter 'came out' to his family and friends identifying himself as gay. "At the time, my father hated me, hated me for what I felt," Richter says. "But when I came here and saw one of the drag shows." He speaks of a specific drag queen at the Dance Pavilion that said, 'you are who you are, don't let anybody tell you any differently.' "It was very liberating to hear at that moment of my life," says Richter.
This year, Richter brought his friend Kayley Edgin, 22, from San Diego, California, who's in college at Marquette University here in Milwaukee. "My brother is transgender, so the LGBT community is near and dear to me," says Edgin. Even if you don't recognize yourself as gay or bisexual or transgender, Pridefest is for everyone who is accepting to people and what they feel inside.
Pridefest is a festival for people who want a chance to be themselves, dress the way they want, act the way they want, and not be judged by it. "The people here are very accepting to anything and everything," says Edgin. Besides having a brother who is transgender, Edgin says she also came "to see the wildly dressed people and to listen and dance to the upbeat music."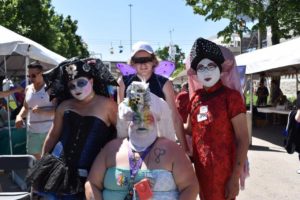 This year the Dance Pavilion featured multiple artists and shows including the D.I.X. Dollhaus drag show; Synymata; DJ Marcus Angel; the Leather show; BoyToy Chicago, a Boylesque show; DJ ROZZ, from Milwaukee; a Belly Dancer show; the Lady Dia Drag Show; and DJ B, from Madison.
 Pridefest was a great success this year with a record-breaking attendance. Pridefest has given the LGBT community, and everyone who feels close to them, a place to feel comfortable and safe for the past 30 years. Attendance is expected to grow as word of mouth continues to spread.