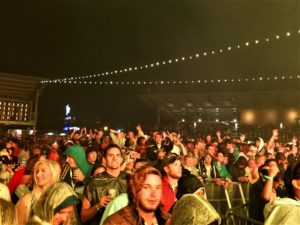 Summerfest is officially in full swing, celebrating 50 years of magical music in Milwaukee. If you're able to, everyone should head down to the grounds to listen to live bands, eat great Wisconsin food, and enjoy the company of friends.
Music festivals can be a little pricey with the admission ticket, high prices for food, and the complete robbery on beverages. Lucky for us, Summerfest does admission promotions! Check out what promotion is going on each day, and get in for free!
Wednesday July 5th: Sentry Food and Dean's Milk & Ice Cream. Everyone arriving between noon and 3pm will be admitted free!
Thursday July 6th: Senior Day and H.O.G Member Day. Anyone over the age of 60 will receive free admission, as well as anyone with a H.O.G. member card.
Friday July 7th: Boston Store Day. The first 1,500 people will receive a free ticket valid this day with a Boston Store receipt. Must be dated between June 1st- July 7th.
Saturday July 8th: "Make a Child Smile Day". First 1,500 people who donate a children's book that has a $10 minimum value will receive 1 free admission for this day.
Sunday July 9th: Fan Day. All patrons arriving between noon and 3pm will be admitted for free!
Since you know what deals are going on and for what days, you can now enjoy the festival every day at a lower cost! If you are not local and cannot walk down to the grounds, there are several other options for you. Several local Milwaukee Bars are offering a free shuttle there and back with the purchase of a drink. Jack's on Brady, Mo's Irish Pub, Hooligans, Vitucci's are just a few on the list.
Enjoy the 50th anniversary of what is known to be the largest music festival in the world, Summerfest!