*Editors Note: This article was sent to The UWM Post by UWM student Savannah Schaller in a response to a Media Milwaukee article entitled 'Not my Mascot.' This article and the opinions do not nessisarily reflect on the UWM Post.
—————————————————————————————————————————–
"The year? 1965. The mascot? To be decided. The University of Wisconsin, Milwaukee didn't always have a panther as its mascot. During this era of UWM's history, it was a transitional time for the college—after forming from the merger of two schools, UWM had locked down the name, but they needed the face. Enter: the panther mascot.
In 1965, UWM held a vote to change the school's colors and mascot. In other words, this means the students got to choose what represented them. They didn't vote for an eagle, a tiger, or okra (@ Delta State…whatever floats your boat). Students thought that a panther was the best representation, and you can't argue with that evidence. If I were alive back in 1965, I would have voted for a panther too. A panther isn't one species at all. It's a blanket term for large cats that have a dominant gene producing the single color. That means that leopards and jaguars can all be panthers, but they are different species. I think that's a perfect mascot for UWM. Everyone has a different major and a different background, but at the end of the day there is something important that connects us all—more on that later.
Let's dissect the current depiction of Pounce the Panther. Classic snarl, a long tail, whiskers, claws…wait. It kind of sounds like I'm describing a cat. Well, that's because I am. Pounce is a Panther. A panther is an animal, and therefore devoid of human qualities. Let's take another look at the animation. What else can be gathered from this?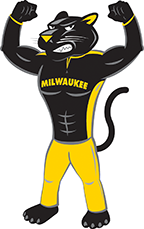 I'll tell you what: not much else. It's blatantly ignorant to assume Pounce's gender, sexuality, and fraternity member status. The point is, our mascot comes with some ambiguity. This allows for interpretation. Some may choose to interpret this depiction as an over-hyped bro who went too far during bulking szn. That's all well and fine, but I don't see Pounce like that at all. I see our mascot as the furry cat that posed for a photo with me during Welcome Week my freshman year. As a tough icon our athletic teams can stand behind. As a single image that represents the college I've grown to love. If you can't find something that helps you fit into UWM with all the resources, clubs, and organizations available here, there's a bigger insecurity there that I can't help with.
Image Source: UWM
I'll get off my soapbox soon, but it's important to realize that a mascot isn't just something that's "assigned". The student bodies of the UW system don't sit around and decide that Madison gets to be the Badgers and Eau Claire gets to be…well whatever Eau Claire's mascot is. No—a university's mascot is an integral part of the history of the school, and an icon for what we stand for. In 1965, the same year the panther was selected, Martin Luther King Jr. spoke to an audience at our Student Union to discuss civil rights and the need for action. Our nation and our city have a divisive past, but there's an overwhelming merit in the actions our alumni took against adversity. I take pride in that history. Yes, we are part of the most urban and diverse campus in Wisconsin. Yes, we all have many differences. Let's celebrate that by rallying around a common motif that embodies the one thing that is inclusive of every single person on this campus: we are all Milwaukee Panthers."