In a back-and-forth Horizon League matchup, the Detroit Titans ended up on top with a 60-56 win over the UW-Milwaukee Panthers at the Klotsche Center on Wednesday night.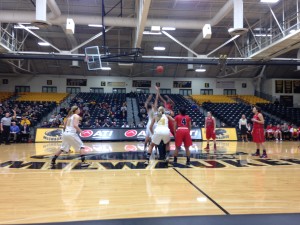 The Panthers struggled to connect on their shots as they only shot 32.8% from the field (22 for 67) and only 18.5% from 3-point range (5 for 27).
"They did a great job of taking away our two best scorers in Ashley Green and Jenny Lindner, and we knew that was going to be the case," said Milwaukee Coach Kyle Rechlicz. "Ashley has been our leader all year, but tonight they weren't even letting her touch the ball."
With Green and Lindner getting shut down, Rechlicz emphasized that other players had to knock down shots and have that confidence to step in and shoot. Steph Kostowicz led the way for Milwaukee with 18 points and Sydney Howard added 17 points and 4 assists. Howard scored the first 11 points for Milwaukee as she connected on her first three 3-point attempts.
"Those are the best games I've seen them have. I thought they played extremely confident," said Rechlicz on Kostowicz and Howard.
Rosanna Reynolds scored a game-high 20 points for Detroit (11-17, 6-9 Horizon) in the winning effort.
Milwaukee (9-18, 5-10 Horizon) will next travel to Wright State in the final game of the regular season this Saturday.