Week 7:
"Every family is messed up a little, in their own way."
As I sat down to write this week's column from the comfort of my parent's house, miles away from the busy city of Milwaukee, I pondered how to start a column during a week that celebrates the importance of family bonds when the film I'd selected featured one of the strongest portrayals of family dysfunction that I'd ever seen. Cue my mother, and her endlessly quotable wisdom.
Every family is messed up, but that doesn't make it impossible to love them and to come to a mutual understanding. Fresh off her two Best Actress Oscar wins, Jodie Foster stepped behind the camera to direct movies focusing on the relationships between the family units. While she has only directed three films (with one on the way) in the almost 25 years since she first started her directing career, I applaud Foster in her ability to challenge herself in the stories she chooses to tell.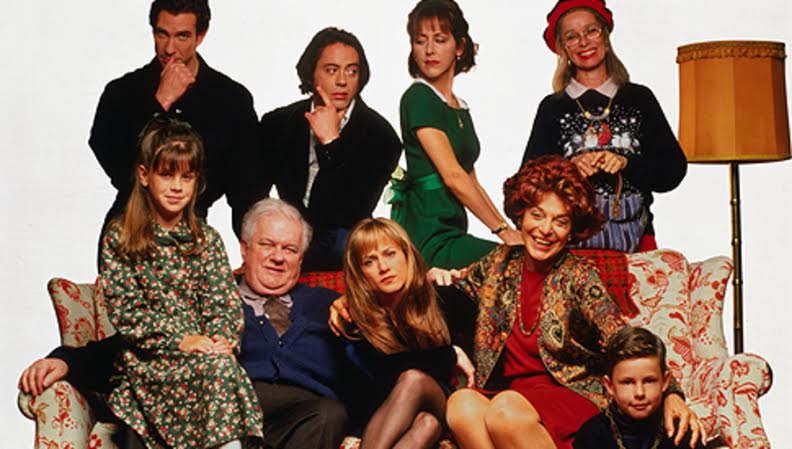 Her second feature, Home for the Holidays, starring Holly Hunter and a young Robert Downey Jr., is my selection for this week due to its ability to portray dysfunction in a comedic way, while still managing to celebrate the importance of family.
Home for the Holidays focuses on Claudia (Hunter), whose life is a complete wreck. She's just been fired from her job due to budget cuts, her boss takes this opportunity to make a move on her, and on top of it all, her only child (Claire Danes) surprises her after dropping her off at the airport to announce that not only will she not be joining Claudia for Thanksgiving with their family, she'll also be losing her virginity to her boyfriend. When Claudia flies home to see her parents, she's surprised to find her gay younger brother (Downey Jr., hilarious) there with a new friend, who she misinterprets as his boyfriend. Her conservative sister and delusional aunt arrive at the household for Thanksgiving dinner, and from there the tension builds until it's almost unbearable. No matter what you think might go wrong at your dinner, I can assure you that it's not as bad as what this clan has in mind.
While Foster spends ample time ramping up the dysfunction, she also makes the decision to have Claudia reach out to every member of the family and creates a moment of bonding and understanding with them. Rather than have the whole family unit come together as a whole, as some filmmakers would tend to do, Foster is more interested in the smaller dynamics within one family. While it's evident that they might not always like each other (as Claudia quite literally tells her sister at one point), the love between them will always be there, and we can see this throughout the film through Foster's direction and through the warm performances from Hunter, Downey Jr., and Anne Bancroft as the family matriarch.
Watching Foster's film gave this writer an equal feeling of relief ("Thank God my own family isn't that bad!") and nostalgia. Every family is messed up in their own way, but the power of Home for the Holidays is that despite that fact, it will have you on the next bus/train/plane home to see yours.
Home for the Holidays is available to rent on both iTunes and Youtube. It can also be checked out from both the UW System Library and the Milwaukee County Library system.
Week 8:
It's getting colder day by day, and with Thanksgiving break over, and the end of the semester just up the road, I decided to visit a film that combines both the family dysfunction that the holidays often bring with the cold atmosphere of the approaching winter. While I personally hate using the phrase "hidden gem," this week's film is a rare exception, as I truly believe it's a masterpiece of contemporary cinema that has been seen by too few people.
This week's 52 Films by Women column focuses on the 2012 film Sister, directed by French-Swiss filmmaker Ursula Meier.
While she has only made a couple of feature-length films, her keen eye for interesting storytelling is one of the many things that makes her films stand out. Sister takes place on the foot of a huge Swiss ski resort populated by wealthy visiting families and tourists. At the very bottom, twelve-year-old Simon (Kacey Mottet Klein, absolutely captivating) and his older sister Louise (Léa Seydoux, who audiences just saw hold her own against James Bond in this year's Spectre) struggle to make ends meet. Louise works odd jobs that she can't seem to hold down, but seems more pre-occupied with her boyfriends while Simon travels up to the resort with the purpose of stealing ski equipment from the rich to sell to the poor in the housing complexes below. Sister is a fascinating look at poverty and class, and the damage that disconnect has on the relationships between people.
Meier makes great use of the bleak atmosphere of the world she's created, contrasting bright reds and blues against the neutral earthy tones and brilliant white–which at certain points appears to be tinted warmly, only furthering the contrast between the wealthy tourists and the two leads. There is something so striking about following a static shot down the gigantic alps and then several minutes later watching a group of poor children skiing down a mound of dirt and grass with some snow on it.  Simon moves silently around the resort, hardly noticed by anyone except for a handful of adults—including a resort worker and the matriarch of a visiting British family (Gillian Anderson)—and it's clear that he's searching for a kind of attention and affection that Louise cannot give him.
Both Mottet Klein and Seydoux are compelling to watch in their roles, turning their complicated family dynamic into a subtle mystery that slowly unravels by the end of the film. We don't know how Simon and Louise got to this point, or where they will end up, but it doesn't matter. What matters is the fact that (as illustrated in the heartbreaking final shot) they are simply two people on two different places, never to truly understand the other.
With the help of French cinematographer Agnès Godard, Meier's film is absolutely beautiful to look at. These two women are able to convey the sense of growing isolation and desperation that Simon feels in his role as the sole provider through the use of space and framing. Sister is populated with striking wide shots of scenery, with its characters occupying very little space in frame. Just as the rich resort visitors fail to notice (or care about) Simon moving among them and stealing their belongings, Godard frames Simon as a mere speck on the camera's radar, overwhelming him with the snow and scenery. These images linger in the mind for a long time after the film's credits roll. The power of Meier's work is that her films, while appearing simple in their premises, work their way into our minds and refuse to let go.
Sister is currently available to stream on Netflix.
Films by Women in Theaters Now:
Suffragette, dir. Sarah Gavron, is currently playing at the Oriental.
Love the Coopers, dir. Jessie Nelson, is currently playing at the AMC Mayfair 18, as well as Marcus Theatres.
The Intern, dir. Nancy Meyers, is currently playing at the Marcus Ridge Cinema.
New to Streaming:
A Very Murray Christmas, dir. Sofia Coppola, is streaming on Netflix.
A Case of You, dir. Kat Coiro, is streaming on Netflix.
India's Daughter, dir. Leslee Udwin, is streaming on Netflix.