Matthew Shultz, a hybrid of a man outfitted in black head to toe, soared to the stage causing a hormonal frenzy from the girls behind me.
Cage The Elephant found themselves in Milwaukee, Wednesday June 8th promoting their most recent album Tell Me I'm Pretty, which released in October of 2015, at the Rave Eagles ballroom.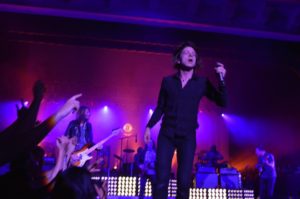 One thing I didn't anticipate while standing in the press pit, past the barriers right next to the stage, was the amount of spit I'd be covered in from the screaming fans behind me. Between questioning why I was getting wet, why my hair was being tugged at, and whose hand was touching my back – I had little time to be grossed out or annoyed. I was literally beneath Shultz, the closest anyone was going to get at this show, as he opened the show with "Cry Baby". All I could do was smile and shake with my camera in my feeble hands while watching his skinny frame dance like a bright graphic.
Shultz, one out of the five members of the alternative rock band Cage The Elephant, is heavily known for his unpredictable energetic behavior at live shows. Whether it be cross dressing, stage diving, crowd surfing, or his animated dance moves, one thing can be predicted – Cage The Elephant were going to put on a hell of a show.
And they did.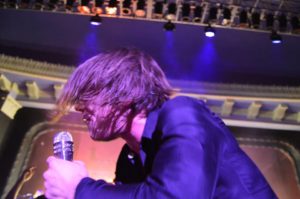 While Shultz's necklace bounced from his nonstop bouncing, shaking, back-and-forth movements, and head bobbing, I couldn't help but notice – how the hell is this guy hitting his notes, how doesn't he need an inhaler right now? His constant dancing and running from end A to end B and down the runway of the stage was unbelievable. He regularly grabbed the microphone stand, his body vibrating as he sung. Finding verbs to fit into a sentence to describe Shultz's liveliness seems almost impossible due to the magic experienced in the ballroom.
A moment that immediately shifted the fans moods from star-struck "OMG IT'S HIM!" to a level of stimulated fan-girl fury, was Shultz sticking his microphone down his pants for a few seconds then returning to singing. That's when the screams behind me amplified. That'll do it.
Since the band was touring, Tell Me I'm Pretty, a majority of the songs came from that album, but of course crowd favorites were not forgotten. Songs to be noted were In One Ear, Ain't No Rest for the Wicked, Mess Around, Back Against the Wall, and Come A Little Closer. After a quick teaser, the boys came back on for an encore, performing Cigarette Daydream, Shake Me Down, and Teeth.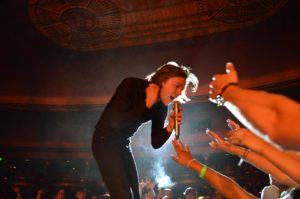 The songs must've really ignited an exceptional flame in some since two women scrambled on stage only to be taken off by security – but then enthused more, then some more, and a few others to do the same.
What felt like forever, but more like three years of waiting to hear Cigarette Daydream live, was a daydream in itself. As a proper and professional reviewee, I'm supposed to include negatives. However, I find this task almost unbearable to do and would find myself fabricating. My expectations of what the boys could do live were met then pushed to a further level that I didn't know existed.