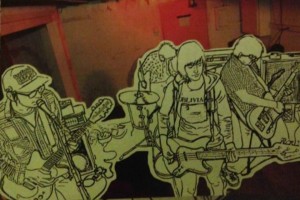 Are you a supporter of Milwaukee's local music scene but feel like you want to zest up your experience every now and then? If you can identify, I encourage you to check out the latest event hosted by the Cocoon Room this Friday at 7:00 p.m. Patrons will be given the chance to experience the music and unique art behind, "A Rock & Roll Coloring Book." The event will house life size prints hanging on the walls which guests are invited to let their creative juices soar, decorating and coloring them as they please. There will be books for purchase and live music starting at 7:00 p.m., all with a $7 cover.
You may be wondering what kind of Rock and Roll music is covered in the book and who is going to be bringing it all home on stage? Excellent questions. Both hardcore and fastcore rock genres will be covered. If you are not very familiar with these genres just know they are hard-hitting, in your face kind of bands; giving quite the musical experience indeed. The bands performing during the show include: Falter, Lifes, international fastcore band Disparo, and Short Walk, who is featured in the coloring book.
UW-Milwaukee junior Jessicka Raygun is responsible for this refreshing musical salutation. She is getting her BFA in print and narrative forms, fibers, along with a Rock & Roll Certificate through the Peck School of the Arts. Raygun crafted this piece of musical art along with some help from her artistic associate and friend Andy Junk.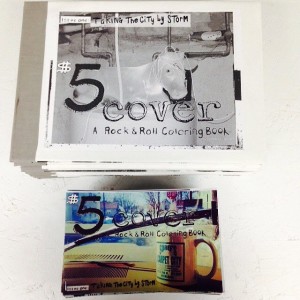 During our conversation, Raygun said she hoped she will be able to contribute more regional and international Rock & Roll coloring books in the future, so stay tuned friends! So if you have the chance to make it to the show, just know you are about to experience art for the eyes and ears. Raygun sums it up nicely in her "artist statement section" of the coloring book.
"This coloring book is a way for people to take ownership of visual art by adding their own hand, thus through interaction, it becomes their art."
So submerge yourself in this oasis of art and see what you can create.