At The Rave in Milwaukee, on the night of Oct. 14, things began curiously, due to the impression that Playboi Carti was supposed to perform before the A$AP Mob, according to The Rave's official website, which went as far as to supply a time for his set. On one hand, seeing the artist who's responsible for high-charting "Magnolia," would've been nice, but the main attraction all along was the A$AP MOB, headed by A$AP Rocky and A$AP Ferg.
Both Key! and the Cozy Boys (consisting of A$AP Snacks and A$AP Lou) hyped the crowd up, before a short interval transpired during which the sold-out Rave crowd started to badger the group to come out. A$AP Twelvyy led a short boom-bap-inspired set, and had the crowd raise their lighters and illuminated phones to honor the founder of the Mob, A$AP Yams, who passed two years ago, and was a legendary underground hip-hop mogul.
After minutes of elongated "A$AP" chants, the music video for "Feels So Good," the first single to emerge off the Mob's recently released Cozy Tapes Vol. 2: Too Cozy, began to play. Other songs included "Blowin' Minds (Skateboard)," "Walk On Water," and "RAF." Verses from guests, such as Chief Keef, Playboi Carti, Quavo, and Frank Ocean, played out, and allowed the Mob to take short breaks and hype the crowd.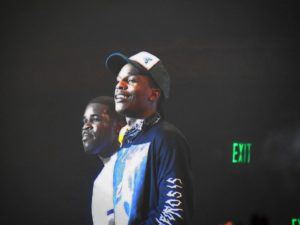 The braid-wearing, sound-monitor-climbing Rocky, appearing to not break a sweat, was present for nearly all the Mob's set, showing a feathery gravitas, demanded in songs like "BYF" and "Please Shut Up." The Thursday show marked the five-year anniversary of Rocky's first performance at Milwaukee's Rave location.
Mosh-pits, short-lived crowd surfs, well-pixeled backdrops, discharging smoke from the sides of the stage, and multiple A$AP members going on brief high-fiving sprees every so often, proved something beyond high-profiled track lists and opulent tastes in fashion – two things critics like to magnify when looking at the crew. The whole roster defines entertainment par excellence.
For some detractors of Rocky, the highly influential artist doesn't do enough to embellish and graduate his entire crew, and regardless of if that's true or not, you would never think about it in a live setting. Ferg, who has hatched his fair share of bangers over the last half-decade, namely "Work REMIX" and "New Level," floated in and out of the set but commanded the stage to perform those two songs, as well as "Plain Jane," which appeared on his Still Striving project from this past August.
The crowd was multifarious – from kids with their parents to visible college students to middle-aged adults – allowing one to not pigeonhole the overall fanbase of the Harlem-based collective, who can specialize in flashing mind-blowing bass, catchy hooks and crepuscular sounding synthesizers off any one of their projects, just as they can supply rappity-rap, cypher-style stuff.
Not only did the group, beyond the bounds of only Rocky and Ferg, justify as to why their influence is sprinkled throughout popular hip-hop, but they showed that their outward appearance extends beyond music and fashion, sharpening their performance into a carnal, visceral and all-around fun venture.
After the Midwest leg of their 20-date A$AP Mob tour, the crew will transit the Southwestern states, then head to the Pacific Coast. The U.S. tour concludes on Nov. 13, in Broomfield, Co.