Mrs. Country Music, Loretta Lynn, is back in town and ready to go. Recently signing a multi-record deal with Legacy Recordings after a decade. According to Mrs. Lynn and Rolling Stone, she has new music up her sleeve and is going to be reintroducing some of her finest tunes to the listening audience to fall in love with her all over again. According to Rolling Stone's Andrew Leahey, "Included in the mix are gospel tunes and Appalachian-folk songs that she learned from her mother while living in Butcher Holler, Kentucky, as well as a group of newly-penned originals." Although few additional details have been released, a press release promises the albums will focus on "intimate new performances, the way they might've sounded growing up in the 1930s and 1940S in Butcher Hollow."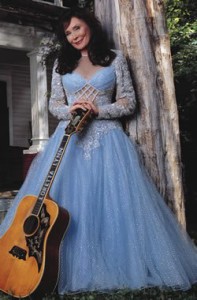 Mrs. Lynn dug her boot heels into the American soil not just a Country darling but as a progressive female singer-songwriter notably during the 1960s and 1970s. From songs like, "The Pill," "Don't Come Home A-Drinkin'," "Rated X" to "Dear Uncle Sam" and many more among her dynasty. She shows promise to not only touch on current issues but contribute another perspective to the American musical ether because it is coming from someone that has been through it before.
So are you wondering what songs she will choose to reintroduce and showcase for the very first time? Writing new songs since 2007, according to Leahey, I am willing to bet my last dollar it is going to Paramount. Mrs. Lynn not only sings about love and heartache for someone throughout her career like so many do, but then accurately touches on the topics that so many stay away from. Some being women rights, divorce, war and poverty but then drives it home with her country sass and charm, that making her a resilient musical icon. So if you are a country music fan or just have respect for "the greatest female singer-songwriter of the 20th century" like Jack White states after the two shared the stage at his January 2015 Nashville show, you are indeed setting yourself up for a musical experience many will still be listening too for years to come.