Legendary alternative pop rock band Weezer has been trapped for most of their career.
Their widely celebrated, self-titled debut album, also known as The Blue Album, was 1990s nerd rock charm incarnate. Their sophomore effort Pinkerton was an honest walk on the dark side of relationships and fame. Unfortunately, Pinkerton was not immediately met with praise. As a result, Weezer's next six albums had a much more manufactured sound. During this time front man Rivers Cuomo allegedly studied the construction and success of award-winning popular music and incorporated his findings into these works. And so, the band had trapped themselves.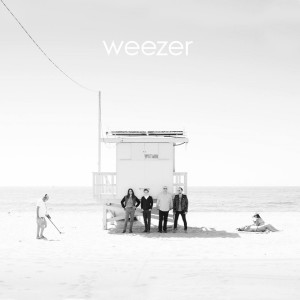 Fans and critics alike were largely disappointed with Weezer until their ninth studio album Everything Will Be Alright in the End, a highly apologetic and self-deprecating return to form for the band. Several songs directly addressed their grievous mistakes and plainly pleaded for another chance from listeners. This comeback record was enjoyed by many, and the world was once again ready to see Weezer shine.
Burdened no longer by fabricated pop sensibilities or weight of past sins, Weezer's self-titled tenth studio album sees them finally and completely return to the true alternative pop rock that only Weezer can make. Weezer, also called The White Album, is a partially critical tribute to California and its people. Between the unrelenting, nearly grungy anthems and the softer, piano-driven tracks, Weezer's newest release is excellence from start to finish.
The album opens with a surf rock tone guitar and a glockenspiel playing a summery little melody together. This is the beginning of "California Kids." The song soon introduces a chugging electric guitar and calming lyrics. Quickly building with another guitar melody and increasingly intense vocals, the chorus soon comes stomping in with Weezer's heaviest chord progression since "Say It Ain't So" from their first album. This brilliantly simple song structure and complete dynamism is quite reflective of the character of the rest of the album.
The record continues with a few lighter tunes including "Wind in Our Sail" and "Thank God for Girls." Piano and drums take center stage during the verses of these songs, providing a bouncy, nearly hip hop quality. This may seem undesirable for an alternative pop rock outfit like Weezer, but the contrast created between it and the undeniably bold and roaring choruses is quirky, surprising, and ultimately delightful.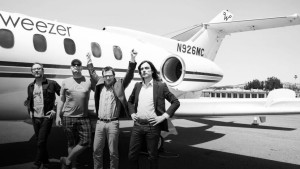 The White Album isn't all sunshine and roller-skating beside lines of palm trees, though. Tracks "Do You Wanna Get High?" and "Jacked Up" explore unhealthy romantic relationships marred by drugs and apprehension. Both sound ominous and melancholy in their own ways. "Do You Wanna Get High?" is filled to the brim with distorted, crunchy, and dirty guitars. "Jacked Up" has a wistful melody frequently supported by echoing pianos and falsetto harmonies.
If any songs on the album are weak in any sense of the word, they are the aforementioned "Thank God for Girls" as well as "King of the World" and "Summer Elaine and Drunk Dori." I reviewed "Thank God for Girls" when it was released as a single, and its bizarre, borderline nonsensical lyrics are an understandable turn off for listeners. My feelings about it were conflicted then, but the song has grown on me within this context. "King of the World" perhaps suffers from being too simple and using a squealing voice box in its intro; yet, the story told by the song—Cuomo's desire to erase all of his wife's anxieties—is endearing, relatable, and truthful. "Summer Elaine and Drunk Dori's" melody feels much more stilted than those found on the rest of the album, but the admirable crushes described will probably strike a resonating chord with many listeners—pun intended.
The final two tracks I would like to discuss are "L.A. Girlz" and the closer, "Endless Bummer."
"L.A. Girlz" is the new theme song for the age-old idiom, "Don't judge a book by its cover." The title of this song—especially with its needless "z"—does not seem promising. In reality, this waltzing and yearning track feels like it is straight off of Pinkerton. Choruses are straightforward but produce an irresistible urge to sway back and forth and sing along with its infectious melody. Verses soar with epic harmonies and heavy guitars laid down without hesitation. The guitar solo is just as unashamed, spitting out rapid licks and runs before the song closes with one more catchy chorus.
"Endless Bummer" is the only pure ballad on The White Album, and it is far and away Weezer's best in years. It begins with a simple acoustic guitar riff and folksy harmonized vocals. After a few verses of cynical lyrics demystifying the magic of California summers and their frivolous romances, the drums join in quietly. Then, the truest line ever written is sung: "Kumbaya makes me get violent." The song finally kicks into full gear with thumping drums. Before long, a guitar solo flies in and goes from beautiful simplicity to tasteful shredding in an enchanting and seamless cascade of sound.
Weezer is finally free. The White Album is the first album since Pinkerton that feels like exactly what they sincerely want to write. It's not pathetic pandering pop, and it's not ridiculously repentant rock. It's Weezer, and it turns out that's all we listeners ever needed.