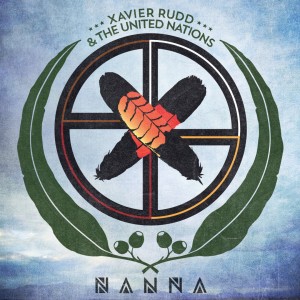 Xavier Rudd is a folk artist from Australia who has dabbled in a variety of genres, and he has proven himself as an extremely talented and unorthodox multi-instrumentalist since he began his career in the early 2000s. His most recent release "Nanna" is a collaboration with other musicians from around the world, forming the appropriately named Xavier Rudd and the United Nations. Despite the sheer diversity of this group, "Nanna" is unmistakably a reggae album. When the group tests the limits of the genre, "Nanna" truly shines. However, there are some moments when the tracks feel bland, trapped in the reggae label.
"Nanna" opens strong with the politically-charged tune "Flag." It has a fun, shady tone to it, as if it were sung by a Jamaican in a film noir crime drama. At the same time, the song feels big and grand in its composition during the choruses, taking advantage of the group's many members. The title track "Nanna" accomplishes this just as well but more subtly, building slowly with chanting and spoken word to empowering and poetic choruses sung in enchanting harmony:
In these hands I hold your light
Through these hands nanna
I'll guide I'll guide
You fuelled me from the ground
Pulled me up when I was down
I believe in you
"Radiate," despite being only 54 seconds long, is perhaps the best example of the epic quality of these songs, letting the bright brass and slick guitar drive the song with confident energy.
Xavier Rudd and the United Nations do slow down, though, too. In "Sacred," a piano takes center stage, effectively creating a reggae ballad. Similarly, "Bundagen" focuses on Xavier Rudd and his guitar, taking on qualities of country folk music without losing the worldly sensibilities of reggae.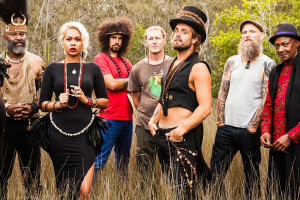 However, some songs on "Nanna" do not exude such originality. Tracks like "While I'm Gone" and "Rainbow Serpent," while amusing, do little to set themselves apart from the typical reggae sound and formula. Lyrics invoke images of island paradises, earthly spirits, and little else. After just hearing tracks like "Radiate," it is easy to feel as if they are selling themselves a bit short when listening to these.
If Xavier Rudd and the United Nations has one thing to contribute to the rather limited genre of reggae it is their ability to go from a truly larger-than-life presence to more a more tender, personal sound rather seamlessly. Songs like "Flag," "Nanna," and "Radiate" are huge anthems; conversely, there are some incredibly intimate moments in "Sacred" and "Bundagen." Both of these extremes are welcome changes from the safe, generic feel of some of the other tracks.
Ultimately, "Nanna" is exciting and powerful when fully embracing the potential of its diverse and numerous members, but it sometimes gets caught up in its identity as a reggae album.