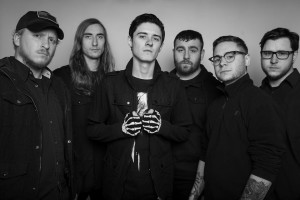 Faced with the frustration of a former band stalling out before their dreams could be fully realized, longtime friends and band mates, Thomas Grim and Jake Stone, were not ready to give up on their dreams of heavy metal stardom. Together, the two rockers took what was rightfully theirs from the ruins and began recruiting for a new band in late 2014. By January 9 of 2015, Archiver was born with Thomas Grim on vocals, Jake Stone and Vendetta Zakk on guitars, Jeff Kamenick on bass, and Justin Townsend on drums. Two months later, the boys in black finished off their lineup with the addition of keyboardist and sampler, Nick Rueda.
Inspired by an assortment of hardcore and heavy metal bands including Cannibal Corpse, It Dies Today, Motionless in White, All That Remains, and Killswitch Engage, Archiver is a fast and melodic heavy metal band with a vocalist who's growls would make the devil proud. But in a world where every heavy metal band is fast, heavy, and melodic at some point in their career, Archiver brings something new to the table.
"Weapons!" jests Kamenick causing the suburban basement where the band practices to erupt in laughter, showcasing their spirited, tongue-in-cheek personality.
Given that two of the band's members are two combat tested Veterans of the Afghan War, there's a good possibility a weapon or two might make into the show…as a stage prop that is.
"We're not just about music, we're about the all around experience of metal down to the feelings you feel in the song to the performance you see, the atmosphere, and the vibe you get when you see the band live. We're more than a band or music, we're an artistic experience," answered Rueda after the band quieted down.
What makes Archiver an artistic experience is their emphasis on horror rather than the occult in not just their lyrics but their music as well. For example, a purposely unspecified track from their upcoming EP casts an eerie sense of dread on the listener, for at the beginning all that is heard is the hauntingly beautiful keyboard giving the sense of walking through a haunted mansion long forgotten by time. Each note plays to your slowing pulse until a sudden cymbal crash breaks the mood like a thunder clap followed almost immediately by the crunch of the guitars representing the jump scare that comes with the appearance of some terrible ghoul no longer lurking in the shadows.
"I really like how we integrate the horror atmosphere of the synths into the metal to enhance the intensity. It almost makes it heavier. Horror and metal go really well together," says Townsend. "All of us have a genuine enjoyment of scaring the shit out of each other."
In a similar fashion to shock artists before them such as Alice Cooper and Marilyn Manson, Archiver plans to terrify show goers with what is best described as a living, breathing horror show with heavy metal as its soundtrack. The promised theatrics will include fog, eerie lighting, and 3D projections that just might bring a few horror icons to life. Though an expensive endeavor, the band is fully behind investing large amounts of money to achieve an unforgettable show.
"If you're in a band and you're not prepared to spend hundreds, if not thousands of dollars just don't be in one," says Grim before Kamenick added, "We treat our band like a business. This isn't a hope and prayer kind of thing. For us, this is like working a second job."
As well as a creepy atmosphere, the band has contemplated wearing costumes on stage. Some idea that have floated around included dressing in the guise of slasher villains such as Freddy Krueger or Jason Vorhess but so far the band is leaning more toward a two-toned color scheme more befitting of a gothic horror show such as Hammer Film's Dracula.
"We don't want to be overbearing. We want to be handsome dark," says Grim, who according to Stone is the band's lyrical mastermind and the 'archiver' of an impressive collection of horror films and memorabilia that provide the band with endless ideas.
But what is a great live show without music? Currently, the band is set to begin recording their debut six track EP titled 'Tales to Tell in the Dark' with producer Matt Dalton at the famed 37 Studios in Rochester Hills, Michigan. The recordings will take place between April 24 and 29, and the band hopes to have the EP released by June at the earliest and early Fall at the latest. Currently, the cover art has yet to be done and although the band would prefer Todd McFarlane, they're open to local artists with a horror-inspired style.
In the meantime, the band is getting ready to hit the stage in the Milwaukee area with their debut at the Rockstar Saloon on April 11 followed by a performance at the Hometown Throwdown July 12. Though no other shows are currently planned, the band is in the process of securing a slot on the side stage at the upcoming In This Moment show at the Rave, May 12, but don't be surprised to see them grace the stage with local greats such as Conniption, Thrasher, or Imperial Fall. Until then, a few final words from front man, Thomas Grim;
"We're going all the way with this. Prepare for your new hometown heroes. Prepare for your boys in black."