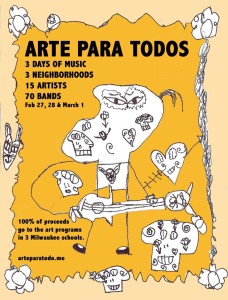 Milwaukee has a rich history with many traditions but among one of its strongest is our musical tradition. However, musicians and artists are facing an unfortunate reality. The funding at many Milwaukee schools is being cut, meaning the music and arts programs are taking the hit. This inadvertently affects future artists and musicians of our younger generations.  So all we have to say about this is Arte Para Todos (Art For Everyone)!
Arte Para Todos (APTMKE) the first annual festival featuring three days of connecting three neighborhoods, 15 venues, 15 artists and 70 bands with 100 percent of the proceeds gathered going back into Milwaukee school art programs.   Bay View High School, Tamarack Waldorf Middle School, and La Escuela Fratney are partner schools with APTMKE. So the donations gathered will be donated to their art programs. Support from the grade school through the high school shows that this is not only important to the children in Milwaukee schools but older students as well. This DIY festival will hopefully remind Milwaukee how important music curriculum is during students' formative years.
With support from many local clubs and pubs in the Bay View, Riverwest and the Eastside neighborhoods, the event will help showcase local artists and musicians. Venues ranging from, Cocoon Room, Linneman's, Tonic Tavern, Hotel Foster, to Cactus Club and many more will be oozing talent on Friday Feb. 27, Saturday Feb. 28, and March 1.
The lineup will feature artists such as New Boyz Club, Grasping at Straws, The Fatty Acids w/ WC Tank, Caley Conway, I'm Not A Pilot, Ugly Brothers and several other local artists including Milwaukee Alt/Ryan Laessig presenting Exhibition and Photobooth, Melissa Dorn's Exhibition, Elias Vallejo, Dena Nord and Cassie Genc's Painting Performances to John Kowalczyk, Dena Nord and Crystal Bleiler's Live Art Battle, and this is just skimming the surface!
During our interview Johanna Rose, a talented musician and one of the head organizers for this festival, explains that she was more than thrilled to take part in this fest. After being asked by her friend Josh Evert, who is a member of the band The Fatty Acids, to be apart she could not think of a better way to serve her community while plucking on her up bass.
"I have always been an activist and this is one of the ways that I found that playing music and being a musician can actually help my community," says Rose.
Another musician that is excited to be performing for the festival is Joshua Backes, the lead vocalist and guitar player for the band The Grasping at Straws.
"Science is showing us that music and art really helps to develop creativity in other things going on in your brain, so it is great to have a stress on reading and math and hard science type areas. But you're not going to be as good at that if you haven't been exposed to art. Einstein played violin and loved music," says Backes.
The arts program is not a filler nor is it a waste of money when it comes to academic programs. It is just as important as the others and it needs to be respected as such.