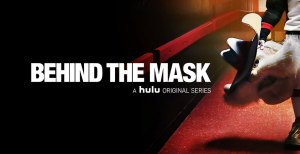 Triumphantly returning for its second season as one of Hulu's most original series, "Behind the Mask," an unconventional dive into the lives of four mascots from high school initiate to world-class professional, once again masterfully exemplifies elements of the human condition to personally explore the successes and failures of its characters without the myriad of tasteless tropes inherent to shows of its kind.
The playful yet insightfully empathetic docu-series focuses on a diverse array of characters including Navey Baker, a popular high school junior who uses her passion for mascotting to inspire her own creativity and school spirit, Chris Hall, a New Jersey man in his mid-20s who uses mascotting to overcome the arduous nature of his autism, Joel Zimei, better known as "Lou Seal" of the San Francisco Giants, who attempts to balance life between the road to the World Series and his budding family, and Chad Spencer, a returning favorite from season one, who is constantly in limbo between his son who lives in Canada and his ceaseless passion for bringing joy to others.
Although at its surface "Behind the Mask" adopts a similar format to many reality-based shows with its shoot-and-interview approach, the selection of characters, their endeavors, and their ultimate presentation are what make this show so incredibly genuine and refreshing. Unlike its often low-brow but painfully addictive relative, reality TV, this series doesn't pit contestants against each other or center on internal drama between characters, but shows real people as they are and their struggles with moving forward in life.
Instead of the traditional aesthetically homogenous participants and stereotypical representations of gender, "Behind the Mask" uses its characters to uproot conventional narratives about what is considered normal. Navey, Gilbert High School's Tiger mascot, is what many consider a classic tom-boy. As the season opens, we discover that her true love is sports, but due to culturally pervasive gender-biases, she is forced to cope with being excluded. Her resilience surfaces in the form of mascotting, where her athletic abilities are still able to shine and her exceptional charisma manifests as cleverly scripted skits and dance moves.
Joel Zimei plays Lou Seal with zealousness that leaves viewers entirely certain of why he is not only the man for the job, but the owner of the longest home game attendance streak in baseball. Although his storyline is realistically the least dramatic, it represents another touching aspect of the series as a whole and one of which many can identify with. Joel's love for baseball and inner turmoil both stem from his father, and despite only garnering limited detail in the series, proves to be more than enough motivation to provide his two-year-old daughter, wife, and newborn baby with endless amounts of love.
The best character dynamic truly stems from Chris Hall and his freelance mascotting gigs. Chris suffers from a type of autism that often leaves him extremely anxious, socially awkward, and emotionally vulnerable. Many of the interviews that are normally populated by the characters themselves, are filled by Chris's parents who help document and articulate at times and in ways that Chris himself cannot. Watching Chris go from a stuttering and shy introvert to a kind and humorous social butterfly, or dragon as it were, upon donning a furry suit, is one of the most heart-warming things one can see on a screen. His narrative chronicles the incredible strife autism brings to individuals and families that is often overlooked in popular media, but lines every episode with self-discovered hope and determination.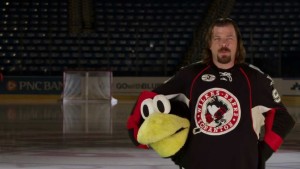 Chad Spencer is the warm fuzzy heart of the series. As a carryover from the first season, he is so incredibly beloved that during the second season he receives an overwhelmingly generous gift from a fan of the show just for being a kind-hearted person and dedicated father. Chad is stuck in a semi-professional hockey league and continues his efforts from the previous season to attempt to land a professional job that will afford him the ability to see his son more often. Similar to Joel, he had a rough upbringing that left his primary ambition aimed at bringing happiness to others, especially children, a role he undertakes with unrivaled passion and talent.
Each episode shares the dynamic of the series as a whole, where the viewer is able to witness both victories and losses for each character, contextually contrasted with enough drama to hold interest, but enough ingenuous content and personality to assure its authenticity.
Where the show finds itself truly and beautifully autonomous is its consistent resolution of each character's narrative. Regardless of how things play out, for better or for worse, each person is faced with both future challenges and promises of hope. Two come out on top, while two more face potential unknowns, but all four accept their fates with optimism and understanding, a reoccurring theme that saturates every moment with a willingness to endure.
What separates this series from reality TV is everything that makes it grand. Although critical analysis could highlight that it largely centers around middle-class white people, the show's encompassing of individuals with developmental disorders and others who reframe gender traits shows that its creators have keen awareness of the omnipresent and stereotypical representations so commonly circulated in the media. It progressively bucks them all with style and grace.
At the end of the day, when the mask finally comes off and all the sweat, tears, and leftover fuzz culminate into a colorful and poignant picture, the show achieves exactly what it means to: To document the lives of real people who face real problems with incredible resilience. Each episode is a testament to that ideology, one of which you hear in the voice of every person it follows. It celebrates individualism in a powerful way from a perspective few shows can attain and tastefully exemplifies a fundamental duality of humanity between who we really are and who we allow the world to see.
Simultaneously unconventional, charming, and insightful, "Behind the Mask" season two is one of the most encouraging and fulfilling shows currently available, one that will likely give new appreciation for the unsung heroes of the world and leave you constantly wondering "who's really behind the mask?"