This weekend, newly formed student organization Reel Women wrapped up filming for their first ever motion picture production, Bottleneck.
For those unfamiliar with Reel Women, this organization's mission statement is to create a "safe space for all genders to begin a dialogue about the inequalities within the film industry," and, "seek to educate, empower and support marginalized student filmmakers," according to the organization's Facebook page.
When I sat down with the producers and the director, I could instantly tell this group of young women was skilled and welcoming to new ideas and conversation.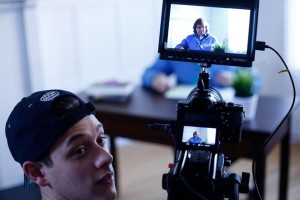 The first questions off the bat was whether or not the group felt any pressure when being seen as an all women-lead group making their first student film. Shannon McInnis, one of five producers, said, "I thought everyone was waiting for us to fail, but then I was reminded of the mission statement." Adding, "This production is more for crew member experience and creating opportunities."
Gender inequality is prominent in the filming business, where less than a quarter of films feature a female protagonist and where only 10 percent of all films have a gender-balanced cast, according to the Media, Diversity & Social Change Initiative at USC Annenberg.
Members of Reel Women reflect back on being maybe one of three girls in their production class, remembering it as intimidating, especially as a freshman who might not know anything about film.
Organization co-founder and producer Haley Kreofsky said, "I wanted more production clubs," seeing that UWM only has a handful. "I wanted a different and women-focused spin to give representation in classrooms where there's overwhelming male dominance."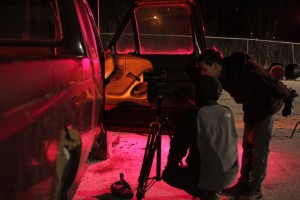 Asking what it was like filming on location and with many different and new people, First Assistant Director Eva Juniel and Assistant Producer Kaliice Walker agreed, "it was one of the best sets" they've ever been on. "Everyone was up for teaching other people," said Juniel.
Others added that being on set had "good atmosphere, support and connection."
Bottleneck is a film about two widely different sisters, Cassie and Sarah, on the anniversary of their mother's death. What was supposed to be a normal night at the local dive takes an unexpected turn as memories from their pasts emerge.
Written by Michael Sapieja and directed by Susan Holder, both UWM Film students, Bottleneck has aspirations of reaching the Milwaukee Film Festival as well as student film festivals around the Milwaukee Area. Also, hinting at a private screening session for the crew and donors.
Find out more information on Bottleneck's Indiegogo, eager to reach its donation goal of $2,000. Fundraising will end on June 5.
Find out more information on the film's Facebook page and support Bottleneck on IndieGoGo.