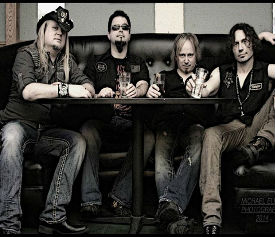 Legendary rock'n'roll bassist, Gene Simmons, famously said in the past year that rock'n'roll is officially dead. Clearly Mr. Simmons clearly hasn't been to Milwaukee in a while. Rock is alive and well in the Brew City and one of the standout acts is Circleswitch.
Based in Milwaukee and formed in 2007 by a crew of Generation X rockers, Circleswitch's lead singer Kenny James describes their sound as "Hard rock with a retro flair and a modern touch."
But like any self-respecting band, Circleswitch's sound is hard to place into a particular genre. A wide variety of influences from Tesla and Van Halen to Tool and Nirvana and even Metallica and Pantera come together giving Circleswitch a unique sound that's equal parts melodic and hard rocking.
"We touch ground on all bases. We go from the new to old so everyone's happy," says drummer, Eddie Gunz. "None of us have blinders. We're open to many things."
"Nobody's ego is too big that we can't compromise," adds James.
Circleswitch's openness to varying musical ideas is essential to the band's sound. Their sophomore album 'Ritual' is a hard rocking album that blends the bands inspirations quite well. Gunz's drumming shows clear inspiration from the likes of Tommy Lee and Distrubed's Mike Wengren, meaning his drum work is fast, heavy, and quite technical. Gunz's drumming is perfectly complemented by the heavy bass lines of Johnny 'RockIt' Wahlen, and the heavy riffs and fast, melodic guitar solos of Danny Rodic. But as with any band, the vocalist is always the main attraction and Kenny James does much to impress.
Clearly inspired by the grunge era of his youth Kenny James sounds like a cross between Jerry Cantrell and Kurt Cobain. Emotional when need be and always energetic, James' vocals never seem forced, for each song has a personal meaning to James or his bandmates giving their lyrics an intimate feel.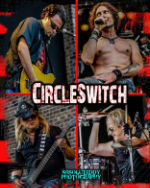 Circleswitch's live show is one of the best around. While many bands remain confined to a certain spot of the stage, Circleswitch is always on the move. Very seldom is Kenny James not doing something to keep all eyes on him, whether it's jumping atop a table, grooving on stage in a fashion reminiscent of Mick Jagger, or climbing the stage architecture, James is always a thrill to watch live. That's not to say that his bandmates don't take part in the onstage antics, too. Johnny RockIt and Danny Rodic are known to leave the stage and step into the crowd to give their fans a firsthand rock'n'roll experience that they won't soon forget.
"It's a feel thing. It's not rehearsed. We go up there it's off the seat of our pants. If it happens, it happens. We're up there for one reason, to release," says James in regards to the stage antics. "When we go up to the stage, we're all about the good time. If you hate your f***in' boss, come to a Circleswitch show."
Even off the stage the band is making waves. The band has released four music videos in support of the 'Ritual' album with 'Drink Me Till You're Naked,' 'Beautiful,' 'What the Cat Dragged in,' and 'Long Leg Solution' getting the Hollywood treatment. All four videos can be found on Youtube as well as the band's newly released documentary DVD 'As We Are,' directed by Danny Rodic, which includes a treasure trove of live footage, music videos, and hilarious bloopers.
Though the band can be commonly spotted through Southeast Wisconsin and Northern Illinois at great clubs such as the Metal Grill and the Route 20 Outhouse, the band is taking it easy on the touring as 2014 winds down. This isn't because the band is tiring out; they're hard at work on their third album. As a means of giving back to the fans, the band is running a Facebook contest in which fans offer their best ideas for the new album's title for a chance at a bundle of autographed merchandise and a special thanks in the album's booklet.
Currently in post-production, the new album is set for an early 2015 release. Impatient fans rejoice, if you've been to a Circleswitch show in the past few months, you might not realize that you've already heard a few of the new tracks. The band has been giving their new songs a test run, gauging crowd reaction to better perfect the new album. And if the new album is anything like its predecessors, Milwaukee is about to get rocked.