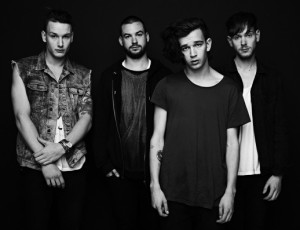 English lads The 1975 are back in the states for a U.S. tour that will be making a stop at The Rave on Friday, November 7th. After releasing four different EPs, the band has released all of their music on a self-titled album and have been touring the past year with it playing many tours and festivals in the summer with hits like "Chocolate," "Sex," and "Robbers."
Originally based in Manchester, England, the band began playing during their high school years back in 2002. They began covering punk songs at small gigs for underaged youths. Before settling on their current name, they tossed around many other ideas. The current name, though, comes from a date in a diary entry that the lead singer found. The band consists of lead singer Matthew Healy, guitarist Adam Hann, drummer George Daniels, and bassist Ross MacDonald. From the release of their first EP in 2012, the band has already accomplished a lot. They have sold out many U.S. and U.K. headlining tours, played large festivals like Coachella, and much more in just a span of two years. What sets them apart from the rest of the bands who fall under the alternative genre is their influence from other genres like electronic pop and R & B.
The band played the basement stage of The Rave last time they were in Milwaukee (October 2013). It did not take them long to gain an American fan-base; they're making the big leap upstairs to the Eagles Ballroom for their upcoming show. This tour will the be the last one for awhile though, as the band plans to head back into the recording studio for their second album. For this very reason, you'd be foolish to miss their stop in Milwaukee on Friday.
Purchase tickets here and do it fast before it sells out!