I did not anticipate the evening to be as sunny and warm as it had for late March. I hopped off the bus on Wisconsin Avenue, virtually in front of the striking tan building known as The Rave/Eagles Club. Crossing the street, I called the number that connected me to Mayday Parade's tour manager.
I arrived earlier than expected and had to wait for the band to get done with a meet and greet. After that, it was a constant rush. Once the tour manager met me in the lobby, I was given my press pass and concert ticket and hurried into the room where the concert would begin in an hour, past security, and through curtains backstage to where artists hangout before their shows.
Immediately, I felt like the character William Miller in the 2000 film "Almost Famous." I took in the dim atmosphere of the different colored lights, a variety of funky patterns, black couches, and lots of cloth curtains (even on the ceiling). Before getting a chance to respire, Jeremy Lenzo was already seated at a table looking at me. He's the bass guitarist in Mayday Parade, also known by the nickname "Cabbage."  With almost two million likes on their Facebook page, their most recent album Black Lines debuted at #1 on Billboard's Rock Albums Chart and #1 on the Alternative Albums Chart.
The band manager let us be and it was just us and the comforting sound of guitar tuning in the background. Lenzo greeted me with a handshake and a cheerful smile. I took a seat, fumbling with my recorder. As I set up, he asked me if I was from the area and what the interview was for, making me feel at ease. By the end of our interview, I felt silly for feeling anxious. Interviewing a rock star like Lenzo flowed as laidback as a conversation with your best friend.
---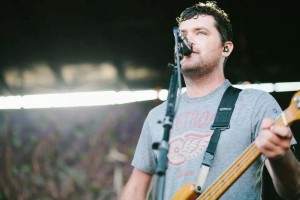 So you guys just got here from Grand Rapids, welcome to Milwaukee. You're not even a month into this tour yet, but how have your shows been?
Shows have been really good and a lot of fun. This tour has been a lot better than we expected, but really good shows. Even though this tour feels like it just started, we are at this middle point where it's also just ending at the same time too. We've toured with The Maine a few times and they're awesome people with really good music as well. It's a great tour to be on because they're a part of it and we've known each other for about as long as the bands been together.
So you like touring with The Maine?
Yeah we love touring with those guys, they are awesome.
Have you ever performed in Milwaukee before?
Yes. I'm not sure how many times. This venue in particular, we before in our old band, we bought a bunch of tickets to sell in order to play at this venue. In order to play the show, they gave you a bunch of tickets and they say "you have to sell these tickets in order to play". Well, we were from Florida and we just wanted to play a show with The Starting Line, who was playing here. So, we came up and Derek got sick the day we got here and we didn't sell any of the tickets. We were trying to sell them outside the venue and we never did play the show but that was the fire time.
But you have performed here at The Rave prior to tonight?
Yes. So that was the first time. That was before we were even Mayday Parade. But, with this band we've played here probably six or seven times over the past ten years.
Your next show is in South Dakota tomorrow, but will you have any free time to do anything but perform in Milwaukee? Or is it just perform and hit the road?
Well, you have a couple hours in the morning before sound check to make sure our gear is all working and that usually takes place around 2:30pm so we have until we get to the venue which is normally like 11 a.m./12 p.m., so we have a couple hours maybe to go and explore the city. So, you don't really have too much time to see everything.
Have you ever ended up exploring Milwaukee before?
No, not really, just whatever is around this area which isn't too much. It would be nice though.
Okay, what are you excited about for this tour? Specifically for your fans to see.
Well, we're playing a lot of songs off the new record. I always like doing that because it is fresh for us and it feels good playing stuff you've never played before. I hope the fans like that too, but we're also playing a lot of songs off our older records that we haven't played a lot before. It's like stuff people normally don't hear. So, if you're a fan of older records, but we never played the song you're looking for, maybe you'll hear it on this tour.
Does it get repetitive playing the same songs?
It does. That's why it's nice to play new stuff because it's fresher and you haven't been playing it forever. One of the songs we play on this tour is "Three Cheers for Five Years" and we wrote that song pretty much the day we started the band ten years ago. This is like the first song we ever wrote and we wrote it on like the second day of band practice and we've been playing that song for ten years pretty much on every tour. I'm so over that song because we've played it so many times.
How about a favorite song to perform?
I like the song "When You See My Friends" and it is off our self-titled record. It's fun to perform.
So you're latest album "Black Lines" has been out since October. How have you taken the reception it's received?
Good. With every album there's always good and bad reviews and a lot of people like it and a lot of people don't like it. It doesn't really bother me. I haven't noticed a drop in attendance at shows. It still seems like the same amount of people that come out and they do either way. This album is a little different than our previous albums. We're trying to make it a little more rock and a little less pop rock and more 90s rock. When you do something like that, it's to be expected that there will be a downfall in CD sells because it is different. So we've noticed that, but it hasn't really bothered me.
My next question you've covered, but "Black Lines" has been described as emo, emo-pop, pop-punk, and rock. Does this sum it up for you or how would you put it correspondingly?
That sums it up pretty much. I would say it's more rock than emo. I don't mind if it's classified as that, it doesn't bother me. I think it's fine, it fits. Our first couple albums were definitely more pop-rock than our later stuff and you kind of fall into whatever category people put you as.
Like you said, this album is different than your others. How exactly would you say it is different than your other four albums?
We tried to model it more after what we grew up listening to, which was 90s rock. We can write pop-rock songs all day, that type of stuff is stuff we've been doing forever. We wanted to broaden what we do and get out of our comfort zones. So 90s rock is what we really love and we wanted to make a record like that. We knew it would push us to try out of that comfort zone because it is different than what we normally write.
Did you inspire from any 90s bands?
Yeah. We inspired from Bush and Stone Temple Pilots and Third Eye Blind.
That's amazing. So you've come a remarkable way since 2005 with an endlessly growing fan base. How would you describe this evolution of fans since you've first began?
Our fans, I feel like, are the type of fans that stick around for a long time. They're very dedicated. We don't have any radio success or anything like that, so I feel like our fans think of us as their sort of secret band that nobody knows about it and it's the band only they know.  They stick around, they come out to the shows, and we've seen a lot of the same people. Every tour we do, we know people by names that we met multiple times. They're really supportive of our music especially when we change style.
So you created something that when radio is gone, your fans will still be around.
They just enjoy what we do but they formed themselves.
Just recently, it was announced you're returning for the 2016 Vans Warped Tour. This has received a lot of responses from fans. Is there anything else fans can anticipate?
We're just going to try to play songs that are the most upbeat and energetic and get people moving. I don't know what they can expect what we can do differently. When you perform Warped Tour you only have 30 minutes to play. There isn't a lot of time to set things up and they're very strict on what you can and can't do, but I think they should just come expected knowing what they already know, the energetic ones, and just have a good time and sing along with us. You gotta go. You'll probably only go once. It's one of those things that it's like so hot and you spend the whole day outside. That's just me personally because I'm getting older now that I can't do that every day.
That's true! So you guys are known for being sort of like mentors and taking smaller "up and coming" bands under your wing. What advice can you give to bands that are trying to make it?
You have to work for it. Nothing is going to be handed to you. You can't expect to write songs and automatically you're going to have success just because you have good songs. You have to go out there and show the labels you're willing to tour and be on the road and that you actually can be on the road. A lot of bands, once they actually get on the road, they realize they can't do it. They get home sick or stressed out because of the surroundings. You have to prove that you can do that to a label. That is very important. You have to really focus on what your band does well and really go that direction. You might want to write pop-rock music, you might not be good at it, you might be good at writing another type of music.  You just have to realize what you do good, monopolize on that, and figure out what you're not doing well and how can you make that better. That is some general advice you can give anyone. Just show those labels you're willing to go out there and do what it takes. They don't want to sign someone who is going to break up in a year.
That's true and you guys have been together for ten years! That's crazy!
Jeremy said: Mhm and we all went to high school together. We've all known each other. Brooks and Derek started playing together in bands when they were in 8th grade. We've been together for a long time. That's another important thing, you have to be friends with who you're playing with. If it's just a business and you're like, "Okay well this dude is pissing me off, screw that dude" then your band probably won't see long term success because you'll end up breaking up because you're fighting all the time.
That's great advice. Do you have anything you'd like to add before we wrap?
If you've never seen us play, try to come out and see us.  We try to make it an enjoyable environment for anybody, no matter what type of music you like.
---
With a rushed goodbye, thank you, and "nice to meet you," I was whisked out the exit by the tour manager and back to the floor of the concert hall. I understood they were on a tight schedule. I was just grateful to have such a pleasant interview with a really down-to-earth guy. Everyone seemed to be incredibly, well, there's no other right word to use except "nice".
When I went past security back to my "plus one" on the guest list, I found him talking to an older woman in the crowd. We chatted before the concert, in which she shared she has met the band a few times. She told us when she met Derek Sanders, lead singer of Mayday Parade, he told her that they had a chance to sign with Sony Music Entertainment. The band decided to walk away because they would have no control over their music. Though they may not have had the radio success and money that would've came with signing with a big label like Sony, they now get to write their own songs, send the messages they wish to, and portray themselves the way they desire.
By the time the concert began, I positioned myself at the bar with a decent side view of the stage. Never hearing but one song from Mayday Parade and none from the opener, The Technicolors, and the other band, The Maine, I decided going in unbiased with an open mind would portray the best review.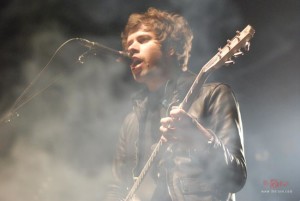 The Technicolors
Out popped just one guy and his guitar, making the stage appear superior than it really was. He was Brennan Smiley. He was young in a black leather jacket, skinny jeans, and had thick brown hair that was cut in such a way that it reminded me of The Beatles.
He's part of the Phoenix-native band The Technicolors. Inspired by the New Millennium's garage rock and mid 90's Brit-pop, this American rock band is made up of Smiley (vocals, guitar), Troy Lowney (keys), Mike (Nico) Nicolete (bass) and Sean Silverman (guitar, vocals).
For the first few minutes, I turned to my "plus one" questioning where the rest of the band was. Not until after the first few songs did Smiley let us, the crowd, know his band was not with him. He was quirky and talented. I quoted him looking into the crowd with a smile wiped across his face saying, "This is so awesome." It was evident he was really appreciative to be here.
It took me awhile to figure out who I thought he sounded like and kept putting my palm to my forehead in irritation trying to find the answer. I settled with The Artic Monkeys once the song "Tonight You Are Mine" was played. Simply said, I liked it. I enjoyed him.
A song that caught my immediate curiosity, was "Sweet Time." It must've been his hypnotic vocals or his calmness while performing that made the song stand out. But, it wasn't until Smiley covered "When You Were Young" by The Killers that I saw a shift in the crowd from engrossed to absolutely captivated. A couple weeks ago when I was reviewing Finish Ticket, they also covered this song. However, Smiley did something differently which was what made it so special. He did an acoustic cover. Since Friday, I've had his version stuck in my head. Every time I sing it to myself, whether it be in the shower or cleaning my room, I do so a bit slower and more romantically.
After his tremendous performance, I caught Smiley walking past the bar numerous times. I would turn to my "plus one" and point, "Hey there's that guy!" He hung out at his merchandise booth for a good amount of the night, taking pictures with fans and talking to them. He seemed genuine and that is always something extremely notable.
Funny side note: as I write this review, their song "Sweet Time" is playing on repeat.
The Maine
You know that pink bunny with black sunglasses and the Energizer drum and he just keeps constantly moving in his blue flip-flops beating his drum, the Energizer Bunny? That is what this band reminds me of.
They just kept moving.
They had so much damn energy.
The Maine is an American rock band from Tempe, Arizona made up of John O'Callaghan (lead singer/guitar), Kennedy Brock (guitar), Pat Kirch (drums), Jared Monaco (lead guitar), Garrett Nickelsen (bass guitar), and Alex Ross (lead guitar).
Something notable right of the bat, is it is obvious these are very experienced performers. This is child's play to them. They did not skip a beat. They did not shake unless intended. They did nothing but literally "rock out." O'Callaghan even stated this was their 11th time at The Rave.
O'Callaghan had a hybrid voice, a mix of vocals which reminded me of Brandon Flowers and Alex Turner. Not to be comical, but something about his charisma reminded me of Zak Bagans from "Ghost Adventures." Perhaps the tattoos and black collared shirt. Beside the point, he was unbelievably interactive with the crowd and even brought up a random fan from the crowd named Mitch Jensen, 18, who got to take the microphone and lead the show.
"It was completely mind blowing," said Jensen. "It was awesome to see all those fans singing along and I just went with it and I got crazy with John! [He] was so nice and welcoming. It was an unforgettable experience."
Jensen enjoyed the songs "Another Night On Mars" and "Right Girl". Apparent through the crowd's responses, Jensen wasn't the only one who adored the songs. Each and every person who attended seemed to be dedicated, knowing all the words and dancing along. Agreeing with the fans themselves, "Another Night On Mars" was one of my favorites they performed. Another notable song was "English Girls".
After their show, while still sitting at the bar, O'Callaghan actually came up beside me next to his friends. Figuring why not, me and my "plus one" sparked up a conversation with him and requested a picture, which I unfortunately ended up deleting on accident because it was on Snapchat. This caused a frenzy with fans and multiple fans bombarded him with requests for pictures. O'Callaghan didn't decline a single person and seemed happy to do so.
Simply put, The Maine's music and charisma made me a fan, and their song "Everything I Ask For" amongst others, is now on my playlist.
Mayday Parade
And the most anticipated of them all, finally took stage. It was nothing short of a passion pit once lead singer, Sanders, opened his mouth. The crowd swayed to his soothing voice and all eyes locked spellbound to the stage, as if he was a supernatural being.
It's a tough battle over who was more interactive with the crowd between Sanders and O'Callaghan. But damn were these people mesmerized by Mayday Parade.
Again, as I said with The Maine, it isn't questionable whether Mayday Parade was experienced performers or not. The guitarists synchronized jumping while shredding made me realize I was actually at my first rock show. The head bobbing, the dancing, the smiling, the insane guitar solos– it was a good time.
Sanders eventually told a story to the crowd about the band's first time performing in Wisconsin. It was in Green Bay in the winter. Sanders was in the parking lot and slipped on the ice, which resulted in a trip to the hospital and a concussion. The next night, the band performed in Milwaukee at The Rave for the very first time. But that was the least of firsts, because it was also Sanders first time getting drunk after the show. Sanders earlier in the show also expressed his genuine love for Milwaukee and performing here.
As Lenzo shared in the interview prior to the show, a lot of the songs performed were off their latest Black Lines album, which unfortunately I am not too familiar with. Providentially, the crowd was. Correction: they undeniably were. Lenzo's words didn't fall short; Mayday Parade fans are devoted. Almost every person I passed by was wearing a t-shirt with the band's name plastered across it in red writing. Safe to say…they really knew their shit.
So when the show "ended," they stepped off and I actually got nervous they weren't going to come back on for an encore. Nevertheless, they did. They played two songs – one being the only song I did know at the concert. It was their 2009 hit "Kids in Love" and I wiggled in my seat as they performed, singing along every word. It made me wish I wouldn't have gone into their show unbiased and listened to their music prior to the show. "Kids in Love" is particularly different than the songs they were playing earlier in the night off of Black Lines, as Lorenzo detailed in the interview. However, for the rest of the night and even when I was trying to go to bed, I could not stop singing this specific song. (Side note: I had to stop writing this paragraph to put this song on).
To be straightforward about my experience with Mayday Parade is me saying, they have awe-inspiring music, down-to-earth traits, and put on an impressive, memorable show.
---
Missed the show? You're in luck!
Mayday Parade and The Maine will be back in Milwaukee on Tuesday, July 26th at the Marcus Amphitheater for Warped Tour.