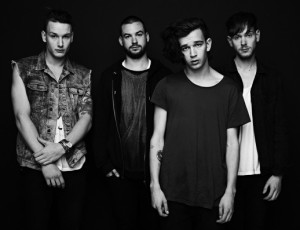 The much anticipated tour stop from the boys of The 1975 finally happened Friday night, Nov. 7. Last time the band made a visit to Milwaukee, they played the basement of The Rave. This time around, they managed to almost sell out The Rave's Eagles Ballroom.
On this tour, they brought along two opening acts: Young Rising Sons and Cruisr. Young Rising Sons opened up the show. They brought a good amount of energy to the stage, but the crowd was less than pleased. That was, until they closed out their set with a rendition of "I Melt With You" originally by Modern English. I don't really blame them though, because I could barely hear the lyrics to their songs. Although, part of that has to do with the ballroom's poor acoustics.
Next up on the bill was Cruisr, who brought a little more pep with them. Their high energy songs and commands by the lead singer prompted the crowd to dance along (or at least shimmy in place, since the crowd was very cramped and close together). Their dance-able ditties loosened up the crowd a bit before the headlining act stepped onstage.
At this time of the night, it seemed like The 1975 would never come on, due to a longer than necessary wait even after technicians had set up the stage. For a good fifteen minutes, the stage was empty except for ominous smoke and a weird droning noise playing. But they finally came on and immediately redeemed themselves by starting off their set with drum-infused "The City." Lead singer Matty Healy was sporting a t-shirt promoting Taylor Swift's new album 1989, most likely to be ironic. In his hand was his signature bottle of wine that he most likely finished throughout the show. The band made sure to play some upbeat tunes like "M.O.N.E.Y.," "She Way Out," "Settle Down," "Heart Out," and "Pressure," before slowing the set down.
Mid-set selections brought a slower, depressed mood to the set. This included songs like "Me" and "Fallingforyou." A couple of their songs served as transitions between songs, as some are no vocals and completely instrumental like "An Encounter" or "HNSCC." During this slower section of the set, Healy lit a cigarette and smoked it while singing. This was also the time of the set when the ballroom lit up with phone flashlights and a few cigarette lighters during "Fallingforyou."
The end of the set picked up speed with funk-infused "Menswear" and pop-heavy "Girls." But the band didn't stop there, as they almost immediately came back on stage for an encore of not one, but three songs. They started out with the slow, tear-inducing "Robbers," which did actually induce some tears. Admittedly, some of those tears were my own. Next was crowd favorite "Chocolate." It was a perfect encore choice, seeing as the song was part of how they gained their stardom so quickly. The band rounded off the night with "Sex," as any good night should end with.
As far as light shows go, The 1975 is a big fan of simplicity. The stage backdrop was completely black with five illuminated white rectangles that would change colors and turn on, off, and off a few times during the show. Aside from that, there were multiple spot lights behind the band that illuminate the stage and gave it a black and white look. In this show's case, simplicity was good. It didn't take away from the music being played, but accented it instead.
What sets this type of band apart from the rest, though, is the authentic and genuine energy they put into each of their songs, whether it be the melody or the lyrics. Friday night's show was evidence that this raw energy gets carried into their shows. It is my hope they continue this while producing and recording their next album, so they can come back to Milwaukee and amaze us all over again.