A week later and I'm still recovering from withdrawals after a magical Tribal Seeds concert.
Dreamlike indeed, Tribal Seeds performed at The Rave, Wednesday May 4th on their Spring Harvest Tour. The sextet is a San Diego native reggae band, made up of Steven Rene Jacobo (lead singer), Tony-Ray Jacobo (keyboards/vocals/producer), Victor Navarro (bass), Carlos Verdugo (drums), E.N Young (keyboards/vocals), and Ryan Gonzo (guitar/vocals).
After being known for their spiritually motivated, rock vibe suffused with the roots style of reggae music, I was excited to see them live for the first time. Simply put, I had high hopes for this show. Simply put again, I was not let down.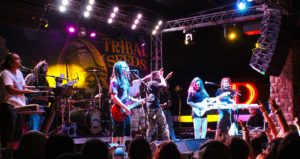 Arriving a little before the show began, I missed the first opener, E.N Young, who is miraculously known for his dreads that fall past his knees. Notable, right? As stated above, E.N Young is also a part of Tribal Seeds. However, he also has his own albums and was promoting his newest album "Call On Me". Being a fan of this album, specifically of the song "Waiting for This", I was a bit disappointed of missing his opening performance. Luckily, E.N Young is incredibly interactive with his fans and made his way to the floor to speak to everyone waiting. He walked around talking, stopping for pictures, and trying to sell copies of "Call On Me". After he approached us and we conversed, I realized how down-to-earth he was and how he was surprisingly more calm face-to-face than his crazy energy conveys onstage.
Other than E.N Young, many others took the stage on the Spring Harvest Tour. This included: Fear Nuttin Band, Recalcitrant, Phocus, Earth To Clark, Spare Change Trio. Also noted is Chalice In The Palace Soundsystem who spun records on the main stage between sets.
When Tribal Seeds hit the stage, it was everything I anticipated. I was front row, positioned in front of E.N Young's keyboard next to welcoming people. Out of every genre I've seen live, reggae has been crowned my favorite due to the positive energy, joyful people, and the ability to confidently dance and sing. Out of the many songs performed, these were the ones to note:
Vampire
Fill It Up
Undercover Lover
In Your Eyes
Moonlight
Blood Clot
In Your Area
Rock The Night
The Gardener
Although all of the above are my personal favorites, I enjoyed "Moonlight" and "In Your Eyes" the most. I think those who also attended would easily agree.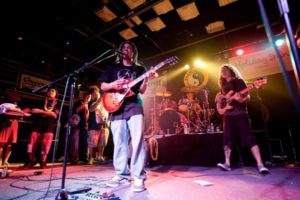 Besides the playful lighting of red, green, and yellow, many musicians jumping on stage, and fun transitions, I must note E.N Young's astonishing melodica skills. I was blown away by his ability to jump from one end of the stage to the other, sing flawlessly, play multiple instruments, and even surf the crowd, all without skipping a beat or messing up. Experienced musician? Yes. Passionate musician? Absolutely.
After feeling immensely gloomy the show was over, we headed to the merchandise booths to hangout and look around. Startlingly, E.N Young made his way around again where we were fortunate enough to speak to him again. He was not the only one of the Tribal Seeds "crew" to question if we were going to make the Madison show the next night. If only I had a car in Milwaukee and no classes… I can only imagine how amazing it would be to see Tribal Seeds perform a second night.
Safe to say, if Tribal Seeds find themselves in Wisconsin again, I'll be purchasing a ticket.
Be sure to check out their newest single "Surrender", now available.