Long hair, a dark jump suite, black shoes, and a British accent is what greeted the miniscule crowd invading the small venue of Shank Hall, and her name happens to be Eliot Sumner.
But don't take small as an underdog verb. Sumner did everything but make the room feel minor. The 25 year old is the harmonious child of musician Sting and actress Trudie Styler. To some, she is better known as "Coco" or "I Blame Coco".
After a night of reviewing Cage The Elephant at the Rave Eagles club, I was then invited to Sumner's show two days later. With a short bio of who she was, which included a surprising performance on the Jimmy Kimmel show, I still decided to not YouTube her music and to go in unbiased. This way, I decided I could come up with the most honest review.
So on Friday, June 10 I slipped into a pink tie dye skirt and hopped on the bus alone to experience a treasured musical sensation.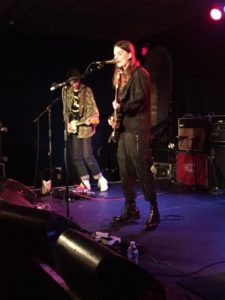 One thing I enjoyed was her British accent, but honestly who doesn't? Another – was the vibe pulling from her own father's band, The Police. If you enjoy the genre new wave, Sumner will reach every expectation you've drawn in your mind. Not only new wave, but indie rock was definite through her songs.
Touring her album "Information", a song that stood out to me and is currently on repeat, is "After Dark". The keyboards alone remind me of a song that would be in a hip indie film, such as White Bird in a Blizzard or It Follows, and maybe even James Franco's Palo Alto. But don't let the new wave and indie rock fool you, there is a lot of synthpop in her music which provides a 70's feel. This sensation can be observed in "Firewood". Since this is a song that stood out at the show, I found it on YouTube and the top comment described Sumner's music almost too perfectly stating, "It's like music I've been craving, but didn't even know it until I heard it".
After the first three songs, I went back by the bar where a gentleman was raving to me about his love for Sumner's music. After our conversation is when I noticed you had to be 21 to get into this venue, which I am not. That is when I made my observation on the crowd. I seemed to be the youngest in the crowd, which made me wonder if a lot of the attendees were there due to their love for The Police. I also came to this conclusion because basically none of the attendees knew the lyrics to Sumner's songs. This isn't a bad thing of course. Due to most of Sumner's following comes from the UK and other European countries, it's tremendous to see she is drawing attention in North America.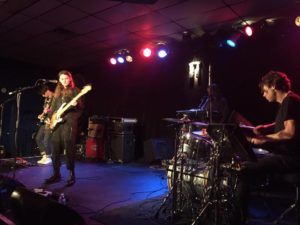 After Sumner's set, she and her band stepped off stage after saying their goodbyes. The small crowd of maybe thirty, who I predicted would just head to the bar, luckily began vociferously clapping and shouting for an encore. Then what happened next essentially made my heart melt. Sumner returned to stage with a bright smile thanking the crowd and said, "We weren't expecting this. We didn't know how to prepare for this."
Modesty and passion were apparent through the (unfortunately) short show. With a small taste of Sumner and witnessing her soak her feet in America, makes me realize she will soon blow up in the music industry. Already signed to Island Records and Universal Music Group, it is evident she is going places with her raw talent. Listening to one song it is clear she didn't miss out on that melodious gene from her father.