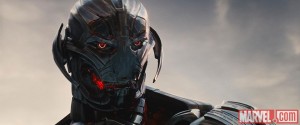 I'm that guy. I went to the overnight 11 Marvel movie marathon that culminated in "Avengers: Age of Ultron." Then I went to see it again in IMAX 3D a day later. Earlier in the week I gave a short talk on Marvel superheroes and masculinity as part of two class projects. The single most influential figure on my criticism is FilmCritHulk, a film critic who writes all caps borderline academic long form film essays in the voice of The Incredible Hulk.
I'm not going to feign objectivity here. I liked Avengers: Age of Ultron. If the 600+ million dollars it's already grossed worldwide mean anything, other people like seeing superheroes team up too. If you haven't already made up your mind, or even if you have, there are some things you need to know.
You should probably see 2012's "The Avengers." The first Avengers film takes pains to introduce audiences who have never picked up a comic book, watched a cartoon, or even seen any other superhero movie to each character. "Avengers: Age of Ultron" has no time for this. With 6+ new characters whose names you'll have barely learned by the end of the film there's not much time to establish the core group of Avengers we've already seen before.
Other reviewers seem to have forgotten how "janky" a lot of the CG, action, and pacing was in the first Avengers. "Avengers: Age of Ultron" is superior in every way except in its use of 3D. Both of my viewings were 3D and if you must see it in 3D, go the IMAX route. In my experience IMAX is the only audio/visual experience that matches a clear regular picture. My first screening was dim and blurry. It's not worth the risk.
What you're signing up for is a thrill ride, the film only slows down for some short character moments at a party in Avengers Tower and emotional wound licking after the team has to go underground at an unexpected safe house. The party scene has been the most fun I've had in a movie theater this year and it's the reason people keep coming back to Marvel films. They are just so much fun. Each of these incredible people still has a sense of humor and self-awareness. They can throw a couple back and let loose.
The plot is highly serialized referring back to past films and forward to the sequels to come. These kinds of details reward fans and completion-ists who are interested in the greater arc of the series but don't hinder any viewer who has seen at least the first Avengers film. It really is the character moments that shine in the film though and I wouldn't trade one character moment for a little more clarification as to what exactly is happening.
While the core driver of the action in the film can be summed up with the phrase, "killer robots" some of the specifics as to what the villain wants and how the heroes will stop him get lost. They are there though. On my second viewing I caught some of the dialogue bits that describe what the heroes have to do. If you don't catch these one or two line descriptions of what the weakness is in whatever the villain has planned then you lose a little bit of the logistical drama of the action scenes.
Speaking of the film's titular killer robot, James Spader's Ultron is in line with the kind of incredible over the top performance that Tom Hiddleston gave in the first film. Everyone from the biggest star making a cameo like Idris Elba to the smallest thankless part that drives the plot like Andy Serkis as just some guy who smuggles stuff is really filled out with actors bringing their best game.
This is the movie everyone and their mom will see. That it has so much performance driven character goodness is a miracle.
"Avengers: Age of Ultron" is now playing at the Oriental Theatre and in IMAX the AMC Mayfair Mall.