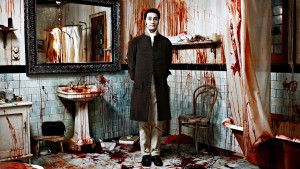 Stop me if you've heard this one before. So five vampires, a pack of werewolves, and an IT guy walk into a bar…
Whether the above sentence just caused you to roll your eyes and utter "Ugh, another vampire movie?" or sit up straight in curiosity, Taika Waititi and Jemaine Clement's "What We Do in the Shadows" is the vampire mockumentary that you never knew you needed. Viagio, Vladislav, Deacon, and Petyr are pretty much your typical 18th century vampire pals rooming together in Wellington, New Zealand. They argue over chores, they give fashion advice to one another, they go out and get invited to bars, and they kill people and drink their blood… you know, the usual stuff.
In the months leading up to the annual Unholy Masquerade, the ultimate gathering of the undead community, a documentary crew (crucifixes in hand) follow the quad's every move, showing both their vampire history pre-film, and their complete inability to adapt to the modern times. It isn't until the group befriends young hotshot vampire Nick ("He's kind of a dick," Deacon deadpans to the camera) and his human friend Stu that the real fun (and trouble) begins.
"Shadows" packs on the humor from its very first moment, relying on a combination of sharp visual gags (such as Viagio casually lying down some towels before claiming his next victim) and silly humor to create a winning comedy experience. All of the vampire movie clichés that you're absolutely tired of seeing can be found here, but Waititi and Clement manage to subvert them so well, making them feel as if you're seeing them for the first time. Every laugh feels refreshing and is genuinely earned. However, gags are not enough to carry a movie.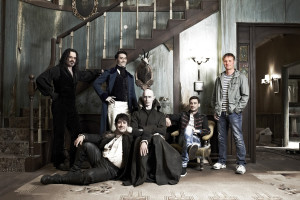 Fortunately for us, the characters are all so damn loveable and hilarious that by the end of the film you'll be wishing you could spend more time with them. Viagio (played by Waititi himself) is the leader of the group and "an 18th century dandy," the neat and polite vampire who laments about his long-lost human love (all he has left of her is her silver necklace, which he can't wear, of course). Co-director Clement plays Vladislav, who has a torture chamber that he uses "whenever I'm in a bad place," and is also a bit of a pervert. Deacon (Jonathan Brugh) is the bad boy who, when he isn't knitting scarves, frequently clashes with newcomer Nick. And then there's Petyr, an eight-thousand year old creature who gives even Nosferatu himself a run for his money. We also see an assortment of other colorful characters, including Deacon's frustrated human servant, Jackie, Vladislav's archenemy known only as "The Beast" and a group of very polite werewolves. Every member of this ensemble is pitch-perfect in their role, but Waititi is the standout here, bringing such enthusiasm and sweetness to Viagio that we can't help but laugh and "aww" even as he's killing someone.
If you're tired of the spring sludge that rolls through movie theaters this time of year and are looking for a change of pace, are just looking for a good time, or if you're secretly just a huge vampire movie fan (no judgments), this is the film for you. "What We Do in the Shadows" is full on the laughs and charm, and is well worth the price of a ticket. As of the publication of this review, I've gone to see this film three times and have yet to be tired of it. Personally, I wouldn't mind another film exploring this universe. Bring on the inevitable werewolf spinoff!
"What We Do in the Shadows" is currently playing at the Landmark Downer Theatre.