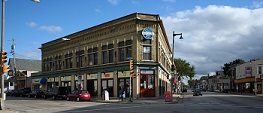 Milwaukee is home to a variety of restaurants under the Lowlands Grand Cafés banner including Trocadero Gastrobar, Café Hollander, and Café Benelux. But if you happen to be on the corner of Kinnikinnick and Lincoln in Bay View, you can sink your teeth into one of the best brunches in Milwaukee at Café Centraal.
What looks to be a friendly neighborhood style bar and restaurant is actually a Belgian food and beer fest, with mouth-watering options including the stuffed grass-fed burger, rosemary goat cheese mac, grilled Portobello sandwich, and Benelux meatloaf. The bar is the largest and most prominent feature of the restaurant, and it of course loaded with a variety of Belgian beers for those 21 and older. But if you happen to arrive on Saturday or Sunday from 9am to 3pm, you'll be treated to its signature brunch menu. You'll have to go early or make a reservation, however, because it gets packed quickly and tables are hard to come by.
The coffee is brewed from a special blend made by Collectivo just for Lowlands Grand Cafés. With each sip, one could feel the spiciness through their nose, even after adding cream and sugar. If you like a weak coffee and can spare an extra 80 cents, go with the café au lait, which has the same flavor but less intensity. Of course, if you like your coffee strong, keep the change and have it straight.
During a recent visit to Centraal, the meal started off with a skillet of pork belly poutine appetize; poutine is a traditional Canadian dish that originated in Quebec involving a mixture of French fries, cheese curds, and brown gravy. So naturally, it fits in right here at Wisconsin. This particular dish also includes pork belly, caramelized onions, and two sunny side up eggs, making an already appetizing dish even better. I had the pleasure of traveling to Canada last summer, including Quebec, and sampling the poutine up there. But nothing compares to the poutine here at Café Centraal. The beer-infused gravy is thick and flavorful, the fries are crispy, and the pork belly is fatty and juicy. For the best results, make sure to get all of the ingredients together in one big bite.
Another dish that made its way to the table is the spiced chicken corn waffle. This Southern United States/Belgian infusion involves taking a buttermilk fried chicken breast and placing it on a spiced corn cake waffle and topping it all off with chipotle cheese sauce, white cheddar cheese, and pico de gallo. While this sounds amazing on paper, it's not as good in practice. The chicken is a bit over-breaded, the waffle gets soggy after a while, the cheese felt store-bought shredded cheese, and the pico de gallo consisted only of tomatoes and onions with little juice. However, if you put all of the ingredients together in one bite instead of eating each part separately, it still tastes great. Unfortunately, you'll likely wish you had something else after the first few bites.
Another appealing on paper item was the 'Cheesy Gooey Spicy Mess', a smorgasbord of scrambled eggs, bacon, sausage, potatoes, cheese, and chorizo. There was not enough egg to balance out anything and what egg there was could have been much fluffier. And it contains the same disappointing pico de gallo that my dish had. This dish also took on another form in the 'El Gordo Burrito,' which would have been better if it had been oozing with cheese than fillings.
Discrepancies aside, one of the premier entrees is the 'Berry Basil French Toast,' a brunch staple made with battered and fried challah bread smothered in mascarpone and topped with berries.  As far as French toast goes, this dish is perfect; soft and fluffy without being too soggy and sweet without being overpowering. Again, everything is best when all of the ingredients come together in one bite.
The true highlight of the meal is the house-made sugar donuts, which are $6.95 for 12. Basically, they're the sugary donut holes you get at the fair but ten times better. They come out hot, fresh and as soft and fluffy as you would expect of fresh bakery. If also comes with a generous helping of strawberry cream cheese icing, which is so good that you can just eat it by itself, sans donut! If you get anything at brunch, get this.
I recommend that you treat yourself to this brunch at least once. Some dishes are definitely better than others, but the ones that are better are some of the best that you will find in Milwaukee. My recommendation is to stick with the more traditional options; omelets, French toast, pancakes, and the like, instead of the more experimental ones (with the exception being the poutine of course). So if you're looking for a great brunch with an interesting twist along with friendly and dependable servers and a welcoming atmosphere, you will not be disappointed with your experience at Café Centraal.