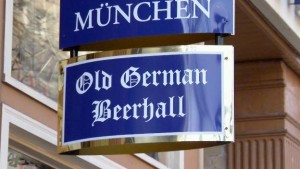 Milwaukee is a town built on German pride. We all know the fruits of German ingenuity in the beer we drink and the places we visit, so where can a college student find some truly great traditional German cuisine?
Milwaukee is full of options. Mader's and Karl Ratzch's are two of the more well-known German restaurants but they're a bit out of the average Millenial's price range. Fortunately, there exists the Old German Beer Hall, another of Milwaukee's many German restaurants, but one of few that caters to a more casual crowd.
Located along Old World Third Street, just east of the BMO Harris Bradley Center, the Old German Beer Hall is one of several German establishments on the block. However, it's a little hard to find off the street, for the establisment's overhang sign is dominated by large 'Hofbrau-Munchen' sign allowing for the Old German Beer Hall to be hidden in plain sight and easily mistakable for the neighboring Milwaukee Brat Haus. However, once inside the restaurant nothing is mistakable. Built like a beer hall one would find in Munich with wooden architecture, high ceilings, hanging light fixtures, and long communal tables. Rounding out the experience of being in the old country are servers dressed in traditional Bavarian beermaiden garb carrying liters of beer and plates of sausage in each hand.
Domestic beer lovers and picky eaters beware Old German Beer Hall is firmly rooted in the Old World. While modern favorites such as French fries, reuben rolls, and cheese curds are on the menu, they're that's the extent of the menu's American cuisine, for a staple of Germany is of course sausage and beer. As for the beer, OGBH serves only Hoffbrau products in 0.3, 0.5, and 1 liter steins, so come thirsty and ready to experience real German beer; for light beer lovers, Original is recommended, but for a true German experience go with Dunkel, the house dark lager, especially with a landjager, they're outstanding.
Featuring an array of appetizers including the aforementioned cheese curds and French fries, the latter of which is referred to by its traditional name, pommes frittes, OGBH offers a splendid array of German appetizers including spiral cut beer radishes, landjagers, assorted meat and cheese plates, and an impossibly large pretzel. Prices range from $2.00 for fresh baked rye bread to $15.95 for meat and cheese plate fit for a group.
Faced with many options, it's hard to decide what to have for your meal. Kassler Ripchen, a smoked pork chop, is a fine choice, as is the Saturday special, chicken Schnitzel. An adventurous diner with a hearty appetite will be more inclined to take a culinary tour of Germany with the Wurst Platter, a platter of three kinds of sausage, or the Butcher's Platter, which features a smoked pork chop, a smoked bratwurst, and a meaty pork rib with a decadent barbecue mustard sauce.
Though $14.95 and $15.95 for the two platters may seem a bit steep when compared to $9.00 and $10.00 for a pork chop with potato salad and cabbage or schnitzel and fries, the platters are well worth the money, for each of the sausages are masterfully made just up the street at the Usinger's sausage factory, some of which specifically for the Old German Beer Hall. And after trying all four of the aforementioned dishes in a recent visit, no choice will leave one disappointed. Each of the dishes were masterfully created and presented in an appealing manner.
If the prices are still a concern, Old German Beer Hall will win you over yet. All of the sausages are available ala carte and served with sauerkraut for between $4.00 and $6.00. Add a side of spatzle, warm potato salad, or red cabbage for $2.00 more for a meal that won't cost more than $10.00, save for beer or soda. Drop in between 11 a.m. and 2 p.m. for a free lunch of sausage, sauerkraut, and a side with the purchase of a hoffbrau beer, root beer, or cocktail, once more providing an opportunity for a hearty German lunch for less than $10.00.
While it's easy to spend a large sum dining at the Old German Beer Hall, it's an experience worth having. Nothing beats a fine German beer coupled with fresh sausage and sauerkraut. And with a menu that offers a wide variety of German favorites at a reasonable price, fans of German food and culture will find it hard to steer clear of visiting this fine hidden gem at least once.