The Buddha Lounge, located at 1504 North Ave, is a fun and conveniently located place to go out to eat with your friends. I was very excited that a Vietnamese and Thai place was opening up so close to where I live.
After discovering that th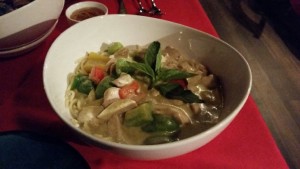 e restaurant was open, I knew that I wanted to eat there. I enjoy eateries that are healthy, cheap, and serve steamed dumplings on their menu. Though, I was a little weary of how pricey I heard the food was, I planned an evening with my boyfriend to go and give the restaurant a ride.
We went at around 6:30 p.m. on a Sunday and were seated immediately. The restaurant wasn't very busy except a couple people at the bar and three tables occupied in the dining area.
The restaurant is split into two areas, a bar and a dining area. The decorations were amazing with everything taking on a red and gold hue and adorned with Buddha heads in every direction. The chairs were comfy and our table was set beautifully.
As we sat down, we were given water and asked for our drink order. Our waitress was very friendly and knowledgeable about the menu. I ordered a mango bubble tea smoothie with mango "explosion" balls and my boyfriend ordered a raspberry bubble tea smoothie with passion fruit "explosion" balls. Our waitress called them explosion balls because they were little balls of explosive flavor, which, they were.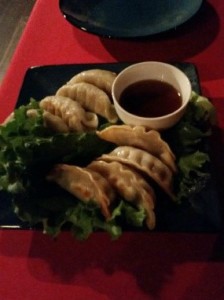 The smoothies came to our table quick and the waitress refilled our waters often. The smoothies were amazing and huge! They were nicely blended without any ice chunks and were very flavorful and sweet. Eugene and I were very impressed. Next, the waitress took our order. Before going there, I was decided upon ordering dumplings. I ordered the steamed pork dumplings as an appetizer. For our entrees, Eugene ordered Nan's Curry, which was a special for that week, and I ordered the Buddha Bowl, which is listed under their Vietnamese section.
The food came out quickly with the dumplings coming first and a minute later, our main course was out as well. The dumplings were delicious, but not worth the $10.00 I paid for them. They tasted the same as Chopstick's dumplings and Chopstick's dumplings are only $5.00. It's the same product for half the price.
Eugene's Nan's Curry was huge and looked amazing. The portion could easily feed two people with smaller appetites, though Eugene ate the whole thing by himself. After the first few bites, Eugene describes the chicken in the curry as nicely tenderized and juicy. The noodles were nothing fancy and a little unimpressive. The sauce was the key element in the dish. It was a creamy very spicy curry sauce that I couldn't even eat because the spice burned my throat. Though, I don't have the taste buds for spice, Eugene loves spicy foods and highly recommends Nan's Curry for the people who crave lots of spice and a nice meat dish.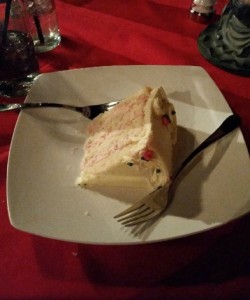 My Buddha Bowl was equally as huge and delicious looking. Once again, the portion could feed two and it tastes just as good the next day if you put it in the fridge overnight (which is what I had to do and everyone was jealous of my leftovers at work the next day). Though I had to do a lot of mixing with my dish to completely get all of the flavors of it, once I poured the right amount of dressing, the taste was fresh and light. I chose chicken for my dish and the chicken was a little dry but nicely seasoned. The noodles were my favorite part being rice noodles instead of wheat or egg noodles because they made the dish feel lighter and less weighed down. The shrimp was delicious and tasted like it came right of the grill and my second favorite part was the egg roll that came along with my dish. Though there was no information as to what the orange sauce was that came with my food, it tasted orange-y and tangy and brought the flavors in the bowl together in the best of ways. The Buddha Bowl is for the person who likes mild tastes and lots of noodles. If I were to order it again I would probably order the vegetarian version because the meat was a little less than what I expected.
To wrap up the meal, I decided to order a slice of the strawberry vanilla cake. When the slice came, it was huge! Way bigger a slice than I expected. It was decorated with tiny pink flowers and iced with a rich buttercream frosting. The cake itself was moist and soft. It was delicious and amazing and just writing about it makes me want it again. It tasted like a magnificent and classy donut. I would recommend this for everyone.
Atmosphere out of 5 stars: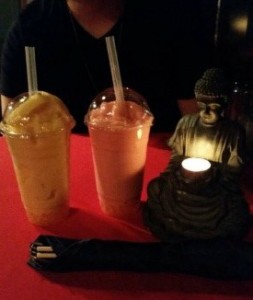 **
Overall, the dining experience was pleasant. For the first half of the meal, there wasn't any music playing in the dining area and we were left listening to the hits from Maroon Five and Nickleback that were coming from the bar. Eventually, they turned on this smooth, relaxing spa music for the dining end that greatly clashed with the ear sore music from the bar. It was a little distracting and confused the atmosphere.
Waitressing out of 5 stars:
*****
The waitressing was amazing and we never had an empty water glass. She was quick and answered all of our questions. Plus, the restaurant surprised us with little chocolates! I love surprises, especially chocolate ones.
Food out of 5 stars:
***
The food was good. The appetizer wasn't something I would expect for $10.00. Eugene's main dish was $10.00. I feel their pricing is confused, just like their music tastes. Our dishes were nothing really to boast about, but they were good. I liked the portions for the price.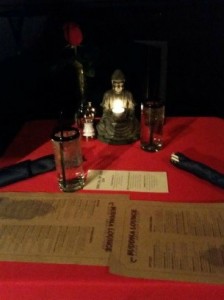 The dessert and smoothies are what I would highly recommend. I wish that the restaurant was less formal so that I could just go in there for their bubble tea smoothies and a slice of their delicious strawberry vanilla donut-like cake.
Decorations out of 5 stars:
*****
The decorations were amazing and I really liked them. The chairs were comfy and there isn't a dull spot in the whole restaurant. I mean, there's fire pits outside of the restaurant! That's so cool.
Through its ups and downs, I would probably go here again. I just can't stop thinking about that cake!