Every filmmaker remembers the one film that made them realize what cinema is capable of, or at least made them wonder how films are brought to realization. For Carol Brandt, writer and director of the feature Things Found on the Ground, that one film is Joe Wright's 2005 film Pride & Prejudice.
She first saw the film when she was only 12 years old, taking immediate interest in "how pretty it looked", but then wondered how the film was so pretty by taking notice of the story, the set and the wardrobe among other cinematic elements.
"The more I got into it, the more I'd watch the behind-the-scenes stuff and be like, 'Oh, that's so cool,'" Brandt said.
From that moment forward, she was hooked.
Before attending UW-Milwaukee, where she's currently studying film in her senior year, Brandt grew up on a farm in Viroqua, Wisconsin where she and her family were "surrounded by Amish people." She later moved to a farmhouse in Deerfield, Wisconsin where she was homeschooled by her mother.
"I got time to work on all my projects in middle school and high school because I'd get done with my schoolwork at noon every day, leaving me with the rest of the day to create things, which is my favorite thing to do," Brandt said.
Brandt says that she doesn't regret moving from the farm to Milwaukee because she was able to expand her horizons.
"I was very sheltered," Brandt said. "So coming to Milwaukee was definitely a change but it's a very good one and I'm happy that I did," Brandt said.
When she visited campus, Brandt didn't participate in the regular tour that most prospective freshmen go on. She even recalls not being able to see much of the film department when she visited. However, she didn't need to be convinced because she had already made up her mind.
"It was the first school I toured and I kind of just fell in love with it and I was like, 'Okay, I'm going to go here,'" Brandt said.
Since she started courses through UWM's regarded film program, Brandt has made numerous short film projects that she isn't particularly fond of, but nonetheless, the skills and lessons she learned from them have shaped her into the filmmaker she has become.
"The classes are really good and I feel like they're branching out more and teaching the stuff that you actually need to know to work on set and to make movies, like the Producer's Role class," Brandt said. "I learned so much about the practical elements of what makes a movie happen, and what you need to do to bring it all together such as lighting and directing."
She notes that the campus organization Production Club has been an asset because the club's officers choose a script that is written by a student every year to turn into a short film, thus providing hands-on experience for students with various on-set positions.
You can just show up and be like, 'Oh, so this is how they do things,'" Brandt said. "The officers that were involved during the time I started were influential in how I make my films now."
If you watch one of her films, you'll take notice of her production title, Shaky Balloon Productions. It's a title that seems random and, well, that's because it is.
"I was helping a friend make a video for her driver's education class and there was this hot air balloon a long ways away," Brandt added. "We were driving and I zoomed in on it and it was all shaky. So, as a joke, I put 'Shaky Balloon Productions' at the end of the video and it stuck. I love hot air balloons."
Brandt, along with three fellow film students she met during her freshman year while living in the dorms, will be purchasing an LLC later this summer to start a production company together. They decided to stick with the name.
"We're going to actually start our own bank account and all of that fun business stuff," Brandt added with glee.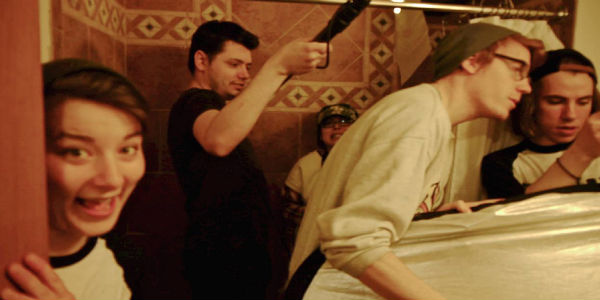 Brandt has taken all that she has learned and decided to make the ambitious move from working on student projects for her film classes to make her first feature film titled Things Found on the Ground. The film centers on a recent high school graduate, played by UW-Stevens Point student and actress Silvia Bond, who finds self-discovery and what it means to be an adult.
"Basically everyone from that time span of a year after high school lets her down, so it's about accepting the fact that people aren't perfect and will let you down but that's okay because that's normal," Brandt said. "It's also about her figuring out what she believes to be right and wrong and not what her parents think or what her friends think."
For the feature, Brandt took the initiative and taught herself screenwriting by researching online as well as reading other screenplays. Her mentors and friends would often read her script as it was in progress to help her with formatting.
"The story I started when I was in high school," Brandt said. "I wanted to write a book so I did and it was awful. One day I thought, 'This would make a good movie. I guess I'm going to make it into a movie now.' So I did. The script itself took a couple of years because I've never written a script before and the first one was awful. So I had send it to a bunch of people and they gave me good feedback. One of them tore it apart. And it was very good, because that script was terrible."
She worked on set along with the help of a crew that consisted of fellow film students, whom she likes to collaborate with often on her projects.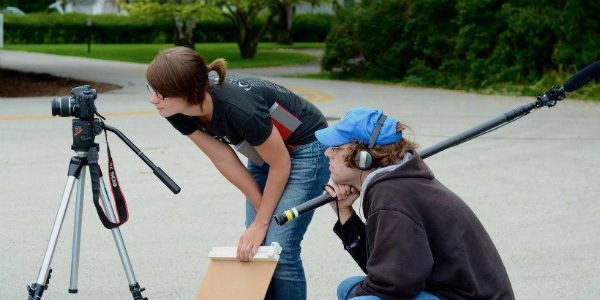 "The set had a very family vibe," Brandt said. "I help out other people as much as I can too because it's good to not be too full of yourself."
Brandt shot Things Found on the Ground during the summer of 2012 in the Madison area as well as Lake Mills and then resumed production during the winter of the same year.
When reflecting on her time spent on the set of Things Found On The Ground, Brandt said that all aspects of filmmaking have their own unique challenges.
"Directing is my favorite part when you're on set and you're making it," Brandt said. "You tell the actors what you're looking for and what the characters are feeling and then you watch them do magical things. It's hard sometimes, though, because there's sometimes that disconnect between people and you can't really say what you mean. For that, I guess practice makes perfect."
"Writing is hard but also editing is really difficult because you have to cut out a lot of what you don't need and it's like cutting up your own child," Brandt added.
After production completed, she spent some time editing the film before test screening a 'work-in-progress' version in the basement of Mitchell Hall, a location with which film students on campus are all too familiar.
"The screening went really well," Brandt said. "I handed out sheets that asked questions such as, 'What did you like? What didn't you like? How did it sound? How did it look?' I got really good feedback."
Brandt and UWM alum Jon Elliott, who co-produced the film, submitted the film to a few festivals, including the prestigious Sundance Film Festival in Park City, Utah.
"I got rejected but they watched it," Brandt said with a smile. "That's a big deal. It's a good experience to get rejected. Everybody does. It's important like getting your script torn apart."
Things Found on the Ground eventually made its world premiere at the New Orleans Film Festival last October.
"We got to drive down for the premiere," Brandt said. "The best thing that can happen to your movie is to watch it with strangers because you'll notice every single thing that's wrong. After it finished screening, I was like, 'This is the worst movie ever and I don't know why I made it.'"
"Then we got up there and did a Q&A," Brandt added. "All the people liked it but, I mean, there were like 10 people there at the screening, because it was kind of random in New Orleans, and nobody knows who I am, so we got there and thought, 'Is this everybody?' It was still good, though. Everybody who was there did like it. And they gave us free champagne because it was our world premiere, which is always good."
Even though Brandt was happy with her experience in New Orleans, she was eager to show her film to her friends and family back in Wisconsin. Luckily for her, the second festival that the film was accepted into was the Beloit Film Festival earlier this year where it won the Audience Choice Award for best feature.
"It was a blast actually, because all of my friends and family came because they couldn't come to New Orleans," Brandt said. "Everybody that I knew that had wanted to see it and that I hadn't been able to show it to yet so that was just all of my friends and family showing up. That's probably why we won the Audience Choice Award."
Although she plans on submitting Things Found on the Ground to more festivals in the near future, she's already working on a new project titled Give It Up For The Girl, a black-and-white short film with imagery reminiscent of Noah Baumbach's Frances Ha and, according to Brandt, the same improvisational style of Joe Swanberg's Drinking Buddies. This latest project tells the story of three young people who reunite after not seeing each other for three years to write a play over the course of one night.
"I got the idea when I was watching the movie called Holiday with Cary Grant and Katherine Hepburn because it's New Year's Eve and there's this very nice moment that happens when it hits New Year's," Brandt said. "It seemed like a very interesting time and very metaphorical."
"Also, from watching Singin' in the Rain, because there's this scene where they're all sitting at a table together and it's late at night and it hits midnight and they start singing and dancing," Brandt continued. "I really like the dynamic of two guys and a girl so that's how that started and I just wrote it."
"These three people start out very polite because they haven't seen each other in awhile so it's like folk lightness where you're trying to reconnect with somebody, and then they start drinking and the more drunk they get, the more the truth comes out," Brandt added.
What makes this project especially unique is that she assembled a small cast and crew to shoot the film over the course of a night since the story itself occurs over one night. She described the process as crazy, and rightfully so. However, she, along with her cast and crew, restlessly pulled it off.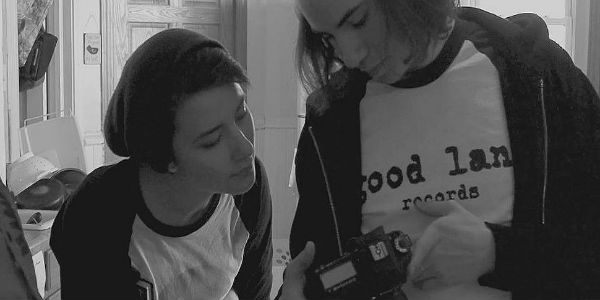 "We had scheduled the crap out of it so it was pretty straightforward and we got everything done but everyone was so tired," Brandt said. "I took the rest of the day to recover but it was really fun. I liked the idea of shooting a story that takes place over one night in one night."
One of the challenges on the set was the time crunch, according to Brandt. She worried that she wouldn't get the shots that were needed and also that the performances were lagging because of how tired everyone was. To her own amusement, the performances worked because the characters in the film were getting tired as well.
"I got a rough cut and it's looking really good," Brandt continued. "There were definitely moments where I got so frustrated with everybody and then I downed two beers and I was like, 'everyone is great. You guys are doing awesome.' We all have our ways of getting through."
It's interesting to note that most of the cast in Give It Up For The Girl was also in Things Found On The Ground. This isn't surprising, considering Brandt said she likes using the same actors in her films because she has already established a good relationship with them. In fact, she's been friends with Silvia Bond since high school and has worked a few times with actress and musician Erika Sorensen, whom Brandt made not-so-good music videos with when they were younger with her grandmother's VHS camcorder as well as Things Found On The Ground and Brandt's senior project titled The Big Heavy.
"It was kind of an excuse to have a reunion," Brandt said. "I already asked Silvia if she'd be the Bill Murray to my Wes Anderson."
Brandt said that her process of working with actors is always different for each, no matter if she's been close to them for years or not.
"With Silvia, I was a little more formal because she was brought onto Things Found On The Ground so late, like a month before we started shooting," Brandt said. "As for Erika, we have a sort of informality at times, but mostly I have to go between friend mode and director mode with most of my actors because they are indeed my friends, mostly. There's a definite distinction between the two."
Even though Brandt is in the process of editing the film, she launched a Kickstarter campaign to raise funds for post-production work including sound and colorization as well as funds for film festival submissions. When asked what festivals she plans on submitting the film to, she said that she plans on submitting to all the ones that she can, including the Milwaukee Film Festival as well as Sundance.
When Brandt was discussing her time at UWM, she said that one of the main lessons that she has taken away from a class is to keep making work and to keep making movies, because when you stop, you're dead. So, what's next for Brandt? She's going to keep making movies, of course.
"I am writing another feature called Dear Coward On The Moon," Brandt said. "I like my long titles. It has to be more than four syllables. It's about two sisters that are a part of this group of homeless train hoppers and one day, the younger sister finds out that her older sister is actually her mother. So it's about them dealing with that and also the life of a train hopper. They're also street musicians so they travel from town to town, making money in any way that they can."
"For this new script, I've been gathering notes and I've just been trying to piece them together," Brandt added. "It's been really hard so I've been figuring out if I can sit down and just write it. We'll see what happens."
Brandt said that she hopes to start shooting Dear Coward On The Moon sometime next summer. Even with these plans, she finds it much more difficult to plan for the long term after she graduates from UWM.
"When I graduate, I'm completely fine with whatever happens, as long as it means I get to keep making movies," Brandt said. "That may mean staying here for a few years, it might mean moving to LA or New York or Toronto. The future is a big place. I just concentrate on what's in front of me at the time and worry about the future only in selected increments of time. Usually when I'm trying to fall asleep."
Things Found On The Ground plays at the Union Theater on campus on Friday, April 18 at 7 p.m. You can donate to Brandt's Kickstarter campaign for Give It Up For The Girl by clicking here.
Photos courtesy of Shaky Balloon Productions