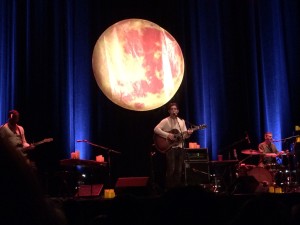 Ohio born Joshua Radin thanked his fellow Midwesterners for braving the cold last Thursday to attend his acoustic show at the Pabst Theater. His fifth appearance at the venue, he was happy to be back at one of his "favorite places."
Radin's longtime friend and old college mate Cary Brothers opened the show with what he promised would be the first in a series of sad songs that night. Brothers warned the crowd that while we were hearing him sing he would be thinking to himself, "Ow, owww, that really hurts, ouch," because he had cut his thumb before the show. "And I'm probably only telling you that because of all the cold medicine I'm on," said a slightly under the weather Brothers.
Despite everything, he wove melancholic melodies between keyboard and guitar, playing tunes about apologizing to a girl for selling his soul to the devil, then switching back to love songs. "You know that show Smallville?" asked Brothers. "You know the first time Lois and Clark you know, do it? They made super babies to my song man." He said as he opened with that very song, "Can't Take my Eyes off You."
Stepping beneath the glowing moon backdrop (the cover of his newest album "Onward and Sideways") Joshua Radin began by promising a set full of happy songs, despite Brother's earlier prediction of dismally sad songs.
Radin has rallied a surprisingly steadfast fan base in the little over a decade since he picked up a guitar and began writing songs. This was evident in the crowd as nearly three-hundred fans were glued to the stage and sat silently enough for Radin to play unplugged, campfire style, for a while. He loves "pin drop" theaters like the Pabst where the acoustics of a smaller room and the undivided attention of a smaller crowd gives the show an air of intimacy.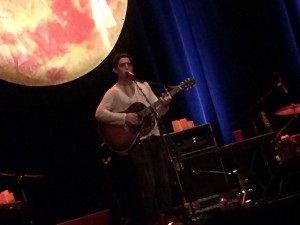 Speaking of intimacy, the entire album is essentially a collection of love letters between him and his love interest, a gal from Sweden. She was with someone else when they met, but he waited for her. "If you find something you really want, you've got to hold onto it…even if she says no," he said, eliciting a chuckle from the crowd.
He played a mix of upbeat, feel good acoustic, finger-picking tunes off of his new album and his previous ones. Though, he said his lady would prefer the new ones to the old. "It's a falling in love album as opposed to a falling out of love album." Radin said. "It's a nice change of pace. Eventually I had a bunch of songs and they weren't sad."
His set included old crowd favorites like "My, my Love" and others like "You got What I Need." "That's a baby making song," said Radin. "Go ahead. Not with me, not right now, but I guess there are the bathrooms," Radin joked. He ended the show with Brothers and the rest of the band back on stage in a jam session mashup of Tom Petty's "Won't Back Down", and Bob Dylan's "Don't Think Twice it's Alright."
Between Radin and Brothers, fellow musician Andrew Belle played a set melding keyboard and electronic drums into eerie drawn out notes, punchy beats and soft lyrics. He played songs off of his 2013 album "Black Bear," and female members of the audience seemed to be enamored with his long, wavy, indie blonde locks.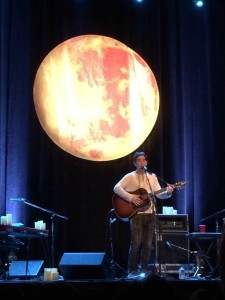 Radin also gave a shout out to the Little Kids Rock Foundation. Little Kids Rock donates instruments, trains music teachers, and builds lasting modern band music programs for underprivileged school children across the nation. This campfire style show was the perfect happenstance for a freezing Thursday evening in Milwaukee.