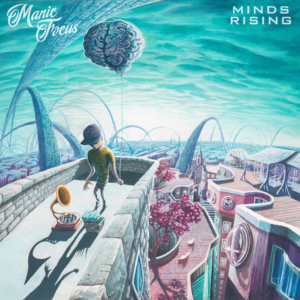 Manic Focus sets off on the Minds Rising Tour which is building momentum with a two night run in Milwaukee this weekend, Friday April 21 and 22 at The Miramar Theatre.
Manic Focus is the electronic music project of John "JmaC" McCarten, a Chicago-based producer originally hailing from the Twin Cities. McCarten's music is known for its multi-dimensional sound, incorporating elements of soul, dubstep, hip-hop, blues and funk, as well as smooth vocal samples, heavy-hitting bass lines, and the occasional rowdy rhymes of hip-hop artists.
Minds Rising, the new full-length album from Manic Focus, will release Friday, April 21st to all digital retailers and streaming platforms.
Minds Rising is an infectious encapsulation of Manic Focus' roots in funk, soul, new-era hip hop, and electronic music. The album is an artful curation of the burgeoning Chicago music landscape and beyond, featuring appearances from cutting-edge hip hop artists, vocalists, producers, and musicians from across the country. Minds Rising is an opus two years in the making, and paints an aural illustration of Manic Focus' shift from producer to composer — one beat, instrument and verse at a time.
Minds Rising features collaborations with a stacked roster of talented musicians, including the percussive genius of Adam Deitch (Lettuce, Break Science), powerful vocals of Jennifer Hartswick (Trey Anastasio Band), and meticulous production of Late Night Radio, who all join forces on the album's soulful lead single, "Stronger."ProbCause lays down heavy bars on the trap anthem "Putting All Of My People On." Russ Liquid backs "Habit" with a funky New Orleans style three-piece horn section, while emerging hip hop group the RapperChicks deliver witty, earth-shattering verses and a captivating chorus to round out the track. Brooklyn based musicians Exmagand Borahm Lee (Lowtemp Music, Break Science) harmonize on "Your X Now" to bring space jazz rhythms and twinkling piano elements to Manic Focus' stellar composition. Other collaborations include features from future bass producer Psymbionic on "Pushing," rising Chicago stars Statik on "Stochastic Resonance," Carlile on "Timeless," and the razor sharp lyricism of Chicago rapper Psalm One on "Joy In the Noise."
Tickets for both of this weekends shows can be found online on the Miramar's website.

[Press Release: Manic Focus PR Team]