Prepare to be bewitched.
Allow light to shed on the Milwaukee native band Noise Complement. They'll swiftly become your new obsession and let me tell you why.
This four man alternative-punk group originated in 2011 and today consists of Richie Deschauer (vocals/guitar), Elliott Evans (lead guitar), Tom Abromaitis (bass), and John Pankow (drums).
---
While confirming present and past members, Deschauer shared at one point, everyone in the band left and it was just him. Luckily, he came across Evans and Preston Thurler who were from a different local band. Joining forces, the three searched for a bassist and struck luck, forming Noise Complement. Once their bassist left the band, they used craigslist and found Abromaitis.
Deschauer has been in the band for 6 years, Evans for about 5 years, Abromaitis a year, and Pankow for a couple of months.
The quartet has played shows at multiple venues over Wisconsin including The Rave and The Miramar Theatre. To name a few of the many, Noise Complement has even shared the stage with All Time Low, Mayday Parade, Man Overboard, The Downtown Fiction, and even The Summer Set.
When I sat down to interview Deschauer and Evans, I was kindly given a couple free cd's of their album "Across The River" and stickers which featured their dynamic cover art.  This gesture was just one of the few cyphers expressing their generosity and gratitude. Through the entire interview, their hunger and passion for what they create was evident
THE INTERVIEW
How did Noise Complement form?
Richie: So I played in a jazz band and was around a lot of musicians in my high school. I always knew music was something I was interested in and wanted to do. So I started talking to other people and my best friend at the time, Brandon, and I had the idea of a band and found a drummer. We just came together from there.
How did you choose the name of your band?
Richie: Our first practice, we were playing really late and my dad came downstairs and told us we should probably knock it off so the neighbors don't call the cops for a noise complaint. So my buddy Jack said "Well we're so good it'll be a noise compliment." So I was like "well that's it, there it is, that's the name." So here we are, six years later. We changed the "I" to an "e" though. We compliment the noise.
What genre of music do you consider the band?
Elliott: In the early days I would say it was pretty pop-punk but as we progress with the band, especially with Preston and I, I'd say it has gone alternative-indie.
Richie: I agree and I think even now we are coming into pop-rock.
How many albums does Noise Complement have and what is your most current album?
Richie: We have one full length album called "The Ships Gone Haywire"
Elliott: That was older.
Richie: Yes, that was our pop-punk stuff. More recently we have been able to get into the studio and record. So we have a five song EP, what we just gave you (Across the River). So one full album and one EP.
Elliott: We recorded the EP in Landon. It was a nice little studio.
Who do you consider inspiration, musically speaking?
Richie: Both of us grew up listening to classic rock like Led Zeppelin and ACDC.
Elliott: There is just so music from Michael Jackson to Metallica.
What kind of image does your band convey?
Richie: That's a good question.
Elliott: I try not to put a label on it. Whatever other people conceive us as.
Richie: I think we kind of put off a nonchalant "here's our music, if you like it, awesome" kind of vibe. It's not too in your face, very laid back.
Elliott: It's definitely about the music.
Do you have a record label or have you ever?
Elliott: This is a good story.
Richie: Yes, we have had a record label. One of our first shows when Preston joined, there was a record label there. He approached us after the show, gave us his card, we contacted him, and after talking a little bit both ways he wanted us to sign a deal and that happened. It was great for the first month, we had a lot of shows lined up but we were his only band at the moment. There weren't a lot of resources it was very small unfortunately.
Elliott: One person can't really do it all.
Richie: Yeah so we signed in January and that summer we recorded the EP. We decided to finish the EP and ultimately we walked away. We're now open to whatever comes our way next.
So who handles your business now?
Richie: Mostly Tom and I. Luckily, Tom has a booking agent he's good friends with.
Where have you all performed?
Elliott: We've performed at The Rave a few times and that is always a great time.
Richie: We've opened for Mayday Parade two years ago and that was a fantastic time. The way that it worked, the national act played before us so it gave off the impression that when we came out that we were the headlining act. It was amazing and a lot of fun.
Do you have any upcoming shows?
Richie: we do, we have an upcoming La Crosse show and it is a benefit for a charity. It is April 24th.
Elliott: It's at the Warehouse it is really fun to play at.
Richie: I believe we are going to be the only band playing there.
Any Milwaukee shows?
Richie: We do not but we are thinking about setting some up at The Rave soon.
Who writes your songs?
Richie: I do. I pretty much write the lyrics and we all collaborate.
Elliott: I jam all the time and I'll record stuff on my phone or on my computer and I'll send it to Richie. We just bring our separate ideas and that is how our songs get made and Richie really adds the vocal touch.
Do you (Richie) only do the vocals?
Richie: Yes.
Elliott: I'm not quite there yet.
When did Preston (the former drummer) leave the band?
Richie: I want to say he left the band about a year ago but officially I would say we started to search for another drummer about six months ago.
What are your rehearsals like?
Richie: I have a place out in Menomonee Falls with my parents and they let us use the basement. We meet up at least once a week. Our bassist lives up in Oshkosh now and we've never had someone as talented as Tom. We try to always meet up.
What has been your biggest challenges as a band? Have you been able to overcome them?
Elliott: I would say finding a new drummer. It was difficult to overcome that and find the motivation after Preston left but once we found John it was like a breath of fresh air.
Be very honest – why do you want to record and release music and what is the ultimate goal for your band? What are you truly seeking?
Elliott: Well, whatever happens happens.
Richie: It's very therapeutic. I've been playing guitar since I was in fifth grade. Getting up on stage, I've always had stage fright but with a guitar in my hand, I become, as Elliott says "A Richie I've never seen before". I come out through the music.
Elliott: I just think the ultimate goal of the music is to write whatever and to connect with people. It's not about a following, it's about making an art.
Richie: Yeah we aren't doing this for anyone but ourselves.
Are you looking to build a career?
Elliott: Yes, that would be great.
With that being said, what are some short and long term goals?
Richie: Short term, keep steady booking going, have a set line up again. We just need that booking.
Elliott: And tour.
Richie: Yes, we've really talked about that.
Elliott: Long term goal, keep practicing and be more comfortable in between songs at our live shows.
Have you had any horrible experiences?
Richie: Yes, we had one show that our record label booked for us was in Chicago. I use that term "Chicago" very loosely, it was the northern suburbs of Illinois. It was one of the worst shows I think any of us played. It was unfortunate. It was a small crowd…
Elliott: It wasn't that small, it was just that Patty (a former band member) left.
Richie: We headlined it, but that's right, our former bassist wasn't there.
Elliott: Yeah, she drove down then left.
Richie: So that's also when Patty left the band. It was just overall not a great show. We rented a truck just to drive down to it. It was a fun time but it was not a good show.
Can you briefly describe your fan base?
Elliott: I'd say a lot of our fans are around our age. It is very wide range though.
Richie: When I was in high school, it was a lot of the girls and teenagers and the All Time Low fans. Once we changed our music, it became a good mix of people.
Elliott: A good part of Wisconsin is where our fans are from. Milwaukee, La Crosse, Sheboygan, there is even people in Madison. Definitely a good Midwest following.
Richie: I was just going to say, we should probably go play some Madison shows, but something we definitely need to work on is branching out.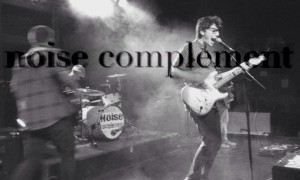 What would you consider your bands biggest accomplishments?
Richie: I would say overcoming the adversity that we have had to face so far. We haven't been discouraged. I don't know a lot of bands that have been signed and dropped and kept going. Even through all the members we have lost and like I said at one point I was totally by myself.
Elliott: People obviously had school and other commitments so it is understandable but if you love it, you can do it.
Is there anything else you'd like to share?
Elliott: Besides our show coming up in La Crosse, look for us on social media on Facebook or ITunes. Watch for our music being dropped.
Richie: We are really looking forward to having a second full album come out which will be our current lineup, showcasing where we are at right now.
---
Acknowledgments and shout outs from Noise Complement go to: past members (Preston, Patty, Jack, Brendan, Joey, and Dylan), their parents, and their past record label.
Be sure to listen to their music, buy their album, and keep up on their upcoming shows!