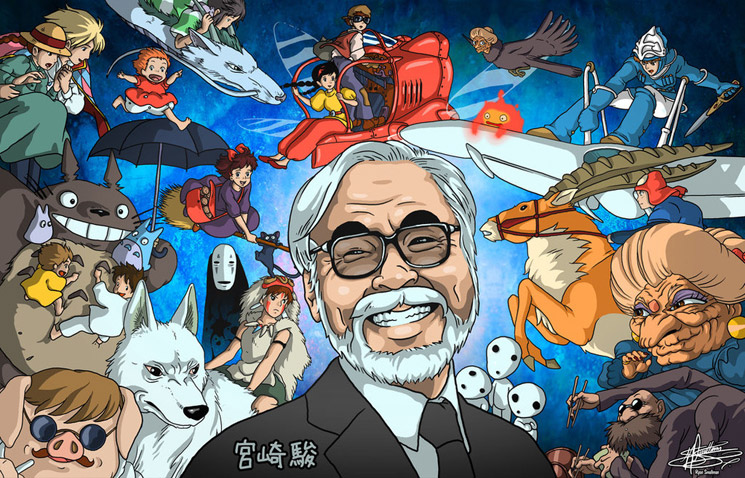 When we come across films that move and enthrall us, they tend to stand the test of times and remain movies that we could re-watch over and over again. Hayao Miyazaki's animated films, which range from: My Neighbor Totoro,  Princess Mononoke and Ponyo to name a few, are just that. Often referred to as a legend in the animated film world, Miyazaki has been making films for over 30 years. Some things that stand out about his films are that they often feature a strong, female lead character with an emphasis on friendship.
While some chalk up all animated films as being specifically for a younger audience, Miyazaki's know no age boundaries. Many of the films can be seen as a commentary on social issues through imaginative storytelling often set in fantasy environments. These tangible yet subdued themes are in nearly all of Miyazaki's films. For example, Howl's Moving Castle, which details the adventures of Sophie, the hat maker and her chance encounter with Howl works as a look into Miyazaki's feelings about the war in Iraq. As a pacifist, Miyazaki's portrayal of the futuristic yet vintage European town at a constant war, with it's soldiers becoming horrific creatures in order to fight can be seen as the director's feelings on warfare.
Aside from being open to interpretation about their deeper meaning, Miyazaki's movies are a feast for the eyes. The art style is dedicated to authenticity in regards to Japanese architecture and food. Whether you enjoy the hand painted scenery, or the memorable leads of Miyazaki's films, spending an evening with these classic movies are just one way to celebrate the art of animation and cinematography.
The Avalon theater will be showing the films until the end of March, with Times Cinema picking it up in April.