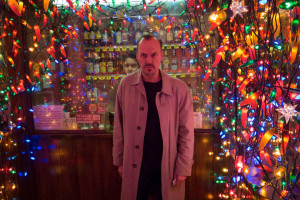 I can remember quite clearly the smoldering and humid summer night of 1992, being only ten years old and anxiously standing in line outside the movie theater for the grand opening of "Batman Returns" with my father. Growing up a die-hard Batman fan, constantly re-watching and ultimately wearing out my brother's old VHS tape of the original '89 Batman, seeing the highly anticipated sequel became one of the great cinematic experiences of my early childhood.
Because of such fond memories, Michael Keaton for me has always been the visual embodiment of Batman, at least nostalgically. So when walking into Alejandro Gonzalez Inarritu's "Birdman" or (The Unexpected Virtue of Ignorance), nothing could have been more amusing than seeing actor and childhood hero Michael Keaton, whose movie success peaked when playing Batman 20 years ago, play an actor who peaked 20 years ago playing Birdman.
Michael Keaton (In a performance that is surely guaranteed to get him Academy Award nomination) plays Riggan Thomas, a washed up movie star who continues to descend into the forgotten and pathetic satire of his own former success. Twenty years ago Riggan used to be a house-hold name, playing a hugely popular super-hero named Birdman. As a fear of being typecast, Riggan tries to direct his attention to more dramatic and adult roles, but none of them successfully pan through. And so in Riggan's final attempt to prove to the public that he is much more than simply a guy in a bird suit, he has adapted a Raymond Carver short story into a play. Not only is Riggan the writer and director of his own adaptation but he is also the main star, and his project is currently in previews for a huge opening on Broadway.
Riggan's cast for his play includes Mike Shiner (Edward Norton), an incredible acting talent who is known to be extremely difficult onset with other actors, Riggan's lover Laura (Andrea Riseborough) who believes she is pregnant with Riggan's child,  Lesley (Naomi Watts), an old acting colleague who is finally getting her lifelong wish appearing in a Broadway production, his bitter and aloof daughter Sam (Emma Stone) who was recently released from rehab and who hangs around backstage, and Brandon (Zach Galifianakis), who is doing what he can to hold this entire odd-ball production together. Lastly there's the merciless theater critic of the New York Times (Lindsay Duncan) patiently waiting for the preview, as she would like nothing better than to ruthlessly destroy their play and immediately get them all booted off Broadway.
"Birdman" is getting much notoriety for its use of the long take, which comes as a breath of fresh air from the usual rapid ADHD editing style that seems to overrun most commercial movies. Many of the actors in numerous interviews have spoke about how each of them had to constantly rehearse every line of dialogue, so they could hit all the right marks to help create the illusion that the audience is actually watching an entire film shot in one long unbroken take.
Even though there have been many films throughout the years that have devoted itself to the challenge of capturing the experience of 'real-time,' whether it was the clever fakery of Alfred Hitchcock's "Rope" in 1948 or Alexander Sokurov's extravagant "Russian Ark" in 2002, with the aid of the latest digital editing, Inarritu takes the illusion to a entirely different level.
The wild and kinetic wizardry of the cinematography was shot by the brilliant Emmanuel Lubezki who just recently won an Oscar for his work on Alfonso Cuaron's "Gravity."  Lubezki's use of the tracking shot in "Birdman" is quite dazzling as he immediately swoops you in and out through various corridors and narrow staircases, soars you into the high skies over roof-tops and skyscrapers. It ultimately ends up leaving you outside and in Time Square along with Riggan who unfortunately is only wearing his underwear.
It's quite obvious with "Birdman" that Inarritu is presenting a sly partial commentary on both America's celebrity-obsessed culture and the current state of the movie industry which seems to be overrun by greedy, vapid, corporate commercialism. The oversaturation of superhero movies is really quite redundant and it seems we are going to be getting about 30 or so more within the next five years.
Inarritu cleverly adds various playful superhero references all throughout Birdman, whether it's Riggan quitting the Birdman franchise in 1992, the very same year Keaton played Batman in "Batman Returns," the casting of Edward Norton and Gwen Stacy, both who were major characters in "The Incredible Hulk" and "The Amazing Spiderman," or the quick references to other real-life actors who starred in successful superhero franchises, like Robert Downey Jr. and Michael Fassbender.
There is even a comedic sequence later on in the film where Inarritu constructs a Michael Bay-like reenactment, presenting a CGI monster attack with all the explosions, quick cuts and mayhem that go along with most modern blockbusters. Inarritu seems to be suggesting that the mainstream public which allows such big budget films like these to prevail unfortunately causes smaller more artistic projects to fail. Inarritu enjoys gleefully mocking this pivotal moment in film history by contrasting the art of the theater with the art of the cinema all the while presenting all its themes with a comedic, dry, cynical bite.
And yet "Birdman" doesn't need such cinematic metaphors or pop-culture references to be a truly successful picture. The film stands completely on its own, self-contained, giving us a rich and complex character study on a tainted man's former glory, all the while exploring a harsh comical satire on the inner-workings of the theater, show-business and what it means to be culturally relevant to today's generation. "Birdman" or (The Unexpected Virtue of Ignorance) is one of the very best films of the year and Inarritu's most ambitious and enthralling cinematic achievement since Amores Perros and Babel. I can see this becoming a potential cult-classic many years down the road.