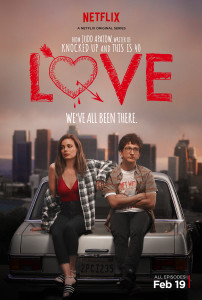 A simple yet complicated title, Netflix's original series, "Love" is a refreshing look at romantic comedy that relies on realistic dialogue and memorable characters, only to be marred by its reliance on banal tropes.
The series revolves around Gus (Paul Rust) an onset-tutor and Mickey (Gillian Jacobs), is a program manager at a satellite radio station. Gus is the quintessential, geeky millennial with a vast knowledge of movie trivia and Mickey is your classic recovering "fuck up". Gus is fresh out of a relationship that ended with infidelity and Mickey calls it quits with her addict boyfriend. The two meet by chance at a convenience store after Gus offers to pay for Mickey's purchase after she forgets her wallet.
A series of events unfold in which Mickey and Gus become closer and navigate the trials and errors of beginning a new relationship. Age-old questions such as "What are we?" to "Is it stalking if I end up at your job by coincidence?" are posed and answered.
While the realistic situations that the duo and their friends find themselves in make for an exciting series, it does tend to rely on tired stereotypes to fill in the gaps. For example, the "wise black friend" cliché or the Asian store clerk with an overly thick accent that mirrors those of early kung-fu films are examples of shortsighted writing.
Aside from a few lack-luster moments, the series is enjoyable overall and offers a no-frills look at dating and relationships.