After a healthy dose of mashed potatoes and gravy, a mountain of stuffing, and a plate full of turkey, there is no better way to digest than to plop down in front of your Netflix account and escape into a new TV show or movie; evading your pesky relatives at least for a few hours. The Fringe contributors have personally selected their favorite procrastination worthy programs for you to enjoy over the holiday weekend.
Reign
In Reign, one enters the 16th century French court to watch the trials and triumphs of Mary Queen of Scots during her rise to power. The first season of this historical drama has betrayal at every turn. Mary is betrothed to Francis, the dauphin of France and future king, yet holds the attentions of him and his handsome bastard brother Sebastian. Mary and her ladies balance affairs of state and affairs of the heart at a deadly French court ripe with treason, murder, sex and scandal. Mary's constant struggle with her love for Francis versus her love and loyalty to her country creates enough drama and intrigue to topple nations. Long may she reign!
-Analise Pruni
Anastasia
Riddled with historical inaccuracies as it is, this 1997 animated classic is a wild nostalgic ride from the icy streets of St. Petersburg to the glittering theater marquees of 1920s Paris. Anastasia begins with the Russian Revolution of 1916. The dismantling of Tsar Nicholas II's regime in the film is sparked by a curse set upon by the Romanov's banished court sorcerer, Rasputin (Christopher Lloyd). Their palace under siege, Grand Duchess Anastasia (Kirsten Dunst/Meg Ryan) and her grandmother the Dowager Empress Marie (Angela Lansbury) escape through a secret passageway. Fleeing through a bustling train station, Anastasia manages to fall and hit her head, missing the Paris-bound train on which the Dowager had boarded. Ten years later Anastasia has lost her memories of living among the nobility, she goes by the name Anya.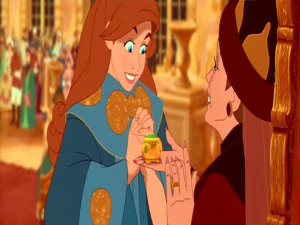 In an effort to swindle reward money for the missing Duchess, Dimitri (John Cusack) and Vladimir Vasilovich (Kelsey Grammer), convince Anya to travel with them to Paris to "reunite" Anya with her forgotten grandmother. Along the way the evil Rasputin sends his ghostly minions to thwart them at every turn.
The charm of this film lies in its breathtaking animation and beautiful score. Anastasia's music is comparable to the Disney Renaissance style soundtracks of this time, charming love songs set against cutesy show tunes. "Journey to the Past" and "Once Upon a December" are standout tracks in the film, the former being a pop ballad while the latter is a lush and mysterious song. Although still considered a "children's" movie, Anastasia is peppered with adult themes and sequences which are uncommon for movie musicals of this nature; the Rasputin character is both horrifying and funny at the same time. If during this Thanksgiving weekend you find yourself at a loss for Netflix choices, Anastasia harkens back to the animation of yesteryear; a riveting plot, a moving musical score, and gorgeous artistry.
-Mac Writt
It Might Get Loud
Am I the only one that is finding television less and less mentally simulating, even with the number of channels increasing? Now imagine, having the chance to experience something that helps you gain a glimpse of understanding the minds of three rock n' roll musicians. Peeling back the layers, the audience can start understanding the musician's appreciations and salutations to past musicians and cultural events that have forever changed the musical landscape. Not only applying their own interpretations, but infusing personal music theories and canonizing them with current events. The audience can then begin to understand the musician's artistic engineering processes. Sound intriguing?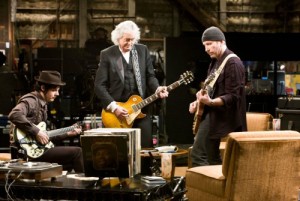 I encourage you to watch the 2008 American documentary film, It Might Get Loud. Focusing on musicians, Jack White (The White Stripes, The Raconteurs), Jimmy Page (The Yardbirds, Led Zeppelin), and The Edge (U2), the three men have a casual sit down and it just so happens their guitars accompany them. They talk influences for certain songs and how they applied "tension" within that sound, which ultimately helped catapult those riffs into legendary status. Songs touched upon range from, "Seven Nation Army," "Whole Lotta Love," to "I Will Follow" and that's only naming a few. So if you are a music buff, or if you just have respect for these artists' contribution to American vernacular music, this is the movie for you.
-Elizabeth LaPointe
Gurren Lagann
After watching the solid Kill La Kill, I had to go and watch its spiritual predecessor, Gurren Lagann. Gurren Lagann is a 2007 anime TV series created by Studio Gainax and directed by Hiroyuki Imaishi, who left Gainax to form Studio Trigger and direct Kill La Kill. The story takes place in the future where humanity is forced to live in underground caves by the Gunmen, giant robots piloted by human/beast hybrids. Meek and shy character Simon and his eccentric brother figure Kamina find a Gunman hidden in the village. When a Gunman attacks the village, the two meet the strong but scantily clad Yoko Littner and make their escape to the surface. The trio must now fight off the Gunmen and their leader, the spiral king, and reclaim the surface world. Think Plato's Allegory of the Cave only with explosions and giant mechas.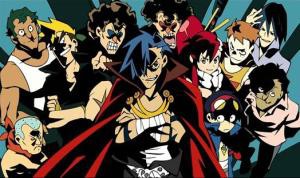 The characters, even the smaller ones, are instantly likeable and have very believable flaws and character arcs. The highlight is of course the adorable main character, Simon, who slowly gains more and more confidence and strength through his bond with Kamina. Kamina is another great character, whose grandiose speeches on his masculinity is balanced by his recklessness and hidden vulnerabilities. Yoko, despite having her shapely body flash across the screen multiple times, is not just fanservice bait. She demonstrates her own assertion and confidence and doesn't take any crap from the many peeping toms that come her way.
The presentation is also top notch. Everything from the balls-to-the-wall action, to the serene and colorful backgrounds looks gorgeous. The cartoony aesthetic makes the characters and animation feel organic and helps emphasize the sheer craziness of it all. And the soundtrack is filled with rock, electronic, and even orchestral elements.
The fantastic animation and inspiring themes and characters are a treat to see despite the sheer goofiness of the plot and rampant fanservice. If you're looking for the perfect show to turn off your brain and enjoy while also providing great characters and story, then look no further.
-Jack Fennimore
Reign Trailer:
Anastasia Trailer:
It Might Get Loud Trailer:
Gurren Lagann Trailer: