Looking for a place to pour over your textbook, pump out some note cards, or simply relax after a long week of papers and exams? The Fringe contributors have compiled a list our favorite Milwaukee study spots to lure students away from the library and explore the city.
The Kenwood Inn
The Kenwood Inn is the Union's hidden gem. Located on the third floor, The Kenwood Inn is filled with an eclectic mixture of students and faculty. It is a great place to eat good quality food on campus and meet with friends. The restaurant is never crazy busy, so for those who need some background noise while studying it's the perfect place. The menu resembles Panera, but with many upgrades. Each meal is made fresh, served with sweet potato chips and fresh fruit, and delivered to your table. My personal recommendation would be the crab cake sandwich. The only downside to this spot is that it's only open from 11 a.m.-2 p.m., so plan accordingly because visiting The Kenwood inn is a must before leaving the hallowed halls of UW-Milwaukee.
-Molly Bryant
Colectivo Coffee on Prospect Ave
Need to get off campus for a bit to get some schoolwork done, but also need some caffeine to get you motivated? The Colectivo Coffee on Prospect Avenue is the perfect spot. Situated less than a block from the Kenilworth Square Apartments, it is accessible by UWM shuttle or the 30 bus. The cafe has something for everyone with the many different seating arrangements available, like booths and long tables. The atmosphere and décor also adds to the experience with a rustic, industrial look, as it was once an auto parts store. Along with this look, there are also many plants hanging from the ceiling where there is also a skylight providing natural light to the cafe. But what always keeps me coming back is the friendly staff and the constant activity and energy of people coming through the cafe. So grab those books and treat yourself to a latté while studying for that exam coming up.
-Bo Bayerl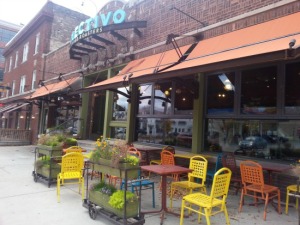 The Honors College Library
There are many perks to being in the Honors College. You get to participate in a variety of classes that, although often demanding, are some of the most fun and engaging classes that you will ever take. You also get to know really cool people that share your interests and your love of academia. So in order to foster the pursuit of knowledge and socialization, the Honors College established the library, located in the Honors House.
The library is my go to place for studying and even just relaxing, and has quickly become a perk of its own for many Honors students. The interior looks more like the den of a mansion than a school library, with grass green carpeting, oak wood walls, and even a fireplace (although I've never seen it lit). But being a library, it is stacked with books of all kinds; from novels, magazines, and books about writing, books about women studies, books about economics, and even a book about how to use your Commodore 64. Many computers and a printing station are provided for students that need it. Because there are no more than around ten people in the room, it ensures that the space is quiet for studying or sleeping. I've sat in pretty much every type of chair on campus, and I can tell you without a shadow of a doubt that nothing compares to the cream-colored sofa and the brown armchair in the library. Many times, I had to sit in the less comfortable red chairs in the corner because I didn't want to fall asleep while studying.
-Jack Fennimore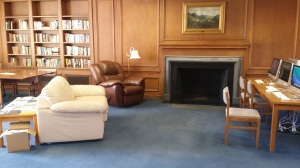 Lake Park 
While most find study solace in the cozy confines of campus, the library, or coffee shops, Lake Park is a primo spot to brush up on notes or catch up on course reading in the fresh air. Just a hop, skip and a leap east of campus, you can stretch out on any of the benches along the bike trail overlooking the lake to dig into a good book, or bury yourself in notes to the background melodies of the great outdoors. Anytime you need a break, just look out at the sun lighting up the water; perfect serenity. This peaceful setting can be a great change from stuffy, overcrowded libraries or busy coffee shops. Only catch, leave your laptops at home folks. Only old school studying available here, sadly Wi-Fi doesn't work in nature.
-Analise Pruni