Ever feel like the library is just too cramped or dull for you to concentrate for your exams? Check out this second batch of study spots compiled by the Fringe contributors, there is bound to be a new place to suit your specific studying needs.
Colectivo on Memorial Drive
I'm a commuter and I love this Colectivo conveniently located on North Lincoln Memorial Drive. It offers a last ditch opportunity to skip a long and stressful inefficient rush-hour drive home. The outdoor seating is a nice change of pace for anyone who enjoys reading in the afternoon wind. Unwinding over a cup of something hot is even better with a friend or two. It can get busy but this Colectivo is huge and has never given me personal space or claustrophobia that I try to avoid at tiny coffee shops. If you've been passing it by for a while, I highly recommend you give it a shot.
-Matt Heimiller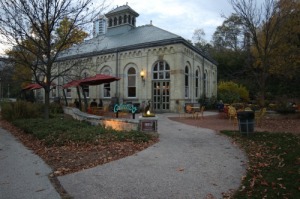 Starbucks on Downer Ave
If you told me that you liked Colectivo coffee more than Starbucks, your nose would grow into a giant redwood tree… because you would be lying. I don't care if it's more hip or trendy to go to a Colectivo, because the coffee is ultimately ten times worse than Starbucks and it's always too crowded. As basic as it is to enjoy studying at Starbucks, I don't even care. The Starbucks on Downer Avenue by UWM is the most delightful spot to study.  Downer Avenue is a beautiful street, always bustling with families, dogs, painters, and old couples holding hands. Starbucks lies near the end of Downer near Bradford, where the hustle and bustle turns into trees and magnificent homes built in the 80's. There's plenty of urban-designed seating and counter space to lay out papers. Right next door is a cute little book store, Boswell Book Company, and a conjoining public space with couches and coffee tables. If you don't mind listening to the chatter of a coffee shop while studying, you will adore this experience.
-Mary Jo Contino
The Garland Hall Courtyard
In the concrete shadow of Curtin Hall, snuggled against the red brick walls of Garland, Pierce, and Vogel Halls lays a neat little collection of benches and picnic tables ripe for studying, chatting between classes, or enjoying the last few weeks of autumn color. The courtyard, while still in the heart of campus, is seldom occupied by students which make the space both a peaceful and convenient retreat. There are a handful of medium sized trees which sprout around the sitting areas, each in various hues of greens, reds, oranges, or yellows. The trees give a welcome shady covering. The UWM fountain can be heard gurgling in the distance interspersed with the tinkle of unraveling bike chains coming from the bike rack adjacent to the picnic tables. The space is well suited for people watching.
I ventured to the spot last week after a lengthy battle against a particularly unpleasant midterm exam. My sneakers crunched cheerily as I walked across the courtyard to my favorite bench. The sun, struggling to find an opening among the clouds, beat through the mess of colorful leaves overhead. It splashed a vibrant golden light over the little area. For a moment it was nice to feel hidden away from the bustle of students and cars which bombard UWM; it certainly made my think twice about whipping out my phone to check Facebook. It's nice to know that even on our urban campus; there are places like these to unwind in the beauty of nature.
-Mac Writt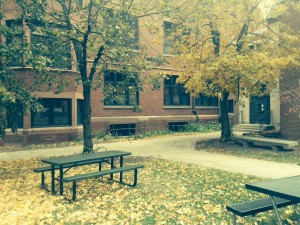 Roast Coffee Company
If you love to fuel up your day with a cup of coffee in the early morning, an afternoon pick-me-up between classes or an after work delight, I encourage you to swing over to the Roast coffee shop and indulge yourself. Located on 2132 E Locust St, this local shop is anything but an ordinary brewing chain. Hit by a cozy ambiance when you first walk through the door, you are then greeted by the friendly smiles of the employees on duty. Drinks range from the traditional black coffees, lattes, and mochas, to the drinks of specialty like, Raspberry Truffle, Americano Misto, Yin & Yang, Keith Richards (nice subtle tribute to one of the guitar Gods hey?). Do not be alarmed, this list is just skimming the surface.
Now if you are not a big coffee fan you are still encouraged to stop by to try some hot Rishi teas, fruit smoothies or yummy pastries, all are welcomed at Roast! Talking with one of the coffee shop's gracious Baristas she explained to me there is a very diverse population that comes in, from the native Eastsiders, to students, and professors from UWM. So if you are coming in to get some work done don't worry, there are plenty of outlets. Just to come and enjoy a cup of coffee with a friend like me you will be in good company, so come on down and enjoy.
-Elizabeth Lapointe