Halloween is quickly approaching, and people celebrate the season with a variety of activities, from creating costumes to going to a haunted house with friends or simply admiring decorations displayed in people's yards.  A common symbol of Halloween, and fall in general, is the pumpkin.  Whether it be painted, carved, or eaten in a pie, pumpkins appear to be an essential part of this time of year.  Fall is the prime time to harvest pumpkins, but is this the only reason pumpkins are such a traditional icon of fall, or is there a deeper, eerier meaning behind them?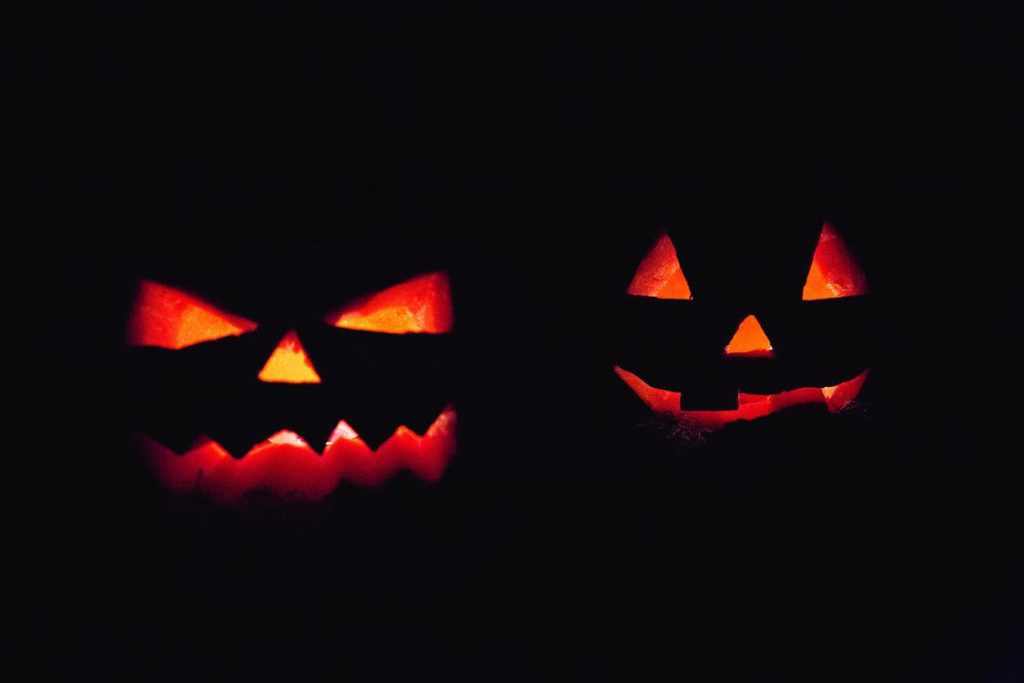 In the mid 19th century, Ireland struggled with the devastating Great Famine, creating a surge of immigrants to filter into the United States. Most of them struggled with starvation and disease, seeking refuge and a better way of life.  With them, they brought the tradition of carving turnips and potatoes, a common practice around Halloween.  However, in the United States, they found pumpkins were better to carve.  We now call these carved pumpkins Jack-O-Lanterns.
These Jack-O-Lanterns have a peculiar background.  An Irish legend states that the reason behind the carving of turnips, potatoes, and now pumpkins, has to do with an Irish drunk named Stingy Jack, who was very unpleasant and obscene.  One Hallow's Eve night, Stingy Jack became so intoxicated that he invited the Devil to have a drink with him.  The Devil agreed, but Jack had no way of buying the drink, which he was fully aware of.  He talked the Devil into changing himself into a coin to pay for the drink.  The Devil agreed, becoming the object requested, but Stingy Jack, being the devious man he was, took the coin for himself and placed it in his pocket.  In his pocket was a small cross, which prevented the Devil from changing back into himself.  After a compromise, the Devil was freed as long as he would leave Jack alone for one year, so that Stingy Jack could change in his ways of deceptiveness.
Once the next Hallow's Eve came, Jack still had not become a better person, and the Devil recognized that.  The Devil went to seize Jack's soul, but Stingy Jack tricked him again.  This time, he convinced the Devil to climb a tree to get a delicious looking apple.  While the Devil was in the tree, Jack carved a cross into it, which prohibited the Devil from getting out of the tree.  The Devil was stuck once again in a deceiving trick of Jack's.  To be freed from the branches of the tree, the Devil had to promise Jack not to bother him for ten more years.
Before the ten years were up, Stingy Jack died.  However, God wouldn't let him into heaven because of the appalling person he was all his life, and the Devil wouldn't let him into Hell because of how much Jack tormented him.  The Devil did give him a chunk of coal to light his way as Stingy Jack roamed around aimlessly for the rest of eternity with no purpose.  Stingy Jack put the coal in a carved out turnip as a lantern to guide his way.
While this tale may sound farfetched, it's what began the start of Jack-O-Lanterns.  Frightening faces carved into pumpkins were placed in the Irish's windows to warn the soul of Stingy Jack away and express to him that he was not welcomed there.  The practice was brought to America, but it became more of a festive way to celebrate Halloween rather than a way to scare away evil spirits.  Today, people carve pumpkins into a variety of creative ways.
Pumpkin Facts:
The heaviest pumpkin on record weighed in at 2,624.6 pounds in Belgium just over a year ago.
The word pumpkin originates from the Greek word "pepon" which means "large melon."
Morton, IL is unofficially named the Pumpkin Capital of the World.
China produces the most pumpkins in the world, but Spain is the largest exporter of pumpkins.
95% of the pumpkins processed in the United States are grown in Illinois.
The pigment carotenoid gives pumpkins their orange color.
Still want to join in on the fun and carve a pumpkin?  There are a handful of businesses around the area with pumpkin patches or already picked pumpkins and other fall festivities until Halloween day.
Jim's Pumpkin Farm in Germantown not only has a pumpkin patch to pick your perfect pumpkin, but there are also hay rides, a petting zoo, and a corn maze.  The farm is open from 9 AM until 6 PM.
The Land of the Giants Pumpkin Farm is located in Sturtevant, WI. They're open from 1 PM until 6 PM on weekdays and 10 AM to 6 PM on the weekends.
Lindner's Pumpkin Farm is located in New Berlin and, along with their patch, they offer pumpkin bowling and carnival games.  They're open daily from 10 AM until 6 PM.
Swan's Pumpkin Farm of Franksville, WI offers tractor-drawn hayrides, a petting zoo, haunted house, and a corn maze.  Their hours are 9 AM until 7 PM.
Additionally, Delafield will be hosting a Harvest Festival on October 28th from 3 PM until 10 PM.  There will be a chili cook-off, music, beer sampling, hayrides, and at 7:00, a Grand Pumpkin Illumination.  Area schools carve pumpkins for the event which are lit up during the Harvest Festival.
On October 31st, a Pumpkin Walk will be held in Cedarburg from 5 PM until 9 PM.  Halloween events will be held throughout the town.  People are invited to bring their pumpkins to line the street so that others can view their lit masterpieces.