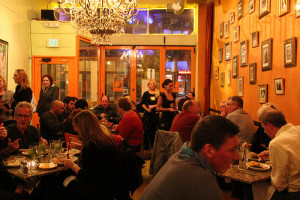 Located downtown, Cubanitas is Milwaukee's first and only authentic Cuban restaurant. Cuban cuisine is truly the melting pot of food. With Caribbean, African, Spanish, and even Chinese influences. Cuban food incorporates intense flavor into simple dishes that have become popular in the United States, specifically Miami. But it's hard to find elsewhere. That's why Cubanitas is such a gem to the Milwaukee area.
I found Cubanitas on an aimless walk around Milwaukee's historic downtown areas. It's a hard to miss, bright orange building with chandelier light beaming from the inside. I had never had Cuban cuisine before, and the building was so gosh darn pretty. So, I thought, why not? The atmosphere is warm, inviting, and colorful, much like the Caribbean. There's vintage touches such as the rustic hard-wood flooring and old mirrors, but also modern flare like the contemporary bar where they make their locally famous mojitos.
Cubanitas' menu is intricate, with a wide range of sandwiches, "plats principals," and daily specials. There's an array of appetizers ranging from choose-your-own empanades ($2.95 a pop) to French-inspired croquettas de jambon (3/ $3.00), and my personal favorite: Cuban guacamole with plantain chips ($8.50). Many of their sandwiches, like the popular Cubano sandwich ($8.95), are made with pork, which is very popular in Cuban cuisine.
The main entrees get more intense in flavor with the addition of onion, garlic, Mojo, and red pepper. My favorite is their camarones: black tiger shrimp in a garlic-white wine butter sauce served with yellow rice ($14.95). Cubanitas pairs their entrees with your choice of either yellow or white rice or beans, or for additional cost, any of their side orders. I recommend the yellow rice because it's so flavorful. These dishes are commonly rich in flavor and get you full very quickly, so take your time enjoying!
For dessert, try their flan ($4.25), egg custard, or helados ($4.25), Latin ice cream with your choice of flavor. They're perfectly sweet notes to end your meal on, while keeping up with the ethnic flare of the restaurant.
Cubanitas also has an extensive drink menu. Their wines are only from Argentina, Spain, and Chile which keeps the whole experience very authentic. They have Latin-imported beers, as well as domestics, and a small amount of delicious drink creations including pitchers of sangria. Their #1 selling mojito is a sweet cool-off to a hot Cuban meal. You can also try it with flavors. I recommend coconut.
Every Friday night during the summer, Cubanitas hosts "Cuban Nights" with a live DJ starting at 10 pm until 1 am.
As a college student, I found a lot of bang for my buck at Cubanitas. It's not necessarily a cheap place to eat, but you're paying for what you're getting, which is delicious, authentic Cuban cuisine. It's also an experience: friendly atmosphere, great service, good music. Further, there's fabulous outdoor seating for warmer seasons. It's not Cuba, but it's the closest we're probably going to get, fellow mid-westerners.
Cubanitas is located on Milwaukee Avenue downtown and is open Monday through Saturday. They even cater for special events! Check out getcubanitas.com for more information.