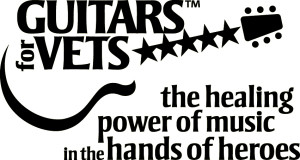 Milwaukee's own 501(c)3 non-profit organization Guitars For Vets(G4V) will be joining with Harley Davidson to salute our United States Veterans November 15, 2014 from 6-11:00p.m. It will be hosted at the Harley Davidson Museum located on 400 W Canal St. This event is a benefit rock concert featuring The Black Saints, DoryDrive and the G4V band. The sole purpose of this event is not only to give some of America's finest and the general public a great time but to raise funds and awareness for the organization itself. Pre-sale tickets are running for $10 and day of admission is $15, so get them while you can! Before I go any further, some may be wondering what this program is about. The mission is to help put the healing power of music in the hands of our Veterans and to help them cope with the invisible scars of war.
According to guitarsforvets.org, "Thousands of our war Veterans are afflicted with Post Traumatic Stress Disorder (PTSD). In fact, more soldiers have committed suicide since the Vietnam War than have died in actual battle. But many are finding hope in an unlikely place: behind the wood and strings of an acoustic guitar. The healing power of music helps soldiers cope. That's why we provide veterans with guitars and a forum to learn how to play."
So besides our hair-raising set list of musicians, the G4V will also be holding an auction right on the Harley Davidson lot. Some of the items looking for a home are:
•A Gibson SG model electric guitar custom painted by nationally renowned artist Sarah Gallenberger
• A white Gibson Les Paul Studio model electric guitar signed by Rock and Roll Hall of Fame inductees Lynyrd Skynyrd
• A white Taylor Classic solid body electric guitar signed by Grammy Award-winning artist Albert Lee
•A custom electric guitar designed for Guitars for Vets by master guitar builder Dean Zelinsky and signed by G4V Ambassador and two-time Grammy Award nominee Tommy Emmanuel
• A sunburst Gibson Les Paul Junior model electric guitar
If you are looking for a good time and excited to give back to the ones that were willing to give it their all, you are welcomed to come on down and enjoy yourself you will be among friends with the Guitars For Vets and Harley Davidson family.