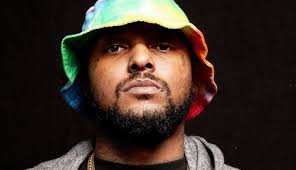 ScHoolboy Q and Joey Bada$$ performed at The Rave in Milwaukee on Saturday, Oct. 29, 2016, as a part of Q's Blank Face Tour.
The night began with a swift DJ mix, finally unleashing the 21-year-old Joey, who played early songs, "Waves" and "Killuminati" from his debut tape 1999, and kept fans up to speed, by performing his latest single "Devastated".
At one point, Joey asked where his "day ones", people who were listening to him when he was 17, were. The artist also reiterated the fact that he'd be nothing without the fans. Fans paused in surprise once Joey rapped his featured verse from A$AP Rocky's 2013 hit "One Train".
Both coasts were represented by the Brooklyn-born Joey, who is a part of Pro Era, and the Los Angeles-raised Q, who is a member of Black Hippy. Q mentioned how "boring" the crowd at the Orpheum Theater in Madison was the previous night, and said he's not going back.
There were bucket hats flooding the mosh pit in the venue's ballroom, along with a few Blank Face sweatshirts. Over the course of the two-and-a-half-hour concert, little space was available, as fans were separately called upon by the two artists to assemble into a mosh pit.
Whether one calls him Groovy Tony, Q, or ScHoolboy, one will never call him apathetic. After he busted into "Collard Greens", arguably his biggest single to date, he rapped Kendrick Lamar's second verse, while the fans chimed in at will. ScHoolboy said he needed a break at one point, then proceeded to play Lamar's "m.A.A.d city".
Q rapped "That Part", from his Blank Face LP that dropped in June, in an encore set that also included "Man of the Year" and "Hell of a Night". Before the encore set, rappers Traffic and TF rapped their respective parts on "Tookie Knows II" – they later crowd surfed.
Q gave fair time to his 2014 effort Oxymoron, an album that planted him in the conversation as a top West Coast emcee. Aside from "Collard Greens", tracks like "Studio", which mellowed the aggression which proceeded it, and "Break the Bank" tested the fandom of some of the younger attendees.
The concert was the final one to feature both Joey Bada$$ and ScHoolboy Q, as the latter will embark on his worldwide tour on Thursday, Nov. 3 in New Zealand.