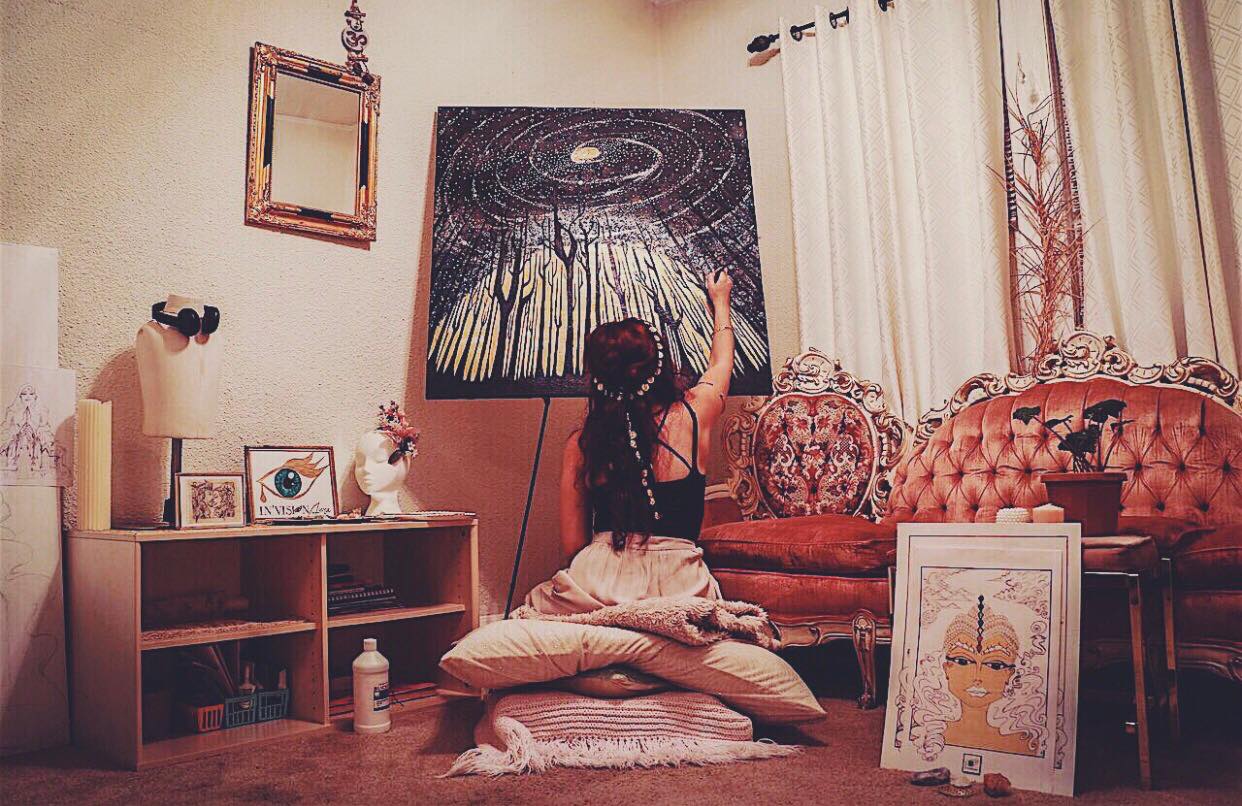 At a young age, Lisa Battikha wouldn't be satisfied with the options of the bedding when she went shopping. The colors and patterns never fit exactly what she wanted. In response, she would buy her own fabrics and create her own blankets and bedroom accessories. She is constantly redecorating and rearranging.
Battikha was twenty five years old when she decided to redecorate her life. She experienced a spiritual awakening that led her to quit her corporate job and pursue her artistic passions. Two years later, she is creating visual artwork as well as clothes under the label "Tomboy Creations". She serves as a student and a teacher, as she follows the path of self-discovery and exploration.
Battikha was born in San Diego, California and moved to Amman, Jordan when she was five. She lived in Jordan until she was eleven years old and started sixth grade in Greendale, Wisconsin. Growing up, Battikha describes herself as a very aware and deep child with an old soul. With a strict, family-orientated upbringing, Battikha existed in her imagination by writing in journals and constantly daydreaming. She describes herself as a "girly-tomboy" who enjoyed playing outside with her brothers. Her family raised her to work hard for what she wanted and to always reach for more.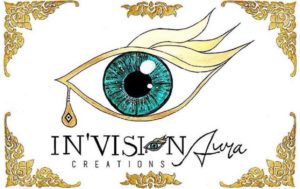 The switch of cultures and lifestyles from America to Jordan, then back to America, was a challenge for Battikha. Being away from her grandparents and other family members taught her to love harder and honor her mom, dad, and brothers. The move also encouraged her to keep her Arabic tongue. Her Palestinian background and upbringing continues to shape her today. Though she is engulfed in spirituality, she still holds values from her childhood and upbringing.
Battikha realized she wanted to commit to art and making clothes in January 2015. She was a college graduate who initially went for education. Since then, she was working in accounts paying. She began hula hooping months before that and stopped drinking and going out. On her nights in, she researched new music, worked on vision boards, and began writing down all her ideas. These visions did not belong to one category. Within the following six months, she found the courage to quit her corporate job and completely reinvent herself. The decision came after a night of writing by the lake.
"All of a sudden I had the most overwhelming knowing that I had to stop waiting for the next job or reason to justify why it's time for me to leave a job that was not right and chase my dreams" said Battikha. "It didn't make sense to just quit and leap into the known, but it felt so right. It was my intuition speaking; my higher self. I let go of fear and I listened."
Within the next week, Battikha put in her two weeks and started working to build her inventory to get the supplies she needed for her art.
Her creative urges come naturally, as she was an artist from a young age. She describes herself as a writer, who enjoys rhythmic poetry, journaling, reading, photography, interior design, and fashion.
"Words are everything to me. They are magic, like friends," said Battikha. "That is the reason why I wanted to start a word-centric street-wear line, to find ways to infuse high vibrational words and teachings into clothing as well as my art on all platforms."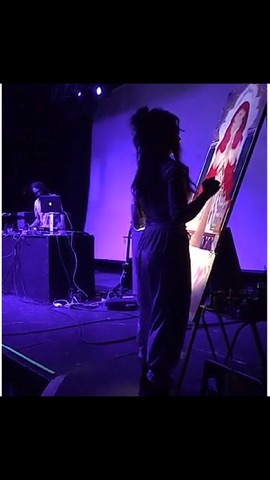 Battikha live paints at The Miramar Theatre during shows. Besides the Miramar, Battikha has performed at Summerfest and Breman Café in Riverwest. She is applying to more festivals for live art performances for the upcoming summer.
"You can immediately tell she's an artist," said co-worker and friend Georgia Ozelle. "She is so full of passion and ideas. The creativity literally flows out of her."
Since Battikha has only been creating the last few years, she considers her work local for now. She connects through networking and day-to-day interactions. Her work continues to be discovered through social media platforms, including Etsy, and with friends who promote her work. Her strongest force, however, is face-to-face interaction and by displaying her work at the Miramar.
"She is really detailed oriented, but at the same time always seems to have such a clear view of the big picture," said Ozelle. "There is reason and motivation behind every little thing she does, which I think is what makes her artwork so mesmerizing. There's so many layers with specific intent behind each one. I love hearing her talk about her art and the sort of divinity and self of self that inspires it."
While working at Greenfields on Brady street and at the Miramar, Battikha is connected to a like-minded community of other artists and spiritual individuals. These connections help inspire her, whether it is live visuals and set designs or different musical sounds.
"What differentiates me than other Milwaukee artists is most likely my background as a teacher," said Battikha. "I want to be relatable because since day one my goal has been to be living proof that we can do whatever we set our mind to. It doesn't matter how late it is to start over or how old we are. You can recreate yourself any day, any moment."
Battikha's spiritual beliefs also reflect in her work.
"I am focusing on ways to relay what I'm experiencing into digestible and modern ways. Because as a student and a teacher, I realize that the only way to change our world is through healing the inner child that exists in each of us. My driving force stems from my desire to spread light and awareness of what our true capabilities are as human beings, to be the change I want to see, experiencing these truths, and from there, continuously finding creative ways to help raise our collective vibration."
Battikha is passionate about metaphysics and believes in Universal Laws, such as the Law of Attraction, Law of Vibration, and Law of Polarity.
"My path as a seeker is what first hand led me to my creative essence," said Battikha. "This is my guiding force that I feel adds my own unique vibration to what I create. My everything revolves around my journey as a truth seeker. This directly correlates to my work since my work is an extension of my search for truth."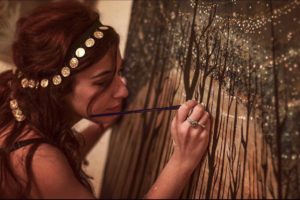 Not only does her spiritual beliefs affect her work, but so does her desire to educate and learn. She hopes to use her mediums as an avenue to teach and plant seeds.
"I'm addicted to learning about self-development and the power of both our subconscious and conscious mind," said Battikha. "I find inspiration in new information because it helps me see the world with new eyes."
When Battikha feels a spark of inspiration, she sits down to go over it. After picturing the design, she materializes it. Since she has been working on ideas for years, she has notebooks for each project that she works on, whether it is artwork, clothing line, or an affirmation series. She always looks to her notebooks when she is on working on a project or needs inspiration.
Battikha says she has been getting positive feedback from the community, but would handle criticism with face value and try to improve. She also enjoys collaborating and co-creating. She tries her best to follow up to any correspondences and engage through her social media platforms.
Battikha doesn't see her future slowing down.
"I envision my future being dynaic as multifaceted as I am," she said. "I am just starting to find myself as an artist and designer. I see myself collaborating with more beautiful like-minded people and attracting my soul tribe as I continue being true to myself. I also see myself representing my culture and being a modern day Middle Eastern woman."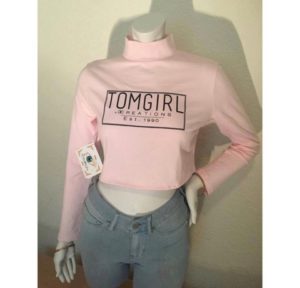 Battikha plans to teach metaphysical and universal truths in the future. Her interests in ancient wisdom and to aligning with her higher self continues to reflect in her future projects. Her passion for changing the world and transmuting her Palestinian heritage encourages her to bring together art and words in a way that can speak to a person's higher, subconscious mind.
"I have already been working on a project for a few years that tracks all of the clues, teachings, articles, quotes and pieces of moments that have served to awaken me personally on my journey," said Battikha. "I am documenting everything and turning it into a huge book for my family and friends."
Battikha's next move is to reveal some of her projects that she has been working on the last year. She plans to materialize her clothing designs now that she has the equipment she needed. She will be launching a series of unique, re-fashioned pieces over the next couple of months. She continues to express her excitement for learning as she goes day to day.
"I would love to use my personal journey and hands on experiences to bridge any gap of understanding the human experience and to reach my highest potential along the way."