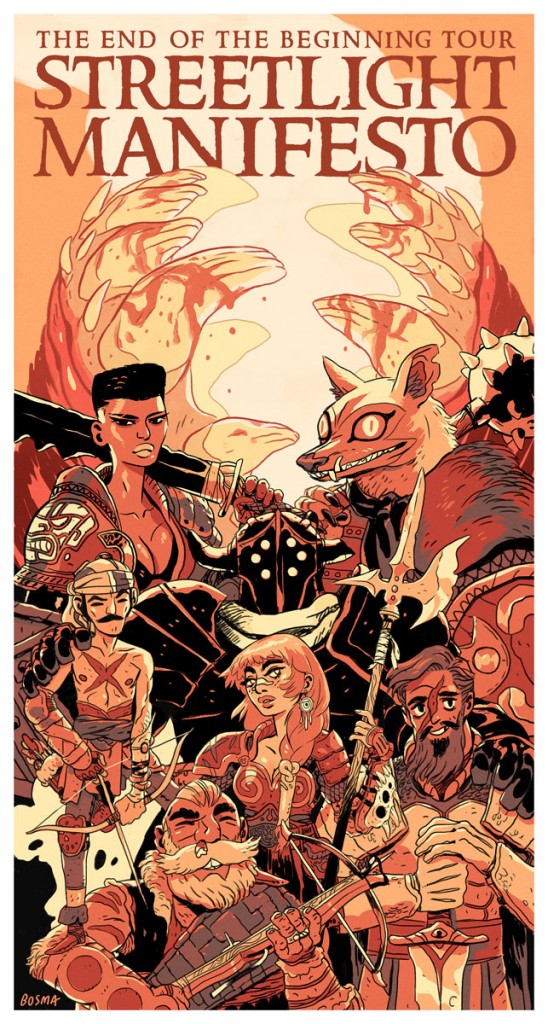 All good things must come to an end. An overused cliché, sure, but one that holds true for third-wave ska band Streetlight Manifesto. The band is currently on the second leg of their End of the Beginning tour; when it wraps up at the end of the year, they will no longer be a full-time touring band, though they will still record music and tour sporadically. Needless to say, this is a show you don't want to miss when it hits Turner Hall Ballroom on Friday, October 11.
Boasting seven members on stage, it's inevitable that there's a high energy level for the band whenever they play a show. This energy is reflected in the fans; at a recent concert, the beams holding the floorboards cracked and the show had to be cancelled. From the fast-paced lyrical and guitar work from Tomas Kalnoky to the four-man brass section of Matt Stewart, Nadav Nirenberg, Jim Conti, and Mike Brown, audience members often find themselves struggling to choose a musician to keep their eyes on.
With a catalog spanning ten years and five albums, Streetlight Manifesto have a lot to choose from. Whether it's the one-two punch of "A Moment of Silence" and "A Moment of Violence" from their first album, Everything Goes Numb, or new tunes from the recently released The Hands That Thieve, you can be sure every song they play will be packed with passion, unbounded energy, and frantic sing-alongs.
Streetlight Manifesto aren't on this victory lap alone. They're bringing out two of the most influential figures of third-wave ska, Mike Park and Dan Potthast. Park, founder of Asian Man Records, has a résumé that includes Skankin' Pickle, The Chinkees, and The Bruce Lee Band, among others. Potthast is best known for his work in MU330. Both artists are playing acoustically on this tour.
If you missed Streetlight Manifesto in 2011 (they played in February and December of that year) this is the chance to redeem yourself. Who knows when you'll be able to see them again?